Ready For Something New
Through January and February I managed to purchase only one new item of clothing and that was a much needed, very practical, padded coat for my trips to Hamburg and Oslo. I guess you can say that purchase was more out of necessity than being an actual style choice, but I was definitely glad of it when I was out in below minus temperatures.
Whilst I had been quite happy with my wardrobe over winter, living mostly in a selection of roll necks and go to layers, I've been feeling rather eager to have a bit of a wardrobe update recently, ready for Spring/Summer.
Now you'll know I'm not often one to jump on trends, longevity and wearability are always factors I take into account when acquiring new pieces. However I've been wanting to inject a bit of 'fun' into my wardrobe lately, as I feel I've exhausted my outfit combos over the winter period and have been feeling a desire for something new.
When Pinko reached out to me asking if I'd like to pick out a few pieces, it was perfect timing. When I spotted this new Pinko Love bag in their SS17 collection, it was just the sort of thing I'd been looking for. It's fun and a bit out there, whilst still fitting in with my colour palette of muted tones. Most importantly I knew it would go well with denim, which means I can wear it with about 90% of my wardrobe.
You'll likely be seeing a lot more of this bag in my future outfit posts as you know I like to wear things to death, plus it says 'Love Me Tender' on the side, which is very fitting considering I'm a big Elvis fan! I think I've made it clear that I love this bag (no pun intended). It's trashy and fabulous at the same time, whilst still being very me and it's nice to add a new piece to my wardrobe that I feel excited about.
The second new addition is this jacket which is also from Pinko. I love a good denim jacket and the fact that last summer I wore my black one almost everyday meant that I knew I'd get plenty of wear out of this one as it begins to warm up. I also love that the jacket is in this oatmeal shade, which I think is a nice contrast to my blue denim jeans and I think makes a great combination.
Now I'm on the look out for a few tops to add to my wardrobe, as I feel a decent selection of light weight spring/summer T-shirt and tops is what I'm seriously lacking at the moment and this grey Asos T-shirt you see here gets worn A LOT. I'd also like to incorporate a couple of dresses into the mix this coming summer, as although I'm sure my love for jeans will never die, I'm keen to change things up and bare some leg as the weather hots up too.
All in all I'm very excited for the change in seasons. Lighter mornings, longer days, milder weather and lighter layers, what's not to look forward to!
Samio x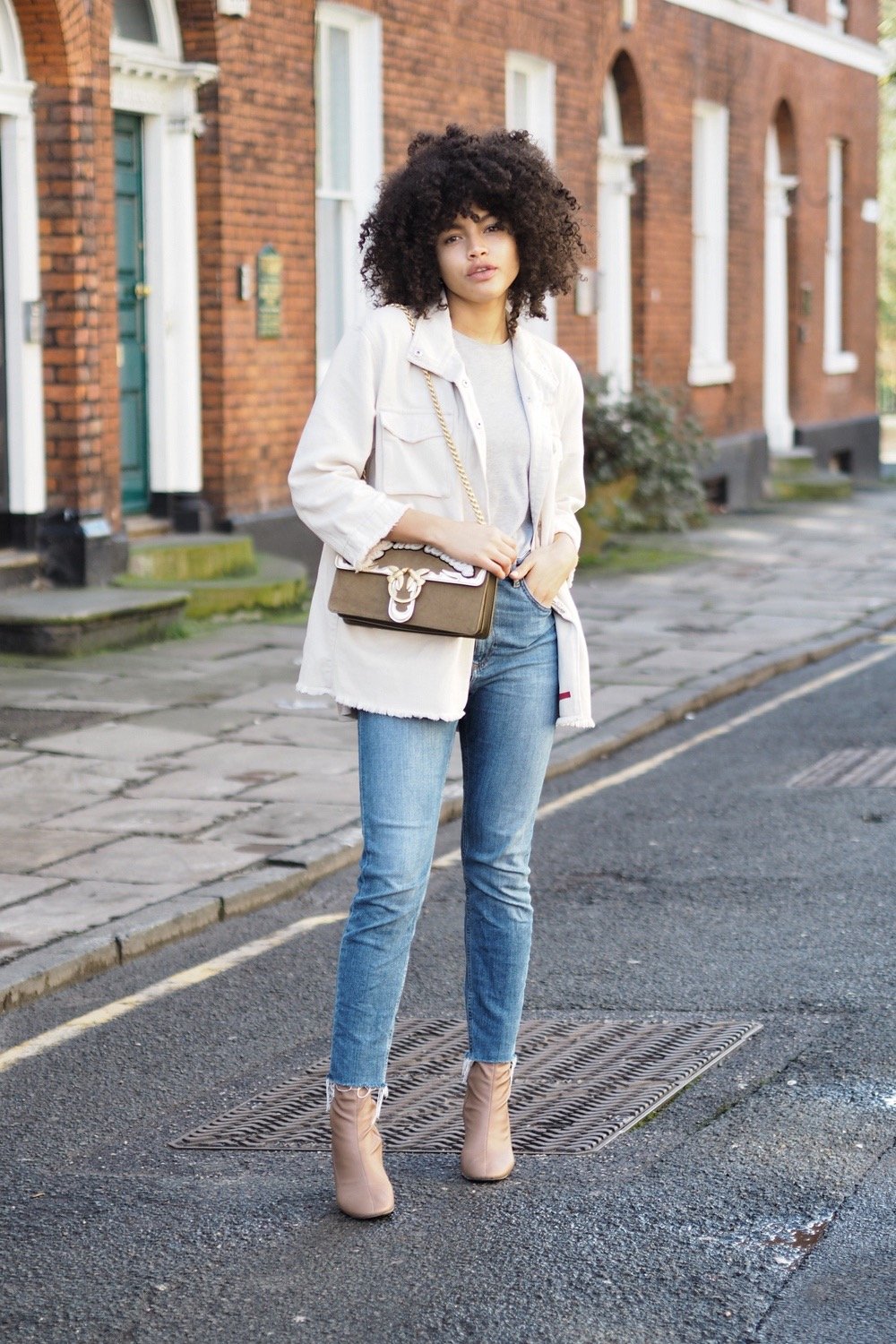 Jacket – Pinko | T-shirt – Asos | Jeans – Asos | Boots – Topshop | Bag – Pinko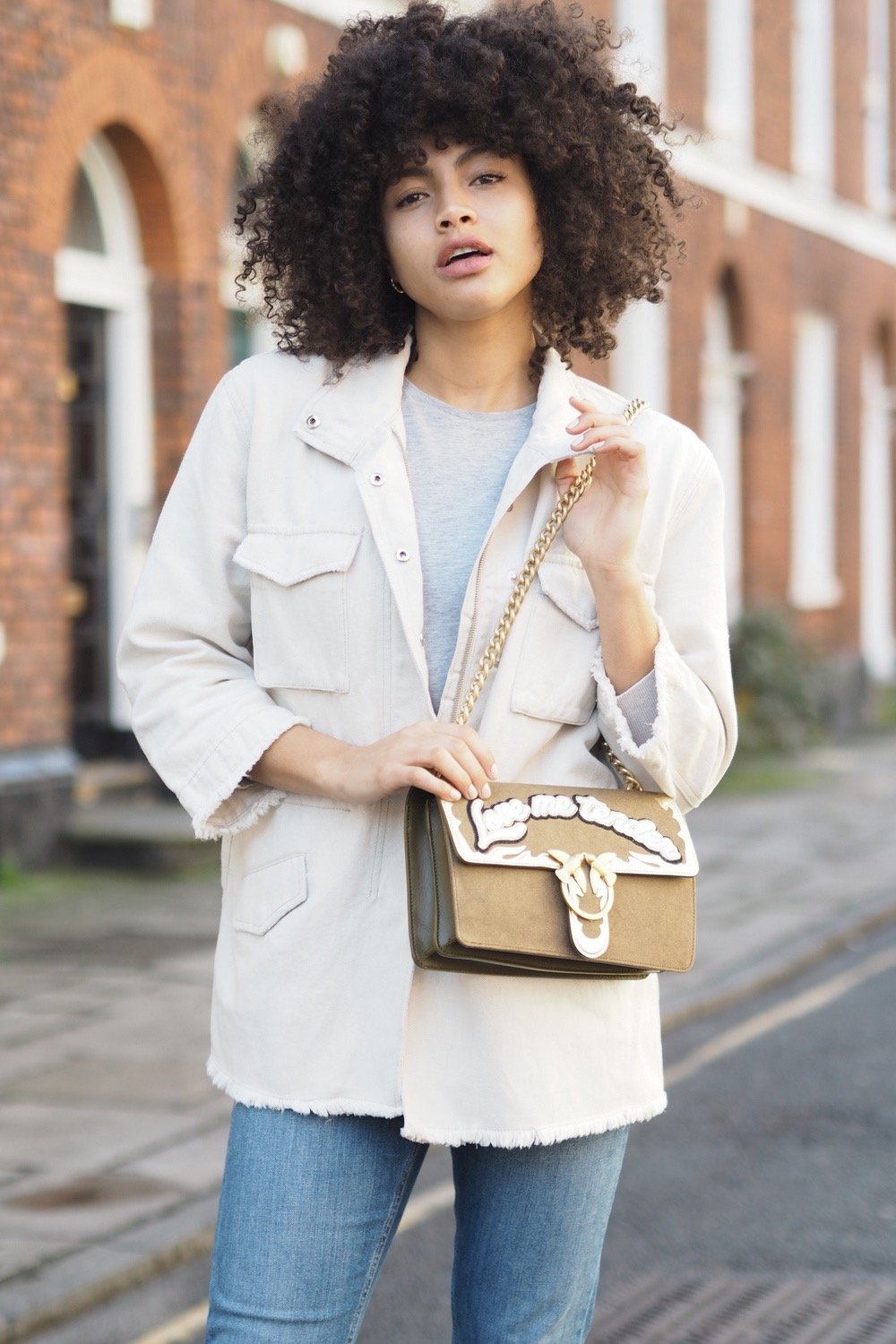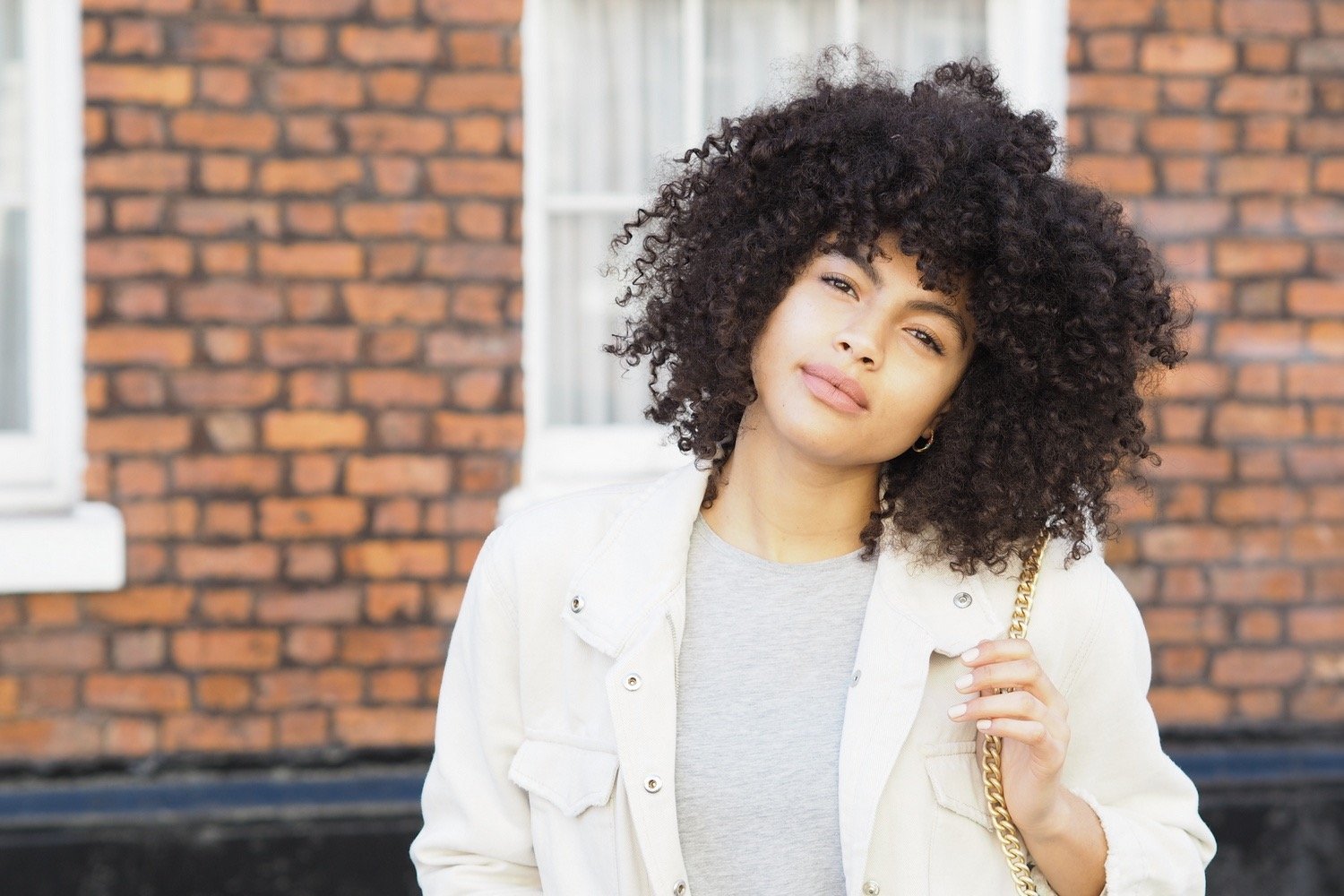 Shop The Post