Why Oslo? And in February!?
I knew we needed to book our girl's trip in that moment whilst (almost) all together, or else it was never going to happen. We had the dates for when we were all available so all we needed to do was book!
As I grabbed my towel and headed for the door I looked back at Lydia and Hannah who were both still recovering on the bed and said, 'right' in a determined manner, 'I want you to have found flights to where we are going by the time I'm out of the shower'. I naturally left this one to Lydia, the organiser of the group, whilst I quite simply made my demands and left to go and shower, in an attempt to refresh myself in the midst of an ever growing hangover brought on from the night before.
When I returned feeling somewhat better and mostly excited for this still ambiguous trip ahead, the first question I asked was 'where are we going?'. 'Oslo' Lydia joyfully replied. Fabulous I thought, 'where's that?' (Geography had never been my strong point). Lydia giggled, 'Norway'. Cool! I'd never been to Norway.
The flights were only £35 and Hannah was already reading up on what to do and see in Oslo. It sounded like a great place to visit.
We quickly made a call to Charlotte who sounded even more tender than we did and didn't seem in any type of mood to talk (our partying the night before had obviously taken its toll on us all). Still, over loud speaker we excitedly bombarded Charlotte with the information we had just found. She sounded somewhat less excited than we did and in that moment I think her agreement of the trip was purely to get us off the phone.
And so it was booked and we were going to to Olso baby! It wasn't long after our booking that we discovered that temperatures in Oslo can reach as low as minus seven in February (when we'd booked to go). MINUS SEVEN! We could only laugh, as whilst doing our vague, hungover research, along with planning where to stay, we'd forgotten to look up one vital thing – THE WEATHER. Anyway, hey, ho, we had our girl's weekend booked and later another friend, Sally joined on to the trip and the five of us were really looking forward to our fun weekend away.
The Cost
Now something we'd been repeatedly told before we even got to Oslo was 'it's really expensive there', usually followed by a pitiful look of confusion. Why were a group of twenty something girls going to Oslo for the weekend? Erm, because the flights were cheap. Many often laughed at this reasoning. We did not let it dampen our spirits.
Whilst our airbnb was affordable, upon arrival we did in fact find that, yes, everything in Oslo is ridiculously expensive. Our first round of drinks in Oslo was in a traditional style pub: 3 wines and 2 beers came to the equivalent of £45 and each place we went to thereafter, the price continued to be roughly 8 or 9 pounds for a glass of house red wine. However that said, this did not deter us from heading out on the evenings and a having a good time whilst we were at it.
Of course this meant that food was pricey too and Seven Eleven became our new best friend when it came to eating out/on the go in order to stick within our budget for the weekend.
The Weather
The weather wasn't actually that bad. Okay, let me rephrase that…We'd brought the appropriate clothing meaning that we didn't get too cold. So much so, that on the Saturday after bussing it all the way to the Viking museum we decided to walk back. We actually spent a good two hours walking through the snow. It was actually really good fun and we got to see a lot of pretty sights.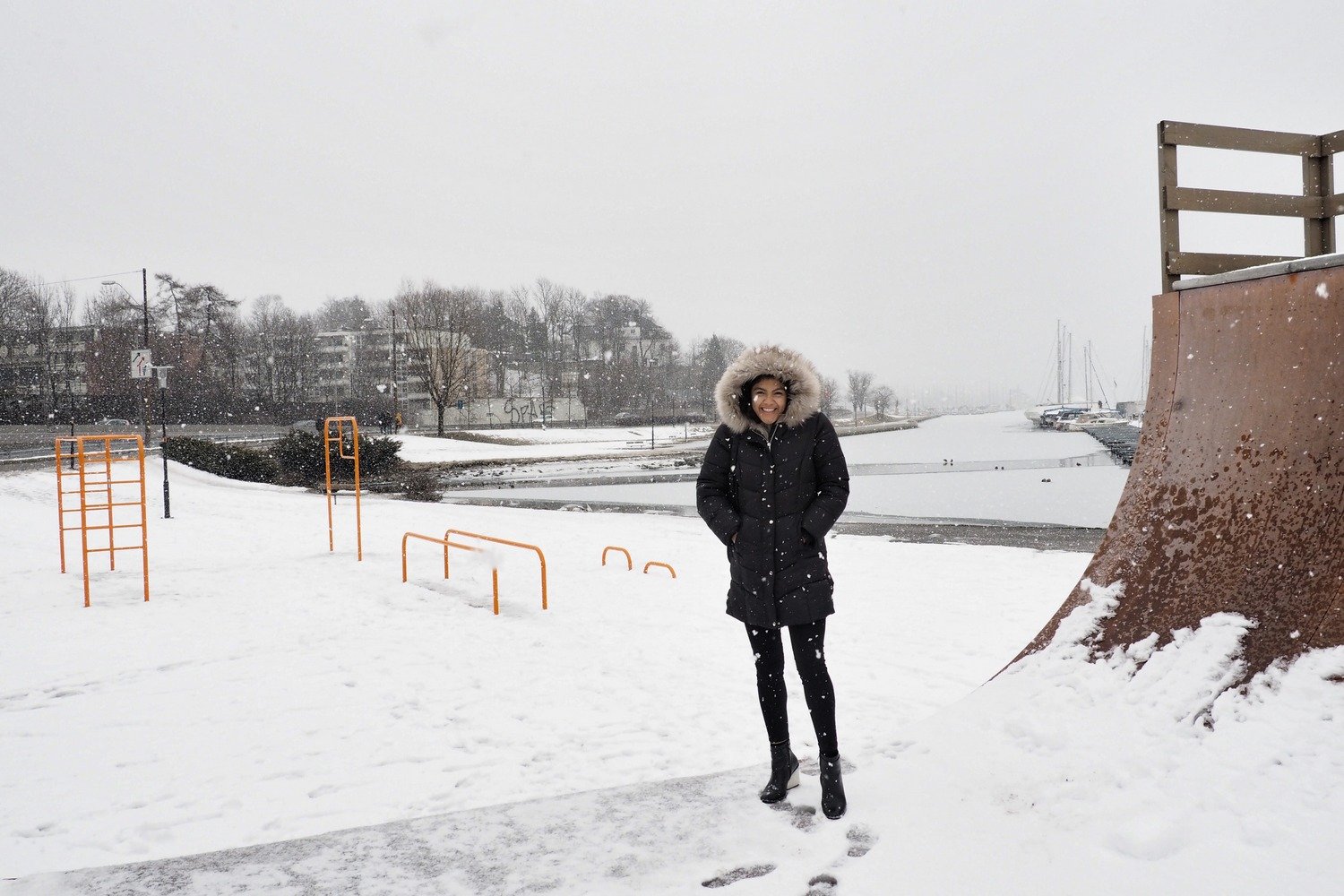 The Moral Of This Story
Another little spanner in the works that I almost forgot to mention was that we'd booked our flights to and from the wrong airport. Okay the moral of this story is fast becoming why you should never book a trip hungover and without proper research…BUT we found getting from Torp Oslo airport where we landed, to central Oslo was reasonably easy. We were able to jump on one of the coaches outside to embark on the one and a half hour journey to central Oslo (I know, I know), which cost around £25 each. Somewhat defeating the object of the initially 'cheap flights' but whatever. You live and you learn.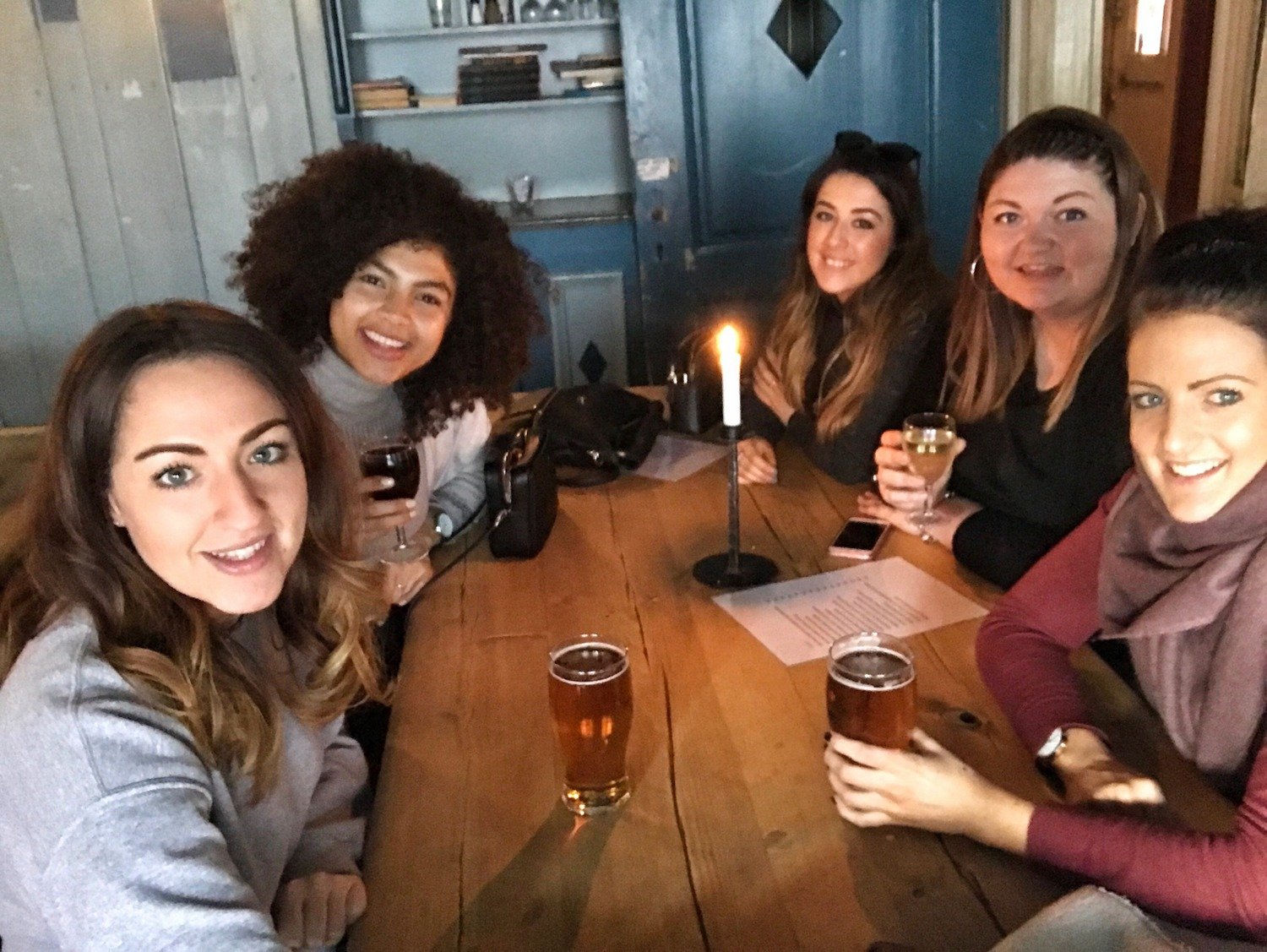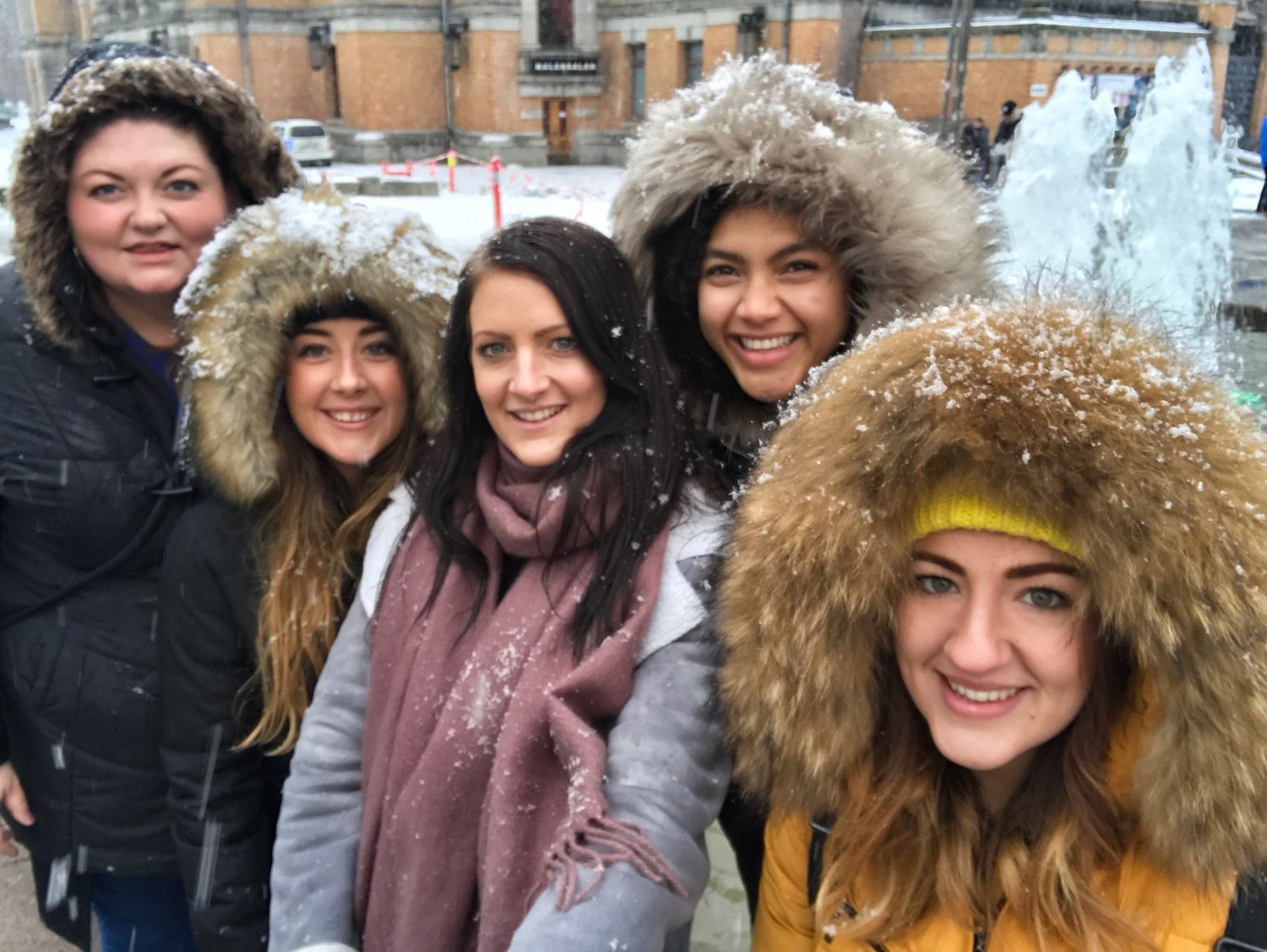 And The Icing On The Cake
On the Sunday we were more than ready to head home after our random yet fun weekend in Oslo and after checking out of our AirBnb we took the hour and a half long coach trip back to Oslo Torp airport.
We'd gone through customs, we'd order food and as we sat and waited for our flight details back to Manchester to show up on the board, we noticed a number of flights were being delayed and then cancelled.
A flight delay we could deal with, a cancellation we could not…and after seeing a number of flights being cancelled due to severe fog, our Manchester flight was next to join the list. I've dealt with flight delays before but this was the first time for a cancellation and believe me, it was not fun.
It's exhausting to go through the next 24 hours that followed in detail but in short it included queuing for 3 hours. Having to book new flights for the next day to fly to London Heathrow (the flights back to Manchester were full until Tuesday). Getting in touch with our AirBnb to see if our apartment was still available (thankfully it was) and booking another night. Getting the train back to Oslo centre and checking back into our Airbnb. Waking up on Monday and heading to the central airport to fly to Hamburg and then to London. The girls getting a hire car and driving back from London to Manchester. Me getting off the plane and running through the airport to jump on the Heathrow Express to get to central London in time to make it to my modelling job that same day. I made it (Phew).
In these scenarios I like to say, 'it could have been worse' and the main thing is that we made it home in the end, even if it was a little later than expected…and I finally got to go home, home, after a week working in London. My bed had never been more appreciated.
The Round Up
Well. Oslo was an experience to say the least. Was it one of the most random (and at the very end, stressful) trips I've ever been on, yes…but was it fun, yes, actually, we had a fun time and didn't stop laughing for most of it. But as the line goes, it's not where you are, it's who you're with and that was certainly the case for this trip.
I may not have left a piece of my heart in Oslo on this occasion but I am glad I went as my random adventures are all about exploring somewhere different and that's exactly what we got to do.
Would I go again?
Not in a rush, no. However that's not to dismiss Norway as a whole, as whilst outside of the city centre of Oslo, we saw some absolutely beautiful sights and if I were to head back to Norway again, I'd love to do more outdoor exploring and take more of an adventure type holiday there. But I'm glad I got the chance to visit anyway and enjoy quite a different girl's weekend away.
Have you ever been to Oslo or have you ever taken an alternative city break somewhere? Let me know in the comments section below. 🙂
Watch my Oslo vlog here: