When it comes to Autumn layering, blazer's are pretty much my go to when it comes to transitioning my outfits into the new season. When I find a good blazer I tend to wear the same one on repeat and the few blazers that I have in my wardrobe are absolutely what I would call wardrobe staples.
For me personally I tend to favour a slightly oversized blazer and a boxier fit. And as someone who is tall with broad shoulders I find that men's blazers often provide the cut and fit I'm looking for.
Quality is also an important point and if I can find something that is a high wool percentage and great quality that will last, then I know I'm onto a winner.
This is where vintage blazers often tick a lot of boxes for me. The saying 'they don't make them like they used to', tends to ring true here, unless you're willing to pay a much higher price tag…and so when looking in the right places you can often find a good quality vintage blazer that isn't too expensive either.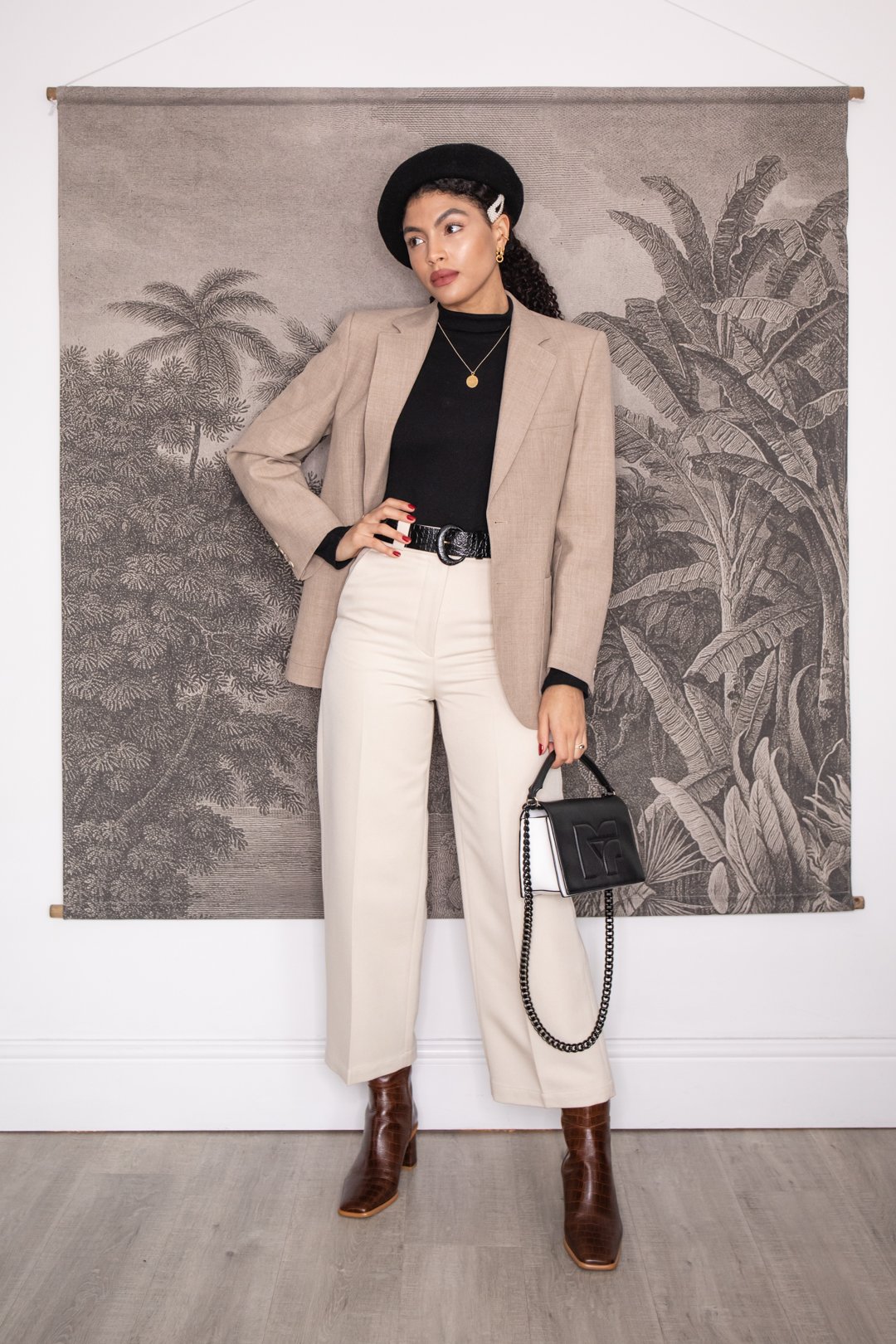 How to Shop for a Vintage Blazer
My favourite place to search for vintage blazers is online via places like eBay. As I love an oversized fit as I've mentioned, I tend to browse the men's section first. There are a few steps I take in my process to finding the perfect vintage blazer and so I've listed a breakdown below…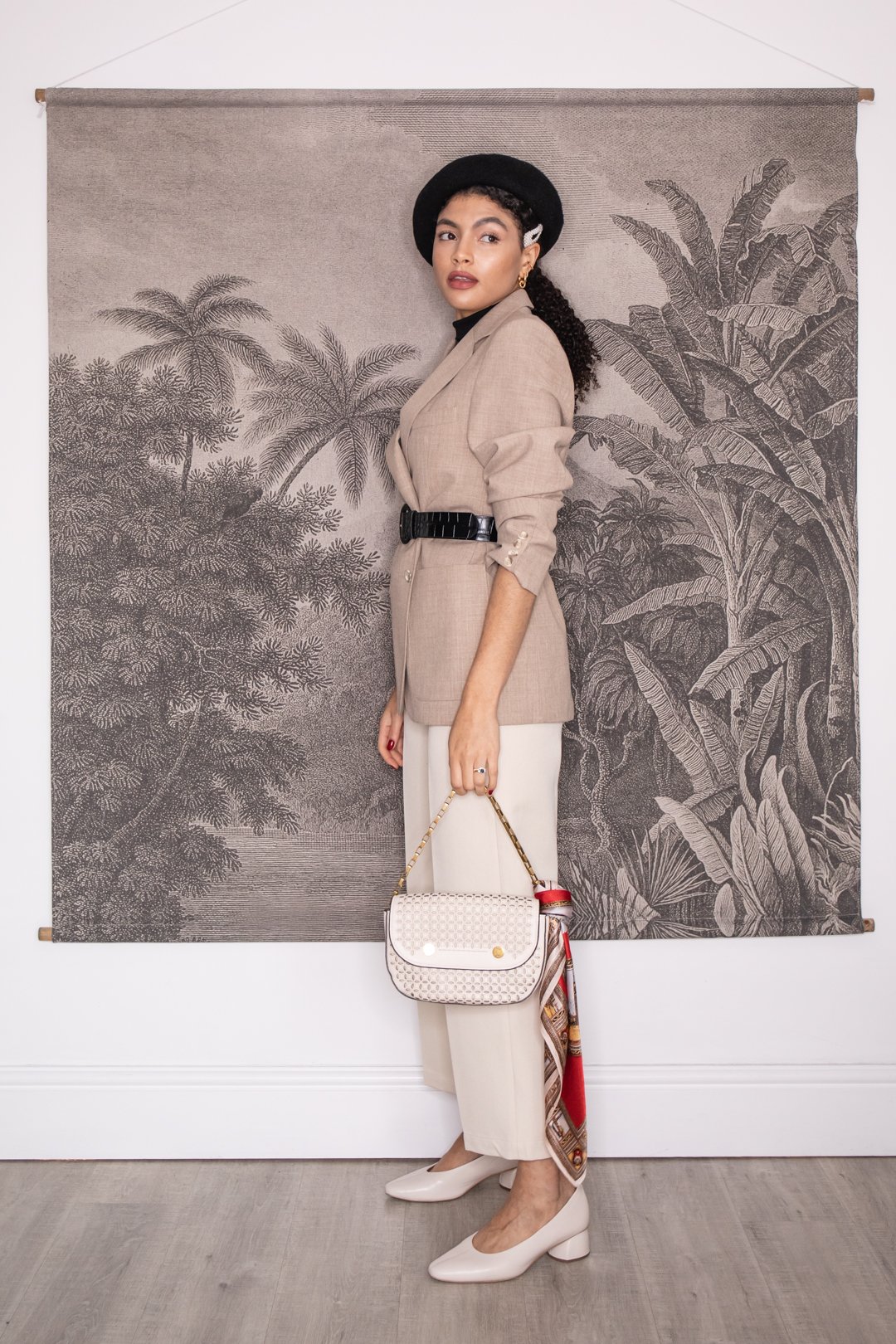 1. Search & Select Your Options
Open up eBay and search 'Men's vintage blazer'. Go to the side tab and select the size, colour preference and outer material. If you're looking for something that is good quality and slightly thicker for Autumn/Winter then I'd recommend opting for wool. Anything from around 50% upwards is good and when possible, the higher wool percentage the better in my opinion (it tends to be better quality and should last).
2. Check the Seller's Rating
When you find a blazer you like, go onto the listing and check the seller's rating. Do they have a good rating? Have they sold vintage before? What's their other feedback like?
3. Check the Description & Images
It should go without saying, but check the images and description. A good seller should show if there are any marks or damage to the item (which of course can be the case with vintage sometimes), so make sure you take this into account when looking and look out for these things too. It is possible to find vintage pieces in great condition but just be mindful when looking.
4. Check the Measurements & Sizing
This is an important point, and its definitely something I've made the mistake of not doing before. The generic sizings such as 'S', 'M', 'L' can vary a lot in vintage sizing and it can be confusing, especially is you're used to buying women's clothing and you're now shopping in men's. So it's important to check the measurements of the garment and if you're unsure, maybe check them in comparison to a jacket or coat you already own. I have even tried on one of my husband's blazers and compared the measurements to that which I found to be helpful when I was looking for something more oversized on me.
5. Be Aware of Cleaning
My final point which is one that I think is important to mention, is that it's good to be aware that you may want to get your item dry cleaned when it arrives. So I always take this into account when working out the cost of an item as I may want to account for getting it dry cleaned too.
The only downside to shopping vintage is you don't technically know where it's been and, I know, just the thought can be pretty off putting (this is why seller rating is important). It is something you have to be aware of when buying vintage and especially when ordering online when you can't inspect and smell the item before you buy it.
I don't want to put you off but I have had an item arrive that didn't smell the most pleasant (it's now making me laugh to think about it as I type) but all was well once it had been on a trip to the dry cleaners and back. It's not worth thinking about the possible history of said garment, but lets just say I am now someone who checks seller feedback more thoroughly and if they are a regular vintage seller, as opposed to someone getting rid of grandpa's old clothes – yeah, just something to be mindful of.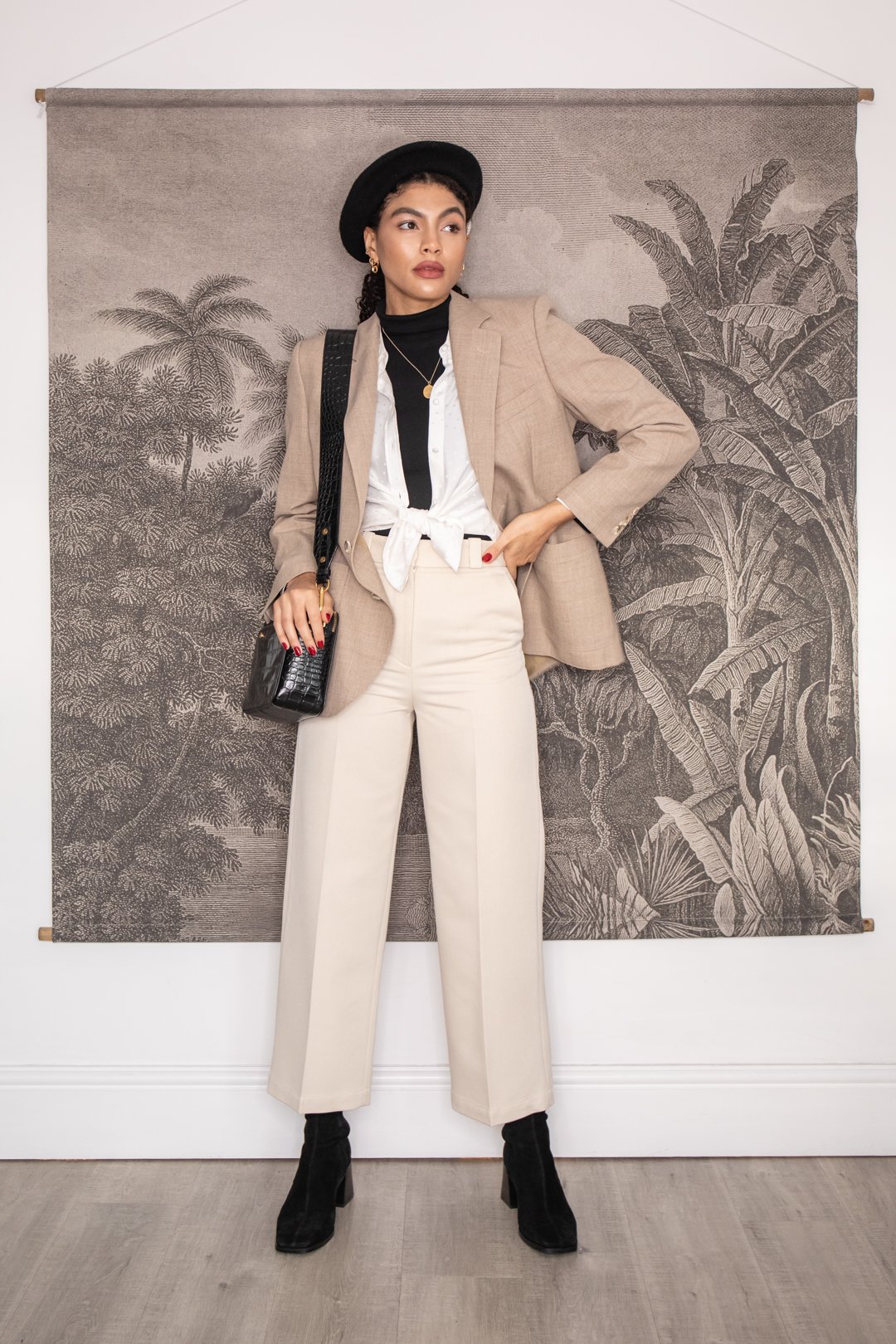 Overall, I really enjoy the process of finding a good quality vintage item, such as this blazer. I purchased this men's vintage blazer on eBay at the start of the year and I've recently pulled it out of my wardrobe again ready for the Autumn season. There's something quite nice about knowing you've found an item that you know nobody you know will have, that's good quality and you didn't have to pay an arm and a leg for…and you've made a more sustainable shopping choice in the process.
Samio x