Another Trip To Portugal
At the end of August Damien and I decided to take a trip to Porto. I visited Portugal for the first time at the start of the year when I went to Lisbon (which you can read all about here) and it seems I've not been able to keep away since, as I then went for a second time for work to Vilamoura in May and then finally again for this trip last month. It's fair to say that I've well and truly fallen for Portugal and Porto did not disappoint.
This has probably been my most relaxing trip of the year so far. I say relaxing, however we did managed to walk just over 94,000 steps within the 6 full days we were there. As you'll be able to see from some of the pictures, Porto is incredibly hilly and we made it our mission most days to walk down the hill from the old part of town where we were staying, to walk along the river to then cross the bridge and do the same along the other side. We'd often do this twice per day as we did the same when we came out in the evenings too. Why did the chicken cross the road? To get to the other side of course…all jokes aside though, although both sides of the river have their fair share of fun, we just personally preferred the opposite side for restaurants as it was slightly less touristy. Plus although both sides of the Douro river have rather impressive views of Porto, we both preferred the view looking out from the opposite side to where we were staying as it was slightly prettier, so there you go.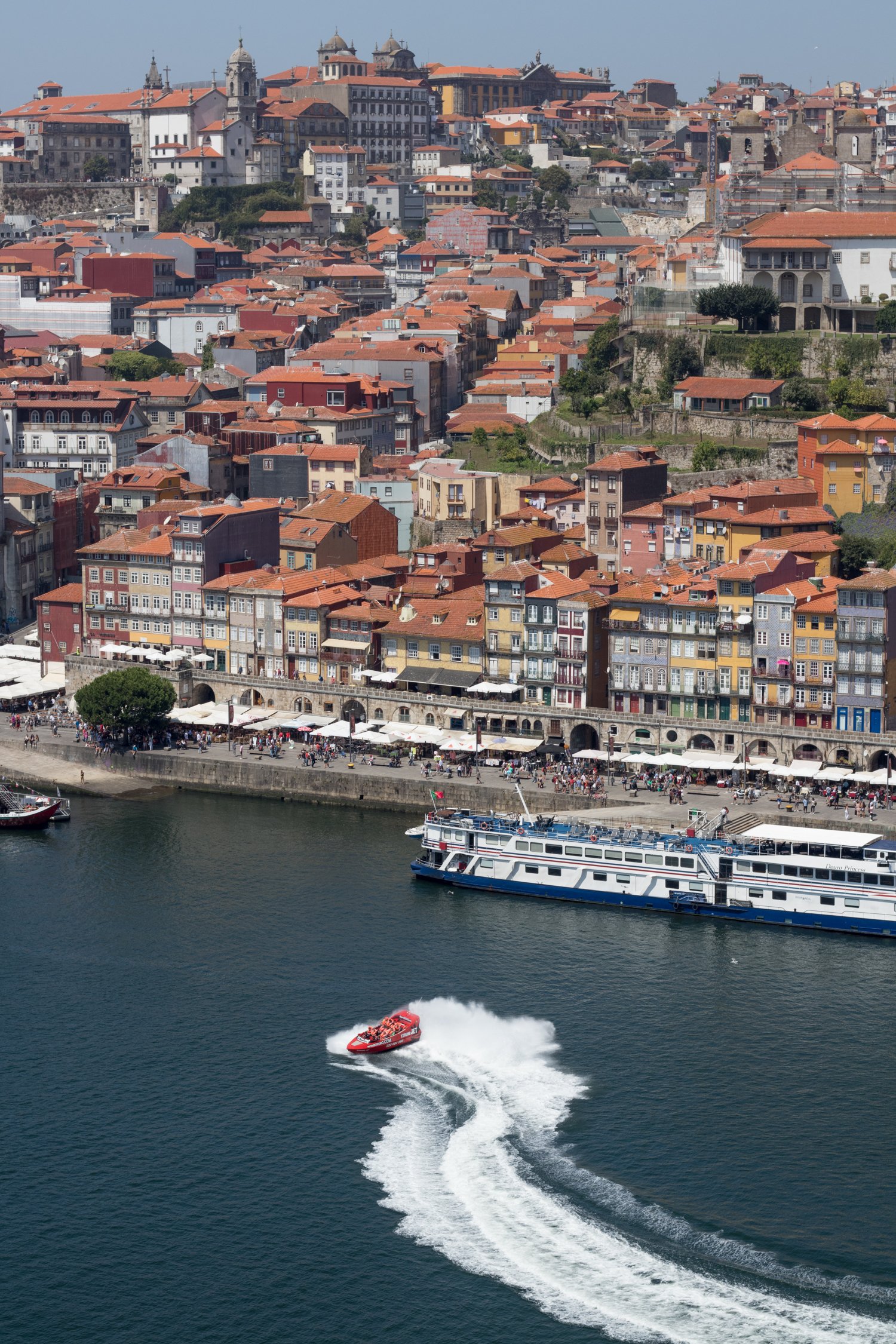 Where We Stayed
We stayed in Porto for 6 nights, which was a good amount of time but 5 nights would have probably been enough. Once again we opted for airBnb for our accommodation and stayed in the Baixa area which was close to lots of cool neighbourhood bars and restaurants frequented by the locals. I really liked the area we stayed in and would stay around that part again if I were to go back.
Food
We had some really good food whilst in Porto and of course there was lots of good seafood available. If you are into fish then the sardines are a good dish to try whilst dining out by the river – but like I mentioned I'd recommend heading to the restaurants on the side opposite to the old town part if you do. And if unlike me you do eat meat then you may want to try the Francesinha, which seems to be one of Porto's most popular dishes.
Port
And finally, I of course cannot speak about Porto without speaking about Port – one of things which it is most famous for. I would definitely recommend taking a visit to one of the many Port cellars and of course doing a bit of Port tasting whilst you're there too. We chose to visit Graham's, which was one of the Port places situated furthest away from where we were staying (but as you probably guessed – we like to walk). I'd recommend the walk though because the views from the outside of the winery are quite beautiful (as you can see on the image below) and of course the Port is worth tasting too.
The Low Down
When we visited: August 2017
Weather: Average 28 – 32 Degrees C
How long we stayed: 6 nights.
Where we stayed: Baixa.
Accommodation: Airbnb.
Must Try: Port Tasting. Sardines and the cod.
Recommendations:
-Chill out at the open air bar, Base.
-Check out the bars/restaurants in the Baixa area – and go to the Champanheria da Baixa and try the champagne sangria, it's soooo good. The atmosphere is also great on the weekend evenings.
-Go to Galeria de Paris for a super cheap yet tasty buffet lunch in the most random restaurant ever!
-Visit the Igreja de Santa Clara church.
-Go up Clérigos Tower at night for great nighttime views of the city.
-Find Arc of Truth (wine bar) for a cosy intimate setting, great wine and window views of Douro River.
-Go to Graham's Winery for great views and a tour of the wine cellars – and port tasting (obviously).
Would I go again: Yes and would recommend a trip in August too.
Samio x