On Saturday I was out for a friend's birthday. Before hand I had my outfit all planned and I'd picked out a cute stripe and floral print dress I hadn't worn before. I decided to paint my nails to match my dress and go for what I like to call a rust gradient effect.
How I achieved this nail art effect…
Step one:
What you will need.
As I wanted my colours to match my dress I chose three nail varnished in similar shades to my dress: OPI shades – Lady in Black, Your Villa Or Mine and Alpine Snow. (Base coat and top coat are optional)
Foam is needed to apply the gradient effect. For this you can use a clean sponge, some packaging or as I have done, use the foam that you often find inside jewellery boxes.
Scissors will be required to cut your foam.
Tweezers will help you hold the foam when applying the polish.
A cotton bud and some liquid nail polish remover to neaten up the edges at the end.
Step Two:
Paint all your nails with a base coat (optional), then apply your first chosen colour and wait for it to dry.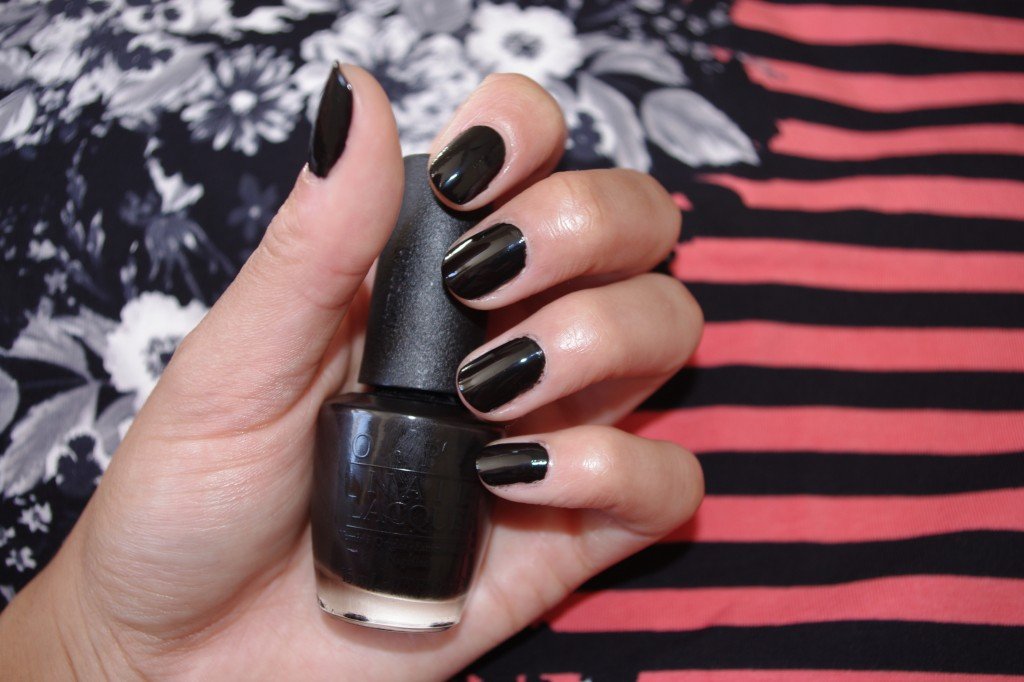 Step Three:
Cut a small square from your foam (roughly half an inch squared). Pick up the cut piece of foam with your tweezers and with your second chosen colour, lightly apply the nail varnish to your foam.
Step Four:
Gently dab the coated foam to your nails, building up more and the ends and padding lighter towards the top to achieve the fading speckle effect…
… Continue this on all your nails. Reapply the nail varnish to the foam when needed.
Step Five:
Cut a new clean piece of foam and choose your third colour. Again repeat the the previous process, this time focusing on the tips of the nails and fading into the previous colour….
… You should be left with something similar to the image below, but if you're anything like me, you will have made a mess in the process. So now it's time to neaten up!
Step Six:
Neatening up is probably the easiest part. Simply get your cotton bud and dip it into your nail varnish remover liquid. With the cotton bud tip, rub around the edges of your nails to remove any excess nail varnish. Continue this until all the edges have been cleaned up. For an extra polished look, add a top coat to finish.
The Final Result
And that's my tutorial on how I achieved my rust gradient effect nails… You can also try this look with so many different colour combinations, even adding more colours into the blend. Or how about adding glitter polish to the tips to add some sparkle!
I always love the results I get from this effect and it's a simple technique you can use time and time again with so many different colours.
Samio x