I can't say that I own much MAC makeup (in fact I can probably count the amount on one hand), however the MAC products that I do own are steady favourites in my collection that I use/wear on a regular basis.
My friend was ever so kind to surprise me with these two products and as a lover of red lips and black liner I was excited to try them out.
I had already been given the heads up on this eyeliner and was told that it might be easiest to apply with a brush rather than directly using the tip of the pen. I decided to follow the advice I was given and brushed the liner onto my hand before using a thin angled liner brush to apply it.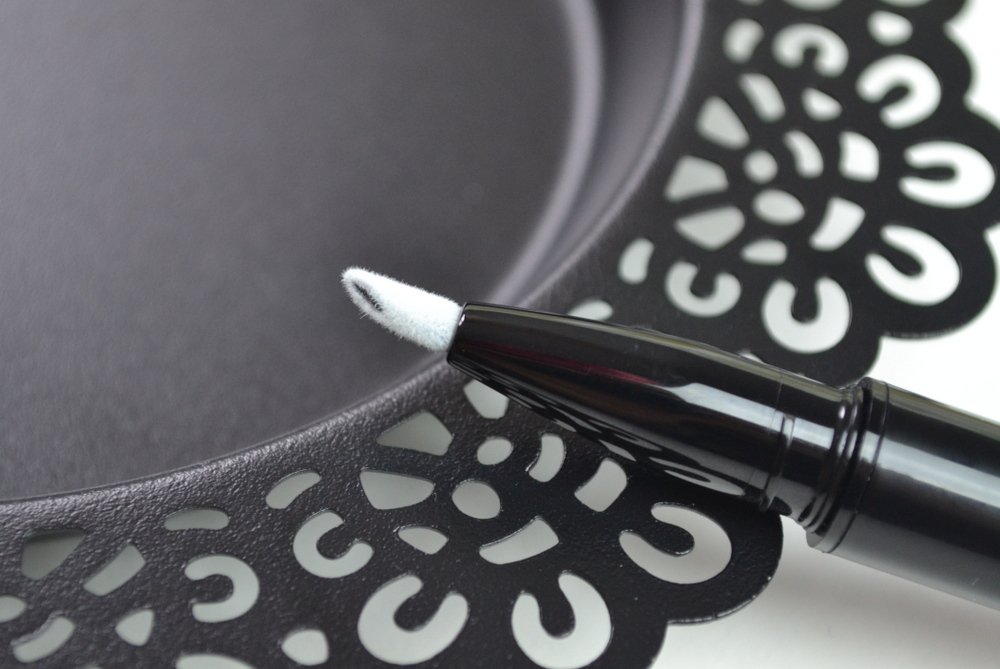 I'm going to be completely honest and say that this gel liner is not for beginners. However if you feel confident when it comes to steadily applying liner and you're looking for one that's super long wearing, then you could be onto a winner with this one!
The consistency of the liner is quite thick, so I would suggest using a super thin brush for the application. Once on however, this stuff really does stay and I wish I'd realised this before brushing a load of it onto the top of my hand. It certainly wasn't easy to wash off, that's for sure but then it definitely gave me the confidence that my liner would not be budging off my eye lids for the duration of the evening. After applying the gel liner mid afternoon, it stayed on all night and stayed looking great.
I put this one straight to the test by going out for a meal the first time I wore it. The consistency of the Matte Liquid Lip Colour, is liquid on application but then dries on the lips and once it has dried, it really does stay put. As always when applying these types of wet to dry lip products, I prepped the lips with a small amount of lip balm prior to application, to prevent my lips completely drying out.
I have to say I'm pleased with the results of this one. Not only is the shade Feels So Grand a gorgeous vibrant red, which I love but it also survived two courses of an Italian meal. Just so you know what the Matte Liquid Lip Colour held up against, my first course was soup and after a mirror check it was still going strong. It only started to fade ever so slightly in the centre of my lips after my second course, which was a linguine dish and even then it was barely noticeable and only enough that a lipstick perfectionist would spot it.
I'm happy to say that I have found another two MAC makeup products that I'm sure will become firm favourites in my makeup collections and certainly ones that I'll be relying on when I want my makeup to stay all day, or night!
Have you tried out either of these products?
Samio x