This post is sponsored by hush
Over the past few months there have been more than a few significant changes in my life. I guess you could say I've really grabbed the bull by its horns this year and took a leap in more ways than one. I've mentioned several of those changes here on my blog, a few of which I rounded up in this post here. I definitely feel like I've made it my mission this year to challenge myself to do a lot of the things I've been wanting to do for quite some time.
Most recently Damien and I have gone on a bit (actually a lot) of a fitness journey. We're currently working with a PT and it's changed our whole perspective when it comes to health and fitness. Whilst this has been a whole new challenge for us, it's one that I'm loving and I think it's definitely changed our fitness habits for the better.
Spending a lot more time working out has made me really appreciate comfortable dressing. In reality, it's nothing new, I always like there to be an element of practicality and comfort in most of my outfits (because feeling good is intertwined with looking good IMO). I guess now however I'm really embracing coooommfortable clothes, and by that I mean I've actually been investing in sportswear and things to wear to and from the gym as well. In the past I'd continually wear the same gym gear on repeat (between washing of course!) and for me sweatpants were strictly confined to the comfort of home.
More recently however I've really felt the need for comfortable laid back outfits such as this one, especially on days when I'm heading to the gym and want to comfortably layer up. So of course I was super keen when hush wanted to work with me to style up some of their 'grown up sportswear'. They have some absolutely gorgeous pieces in for autumn/winter and I got all the comfy cosy feels just eyeing up their lookbook.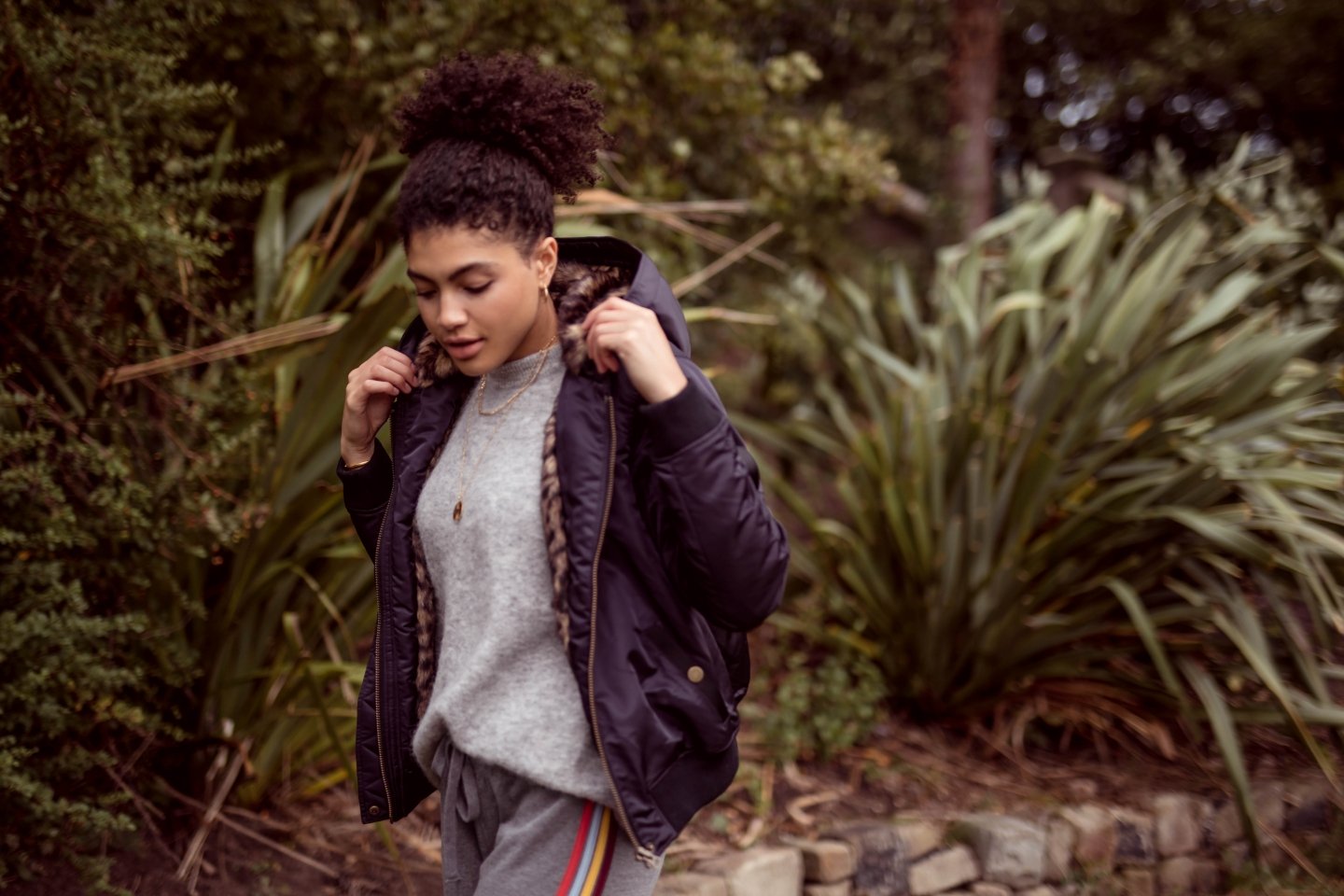 What I love about pieces like these is that they're so easily interchangeable with your everyday wardrobe. For example, if you don't want your look to be too relaxed, then swap out the sweatpants for your favourite pair of denim and you instantly have a slightly smarter, yet still very comfy outfit. Or equally for days when you want all the comfy layers, you can throw your cosiest hoody into the mix and you've got your own little portable cocoon of snugness.
Speaking of snugness, this jumper is so cosy and snuggly that I've not stopped wearing it (I'm actually even wearing it now FYI). I can tell we've moved into autumn because I'm now already living in knitwear and it's great to have such a versatile piece which I can wear with a multitude of outfits.
I'm also really loving this bomber jacket. As I mentioned, I've been spending a lot more time at the gym, which has included many 5:20am wake ups to head to our PT sessions of a morning (I know, we must be mad). This jacket has become my go to when I'm heading out on those super early mornings, the main reason being that the faux fur lining makes me feel like I'm wrapping myself in a cosy blanket. This definitely helps when your body is telling you that you should still be wrapped up in bed, so anything to help create that illusion certainly helps. Again this is another great versatile piece that I'll be able to wear day to day throughout autumn/winter too.
Overall I'm embracing the clothes that work with my lifestyle right now. Sometimes you need to update your wardrobe accordingly, and I am more than happy to be incorporating more cocoon worthy pieces into my wardrobe as we move into the new season.
Samio x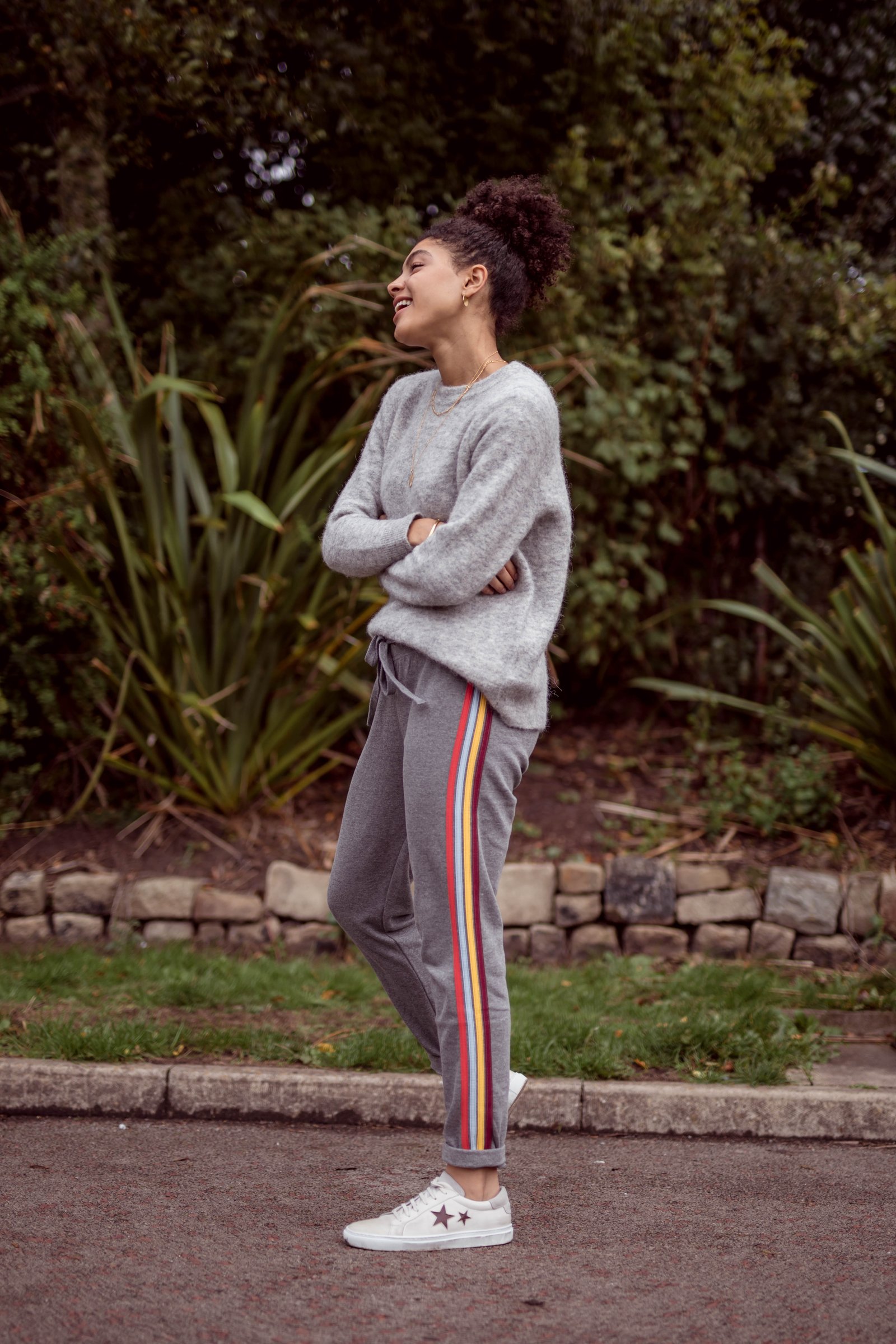 Shop The Look
Trainers – here | Cotton Tee – here | Stripped Joggers – here | Nana Jumper – here | Bomber Jacket – here