It's not often these days that I walk into a store and purchase something shortly after having spotted it in the shop window. In fact, I don't remember the last time this happened…until Friday. When I spotted this double breasted corduroy blazer in a beautiful retro pink, in the window of & Other Stories, I knew I had to have it. After trying it on I was soon at the till making my purchase and several days later I'm happy to say, I have no regrets!
I know a pink corduroy blazer may not be an obvious choice for a staple piece but my reason for being so hasty in my purchasing it, is that I know it will be a jacket that I'll get so much wear out of.
I decided to size up in this blazer. & Other Stories sizes are weird (if you're in the UK). I tend to go for a 36 in their clothes, which I believe equates to around a UK size 10. For this jacket however I decided to go one up and went for a 38. I have broad shoulders, I'm tall (5'9) and have long arms (promise I'm not an alien, although that description makes it sound like it). It's a rarity for me that I find a jacket that fits on both my shoulders and arms without absolutely swamping me in the process. I wanted this jacket to be slightly oversized anyway and I love the way this one fits as I'm able to comfortably wear layers underneath it too.
The quality of this piece feels amazing, the fit (as I've mentioned is great) and it actually also looks good worn closed (which is something I rarely do with my blazers). Also a nice little detail which I really appreciate in jackets, is that it has a little inside pocket which is the perfect size to fit your phone. Anyway, on to the styling…
With Jeans and a tee
Whilst this is a pretty snazzy jacket, I know it will be something that I'll be able to throw on day to day and just wear with a pretty cool and casual look. This jacket is quite thick, so it's great for the Autumn period as the weather gets a little cooler. Here I've worn it with a pair of flared Joe's Jeans (which I cut off at the hem to make them cropped), a fitted tee and my go to nude Adidas trainers.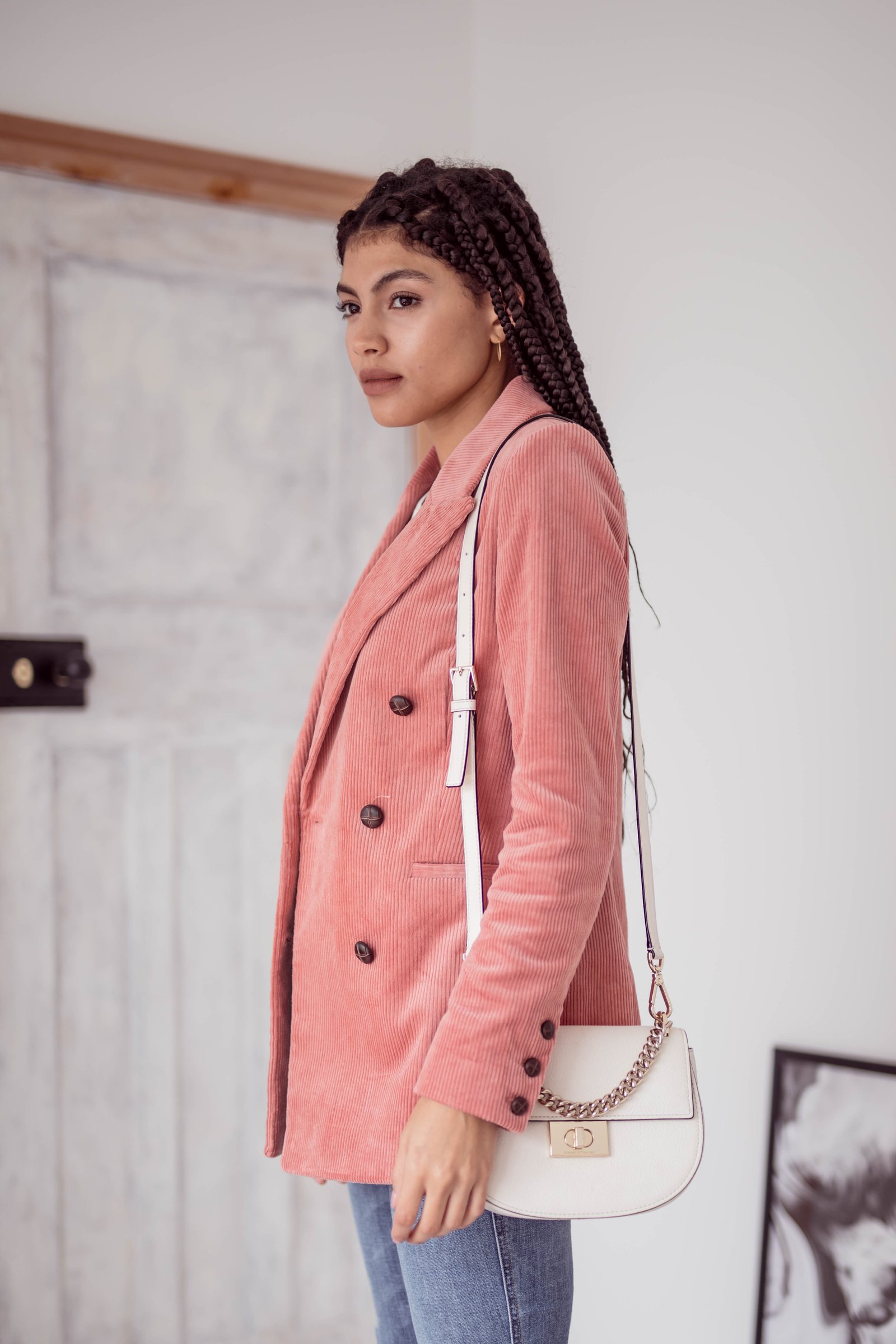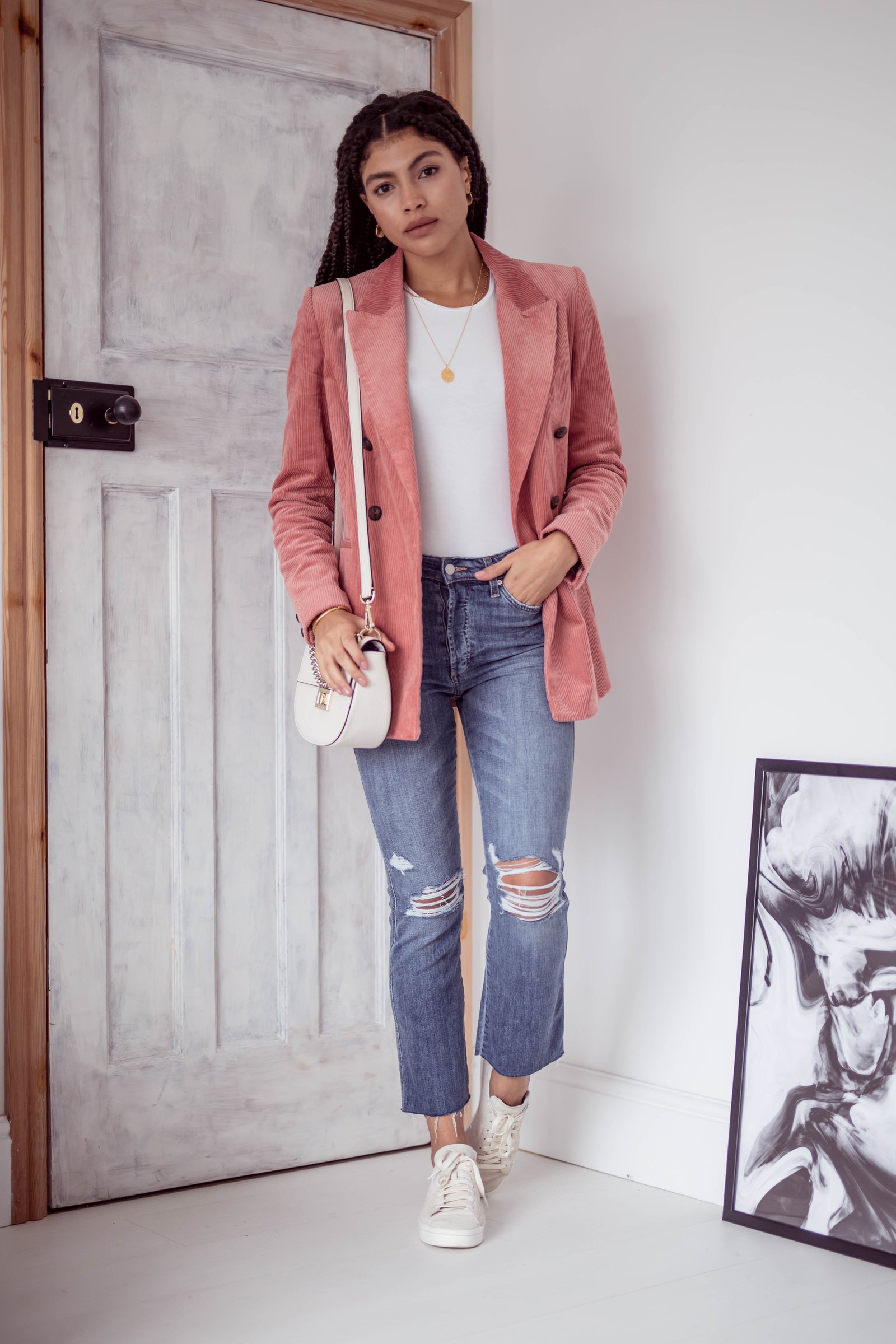 With All Black
I love how a statement jacket can jazz up an otherwise basic outfit. I've been really loving flares recently. I've realised that they really suit my shape and I'm currently all about the 70's vibes too. The jeans are from Amazon's clothing brand Find. I went for a size 26 and they fit like a glove. With heels and a cute cami this makes a great evening look. It's the type of thing I'd wear for date night when off out for a meal and some drinks.

Like A Cowboy
I'm not sure why but this third outfit combination is giving me serious cowboy vibes. Maybe it's the double denim, or maybe it's just me? Anyway, I love how denim works so well with this blazer. I do enjoy mixing textures and it's the ultimate combination of smart and casual mixed together. I decided to go for my Weekday Ami jeans and Abercrombie denim jacket worn with the Finery boots I've had since last winter. I know I'll be layering pieces under this jacket a lot as it gets colder, which makes me glad it's the perfect fit to do so.

Images and video shot by me. See more via #SamiosSelfPortraits