And breath…
The month of June was a bit of a whirlwind and so much happened that I don't feel I've been fully able to process it all yet. I'm now back home, sat at my little make shift work area, with my freshly poured coffee, my laptop open in front of me…and I'm not quite sure where to start.
I've been away twice in the past month (3 times if you include the weekend trip I took to Wales) and whilst I've enjoyed every minute of it, it's left me feeling slightly off-kilter when it comes to my blog and work…and although I ended up working throughout my holidays, I still can't help but feeling behind and somewhat overwhelmed by the amount I need to catch up on. So I thought I'd start here and cathartically share some of what I've been up to this past month and why the month of June has been such a momentous one for me.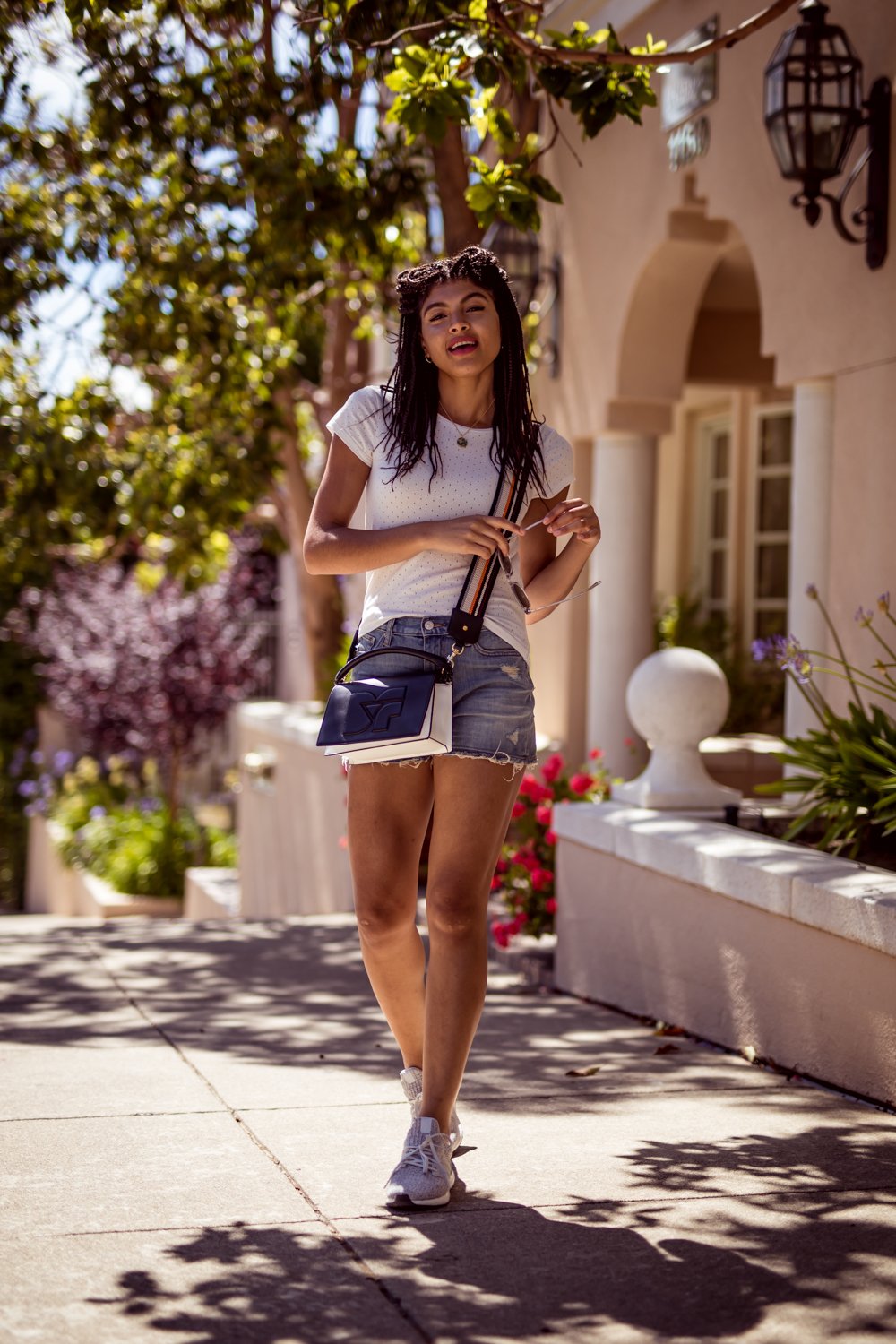 The start
I really hit the ground running at the start of June (or should I say, hiking), as myself and some of my close girlfriends took a trip to Wales to climb Mount Snowdon. This was a pre-birthday celebration for my birthday the following weekend, and something we'd been looking forward to for months. I don't usually do much for my birthday but this year I felt the urge to celebrate it doing something that was very me. It's probably a sign of my age, but I'd much rather a long hike followed by a wine night in, than a night out clubbing these days. Times really do change and I joked with my girls at how we'd come a long way since our birthday celebrations in our early 20s. It couldn't have been more perfect for me though and it was one of those girls trips where you find yourself laughing from start to finish.
The Snowdon hike also reiterated to me my love for hiking and the great outdoors. It's something I don't share much here on my blog but I've loved going hiking since I was young and it's something Damien and I have got back into doing more of recently. I want to share more of that adventurous side and I'd love to plan some more outdoorsy trips in the future too.
My Birthday
I'm not someone who frets too much over their birthday, but then I'm not 30 yet, so we'll see how things change when that one comes along…but for now I'm blissfully enjoying each year as it comes along. I could end up eating my words in years to come and long for the days when my tits were perkier and I saw a fresh faced 20 something year old staring back at me in the mirror, but for now I'm not too worried about getting (slightly) older.
With age comes wisdom, as they say and I do believe that. Not necessarily that just because you're old means you're wise, but with each year comes new lessons. I definitely know a lot more than I knew a year ago and I'm grateful for that knowledge I've gained and the lessons I've learnt. We all live and we learn, and birthdays can be a good time to reflect on what we've learnt during that particular age. For me this birthday coincided with lots of changes and things being ticked off, so it was a reflective one for sure and one that made me feel grateful for where I'm at right now.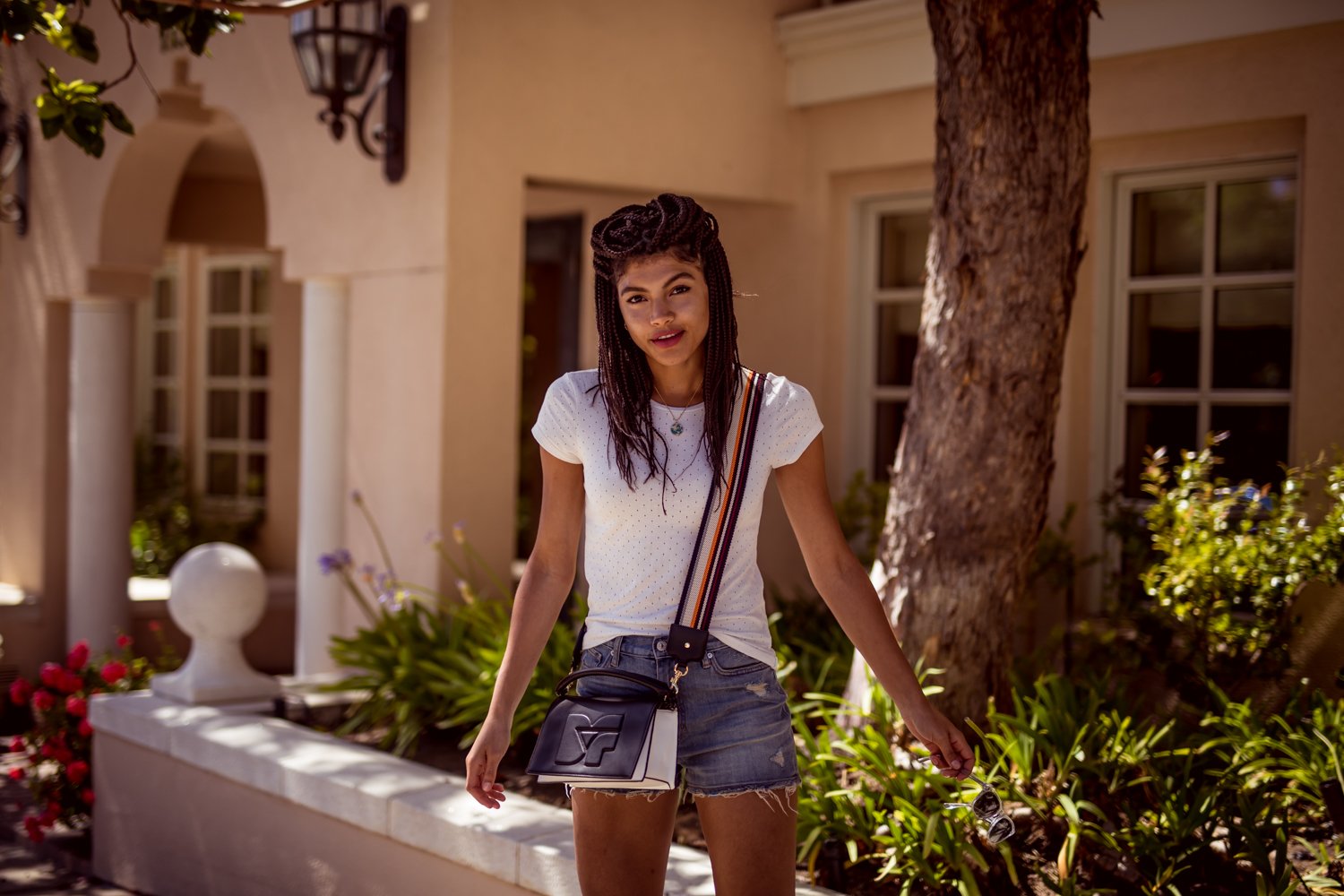 Trainers – Adidas | Shorts – Uniqlo | T-shirt – & Other Stories (sold out, similar here) | Bag – DVF (sold out, similar here) | Necklace – Pernille Corydon | Sunglasses – Taylor Morris (same style in different colour, here)
The End of An Era/New Beginnings
I decided to make the (not so easy) decision to leave my agencies and quit modelling after 6 and a half years of doing it as my full-time job. It's crazy to think that it really is the end of an era for me, even as I type these words it still sort of feels strange to be saying it. I'm no longer a model and I'm now solely a full time blogger/creative…and this is the first time I've properly announced it anywhere.
For me it's something that has naturally been transitioning over the past eight months or so. As my work load as a blogger/Youtuber/creative increased, I was finding less time for modelling, and it was like a tip of the scales one day where I just thought, something has to give. Modelling was a dream I pursued for a long time and got to fulfil so many goals through it. It gave me some incredible opportunities that I'll forever be grateful that I got to experience, and through it I met some of my best friends. I think there comes a time in many life chapters where as much as you've enjoyed it for a time, yourself, your life and your goals change so much that you know that it's time to move on.
It wasn't an easy decision to make but if I'm honest I felt relieved once I'd plucked up the courage and decided to make it final. I no longer had to keep wasting anyones time when I wasn't available for castings and modelling jobs, or try to juggle it all as my workload outside of modelling was increasing…and I instantly felt free to put 100% into my creative work, which is what I feel most passionate about.
A big Tick off The List
In March I decided it was time to finally start having driving lessons. It's something I'd put off for years and I'd never really been that interested in driving in the past. Only when it felt like it would be really beneficial (like when I'd get booked on a modelling job in the middle of the country side), did I really wish I could drive. This year I made a personal list of things I'd like to achieve and one of those was to finally learn how to drive. I still don't particularly need to be able to drive, however I finally felt ready to take on lessons and had the mindset that I wanted to get it done and pass!
I'll be honest, I didn't love driving lessons. I had an amazing instructor who was very patient and such a good teacher but I still found myself feeling incredibly anxious before every lesson. Sometimes I'd actually be filled with dread the night before a lesson and although I knew I was being irrational, I just couldn't help but worry about having to get into the car. It's funny because as soon as I'd be in the car and driving about on my lesson, (aside from the obvious minor nerves) I felt fine, yet still it was like a cycle and before the next lesson I'd be feeling anxious all over again.
I can't say it was easy breezy for me, and so I did have to work at it. When it finally came to the date of my test I knew deep down I could do it but I was worried that my nerves would get in the way. It was a surprise to me that I passed first time, so much so, that I burst out crying as soon my test examiner said the words 'you've passed'. Not the usual reaction I'm sure, but I was just so overwhelmed and I couldn't believe it was over. Thank goodness I don't have to do that again, that's all I can say.
To add to it, two days later Damien and I went to pick up our new car and that afternoon I drove it on the road for the first time as a newly passed driver. It still feels quite strange that I can now say I can drive and that there's a car on the drive that I'm actually legal to drive about in.
New Hair, Who This
I got box braids for the first time. This might not seem like the biggest thing ever but for someone who has had near enough the same hair style for the past 6 years this is quite the change. Obviously box braids aren't forever and my afro is sitting tight, having a much welcomed rest whilst in these plaits, but I'm seriously loving this style more than I expected. It's just nice not having to worry about doing my hair, which I now realise is actually so time consuming. I feel very me with this style, which is strange because I didn't think anything could feel more 'me' than my afro. But it's nice to have a change once in a while and settle in to something new. I'll actually be sad when it comes time to take them out but this is a hairstyle I will be returning to for sure.
A Long Overdue Girl's Holiday
I love girl time and girls holidays are my fave. I went to my friend's villa in Spain and had such a fun four nights away. We laughed, we drank, we ate, we chatted, we even made up a dance routine and it was just what I needed. Sunshine, sangria and girl time.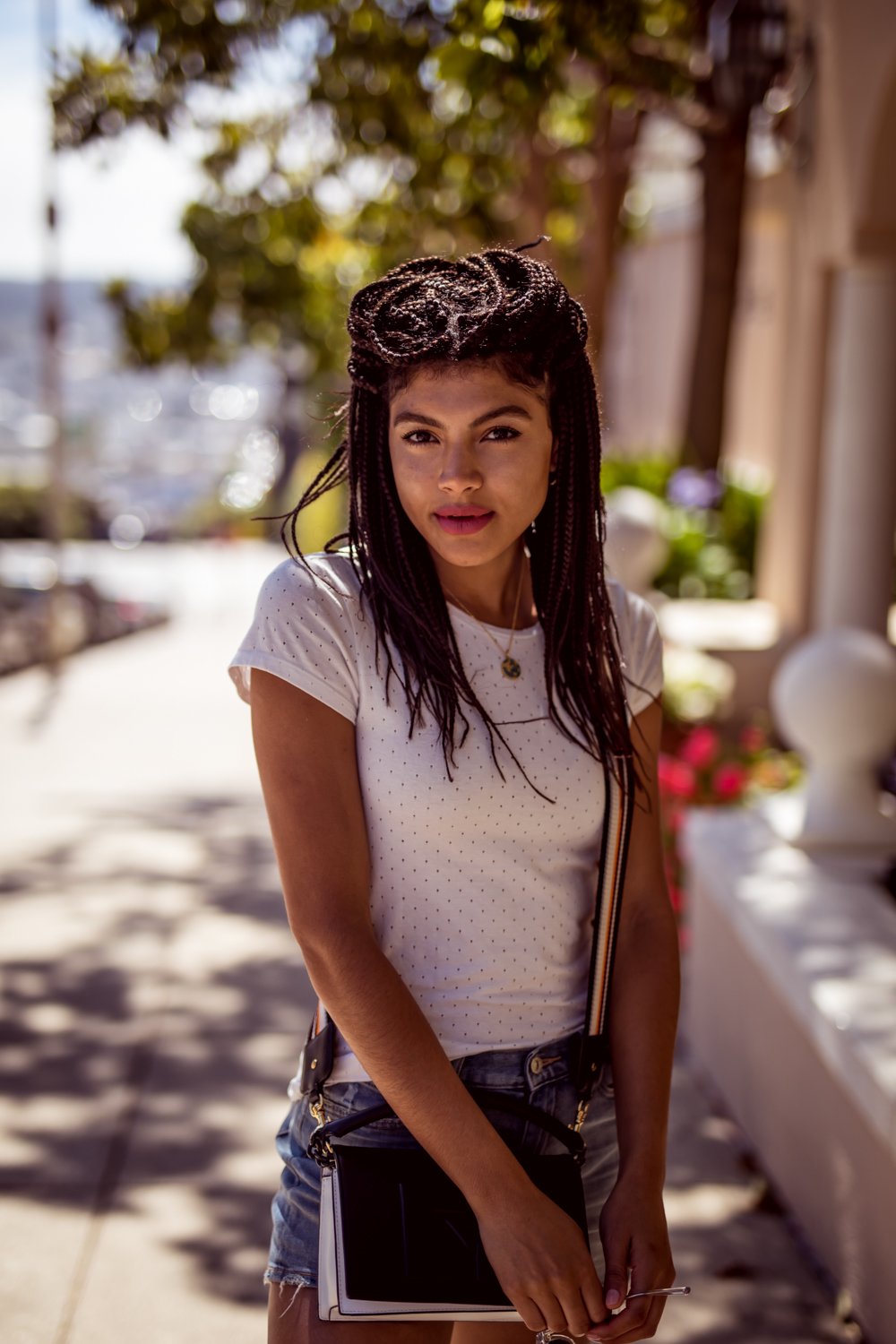 Exciting Collaborations
Although this month has been my month for going on holiday, it's ironically been one of my busiest work months. Out of office unfortunately doesn't always mean much when you're self employed and as much as I tried to step away from the work load, it's hard to completely switch off from it when important emails need to be answered and content needs to be shot.
Luckily I really enjoy the creative process and shooting (can't say the same for emails), so I didn't mind taking some time out of one of my holidays to shoot some collaborations, but it has all been rather non-stop. I'm definitely not complaining though as I've got to work with some of my favourite brands during June and one of my biggest blogger collaborations so far, that I shot with Oasis, went live at the end of the month too. I'm feeling incredibly grateful for the opportunities that have been coming my way and June was a month of seeing some of my hard work paying off.
First Time a Bridesmaid
I'll end on the most prominent part of June (although it's hard to decipher what's been most prominent during this crazy month)…but my trip to America was definitely a highlight. Damien and I went over for my friend's wedding and it was my first time not only being a bridesmaid, but a maid of honour too! I felt so honoured (pardon my pun) to be a part of our friend's special day, I think I'm as excited to see the wedding photos as the happy couple are!
The trip overall was so much fun. The wedding was in Oregon city, just outside of Portland and Damien and I flew to San Francisco for four nights, then to Portland for four nights for the wedding. We then flew from Portland to San Fran for one last night, before returning home. I plan on chatting much more about our San Fran and Portland trip in a separate blog post but for now I'll just say that we both had a brilliant time and it was great to be reunited with my friend and see her walk down the isle on her special day.
And that's about it. It's been a full on month. I feel like I've gone through a range of emotions and took on so many different experiences that my brain is only just starting to process everything properly now. June has been quite the stand out month for me and in more ways than one. It's funny how it's mid-way through the year too and it's been quite the momentous half way point. It's a prime example of how sometimes everything can come at once, and a lot of things have paved the way for the rest of my year to come.
Samio x