I constantly get asked what my hair routine is and what products I use. So I thought it was about time I finally did a hair post detailing my two go to techniques that I regularly use to achieve my most common hair styles.
BRIAD OUT
I regularly do a braid out when I'm busy and don't have time to wash and dry my hair in the morning. A braid out is achieved by braiding the hair and then leaving the braids in for a length of time before taking out the braids. Once the braids are taken out you should be left with hair which has been tamed slightly as it has taken the shape of the braids, to create loose curls or waves. Obviously the longer you are able to leave the braids in the better the desired result, when taking the braids out. Often perpetration the night before I find works best. A lot of people see braid outs as a chore but for me I find it one of the simplest ways to prep my hair and treat my hair at the same time.
What products should I use and how much should I use?
The first thing I do before I braid my hair is prep my hair with products. If I've just washed my hair I'll usually wait until my hair is almost dry but still slightly damp to add the products. If I'm not washing my hair and I'm just adding more product, I'll sometimes dampen the hair first by patting it with wet hands. I do this so not to soak the hair but just to lightly wet it to make it more manageable when braiding. The products used can often help to dampen the hair too, again making it more manageable for braiding. I'll lightly comb through the sections with my fingers before braiding each part.
Which products you use is up to you and it often takes some experimenting and trying out different things to find out which products work best for you.
The products I mostly use when doing a braid out are; Macadamia Oil Treatment and Inecto Coconut Hair Repair Treatment. The Inecto treatment is actually a wash out product but I find it works really well at keeping my curls intact when left in my hair. I'll usually use about two large dollops of the Inecto treatment for each braid and then run through the ends with a pea sized amount of the Macadamia oil treatment.
How many braids should I do and how should they look?

The amount of braids/plaits you do is up to you. The braids shouldn't take you hours to do. Depending on how much time I have to spend prepping my hair, I'll usually do between two and six braids (two when I'm feeling really lazy). The amount of braids you do also affects what type of curl/wave pattern you'll achieve. Usually bigger braids and plaits give a looser wave and smaller ones create a much tighter wave or curl.
Most times I'll do five braids and although they don't have to look particularly neat, it always helps to make one of the parts where you intend to have your actual parting once the braids are taken out.
For this braid out I went for a middle part.
-Continue braiding the hair like this until you've braided all the hair.

Do I need to wrap my hair after braiding?
Before going to bed it's best to cover your hair with some kind of hair net or scarf, that way it stops friction between the hair and the pillow, as to prevent frizz. If I'm going out and my hair is in braids I'll usually wear a headscarf.

Taking out the braids

Take out each braid until you're left with a head of wavy/curly hair similar to this.
How do I separate the hair and make it look more natural?
An important tool to use is an afro comb. If you don't have an afro comb, don't panic, you can always use your fingers to tease out the hair.
Start with a wide tooth afro comb and working from the root, gently tease the hair out. Be carful not to drag the comb all the way through the hair, as this will brush the hair out and ruin the style. I'll usually work on my hair with a smaller toothed comb towards the ends but again, using your fingers is fine and the size of comb is just a preference.
The end result
For a wash and go the technique is easy, you simply need to wash your hair, add your products and let it dry. I tend to do a wash and go when I have more time to wash and dry my hair and when I want to have my natural curls out. It's all about finding the products that are right for your hair, working out how much to use and when to use them. Serums and oils are good on dry parts of the hair. For example, when I took the pictures for this post I was due a trim, so I used more oil on the ends to help eliminate frizz. Since then I've had a hair cut (only a trim I've not gone bald or anything) and now I'm able to use less serum/oily products as the ends are in better condition. It's always good to rotate which products you use anyway, so that your hair doesn't get use to them and stop producing the same results.
What should I wash my hair with?
You can use shampoo and conditioner. I use a two in one product called Macadamia Flawless (click here to see previous review post), it works wonders on my hair and helps it dry quicker. When I'm in the shower and I still have some of the product in my hair (or conditioner), I'll comb through it, starting at the ends and working my way up before rinsing.
What products should I use and how much should I use?
After washing my hair I'll wrap my hair in a towel and leave it to soak up the excess water. Whilst the hair is still damp, I apply my products. Again I use Macadamia Oil Treatment and Inecto Hair Repair Treatment. Other products I like to use are; Aussie Miracle Moist conditioner and Twisted Sister Curl Activator Cream. I like to change which products I use from time to time and will usually use a combination of about two at a time. I probably use around five large dollops of a product, making sure it's spread evenly through my hair. I'll use serum or the Macadamia oil treatment to run thought the ends (when needed) and any dry parts.
How should I dry my hair?
I used to be really good and avoid hair dryers as much as possible, letting my hair dry naturally. More recently though I've slipped back into my old habits and started using a hair dryer again, hence me using an old travel size hair dryer at the moment. Since I've started using a hair dryer again, I should buy a new one that at least 'claims' to be gentle on your hair…. Anyway, if you have time it's always good to let your hair dry naturally but if you're like me and want speedy results, then you can use a hair dryer and keep it on a lower heat if you want to 'be good' to your hair.
As I'm drying my hair, I'll tend to tease out it out slightly by pulling parts whilst drying it to add length when dried.
How do I make my hair big?
This is a question I get asked a lot and the cut is really important when it comes to this. Layers really help make the hair look thicker and add volume. Another thing that helps add volume is my all time favourite tool, the afro comb!
Once my hair is fully dried, I'm ready to add volume and tease out some of the curls slightly by working though it with my afro comb. The technique is basically the same as when I'm teasing out my hair after a braid out. I'm usually slightly more rough when teasing out my hair after it's washed and dried, as I know it takes a lot to break up the natural coils and so it won't ruin the style. I like to tease out my hair and work through it until it starts to get a more natural look, where the curls are still intact but they don't look too perfect. Most importantly, I like my hair to look big.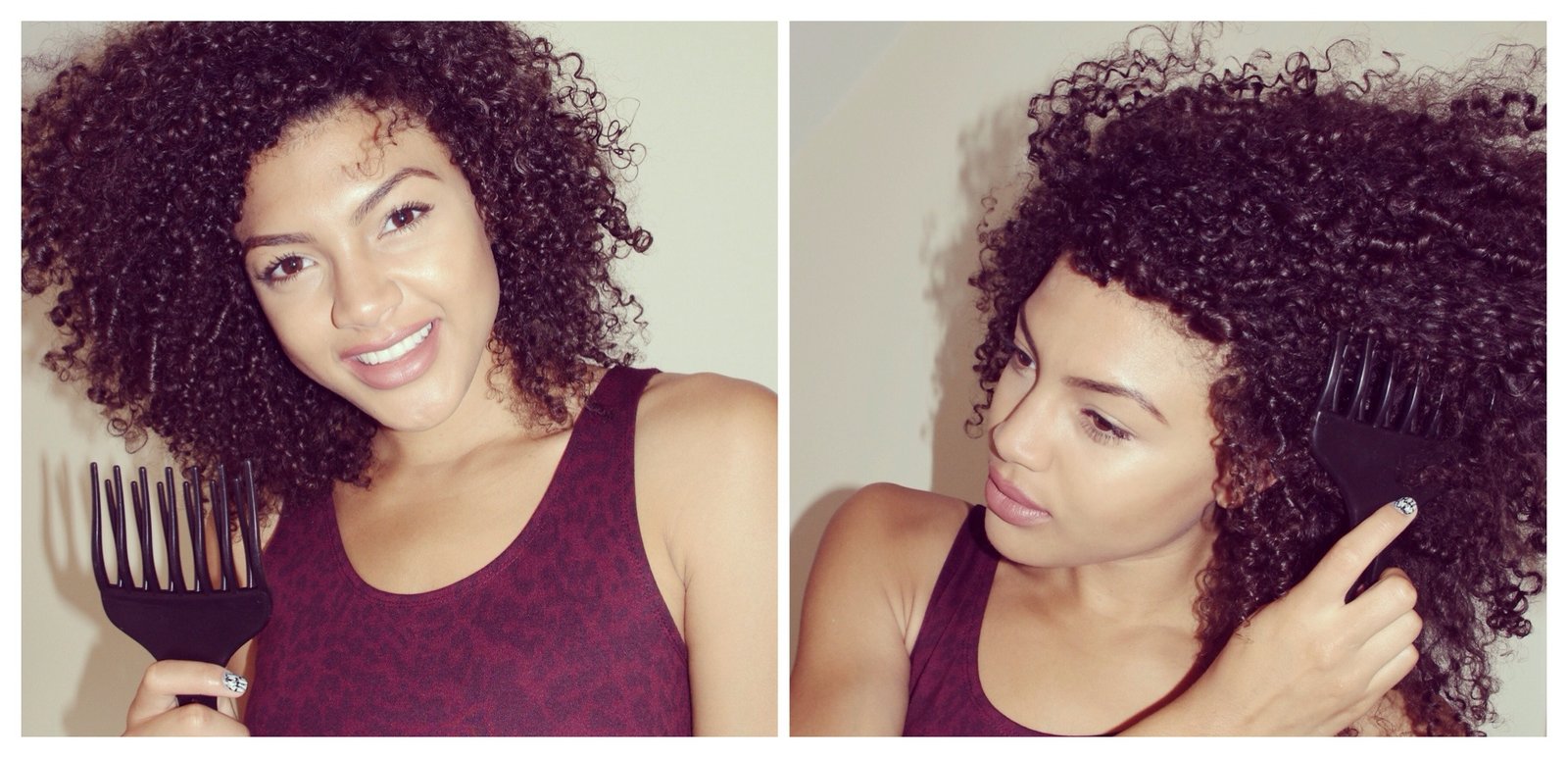 The end result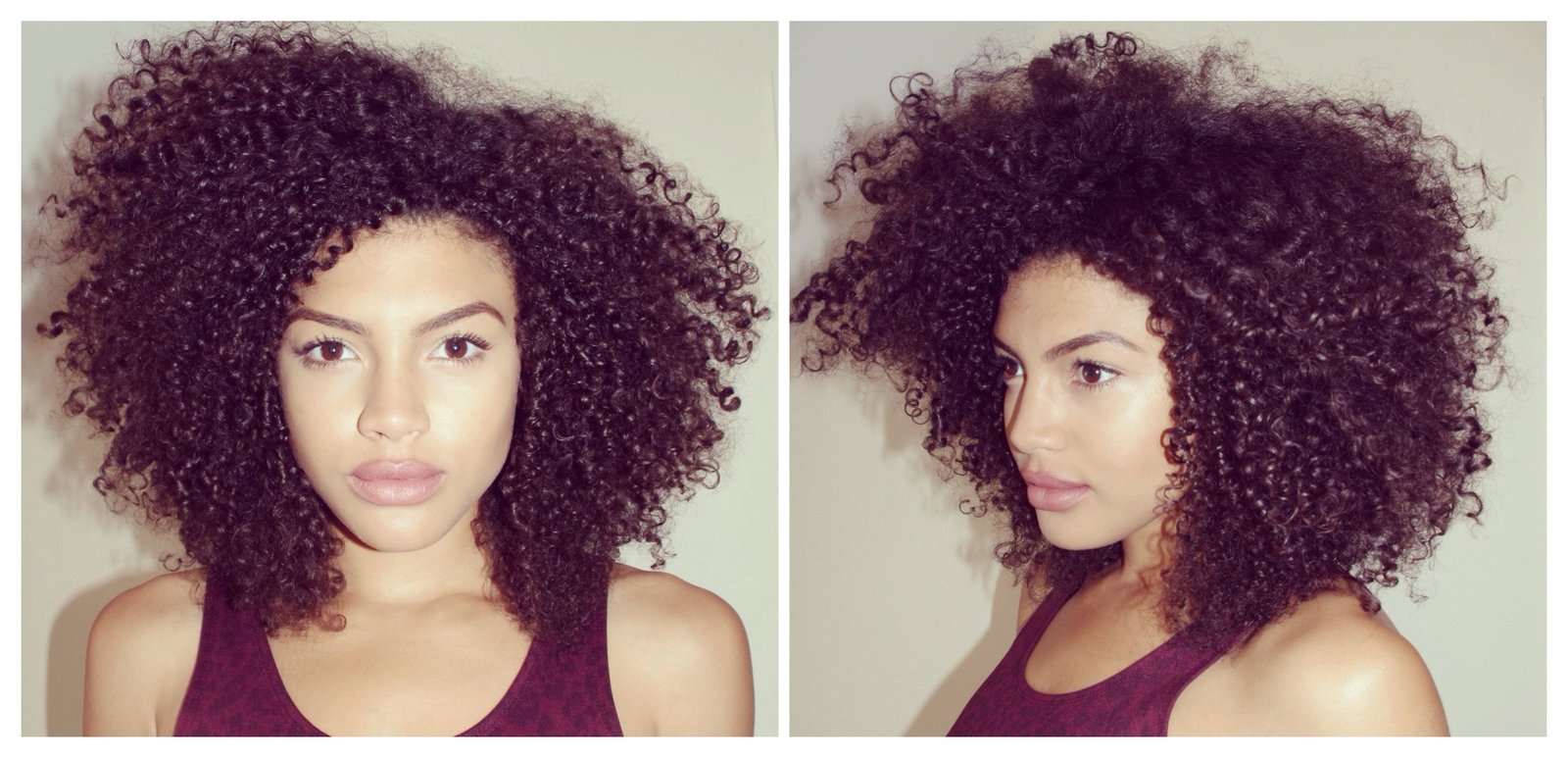 And there you have it, Braid out Vs Wash and go, my two favourite hair routines for styling my afro.
Samio x