As promised here is a review post on a couple of Macadamia products I bought whilst modelling at this year's Pro Hair Live.
It was a couple of months ago now but when I was at Pro Hair Live, during some free time on a break, I went along with another model who was heading over to the Macadamia oil stand to purchase some products. Recommended by the model and (obviously) by the people working on the stand, I ended up buying these two products:
Macadamia Healing Oil Treatment (in the 125 ml/4.2 oz) and Macadamia Flawless (in the 250ml/8oz)
I was also able to get a free sachet of the Macadamia deep repair masque to try out too.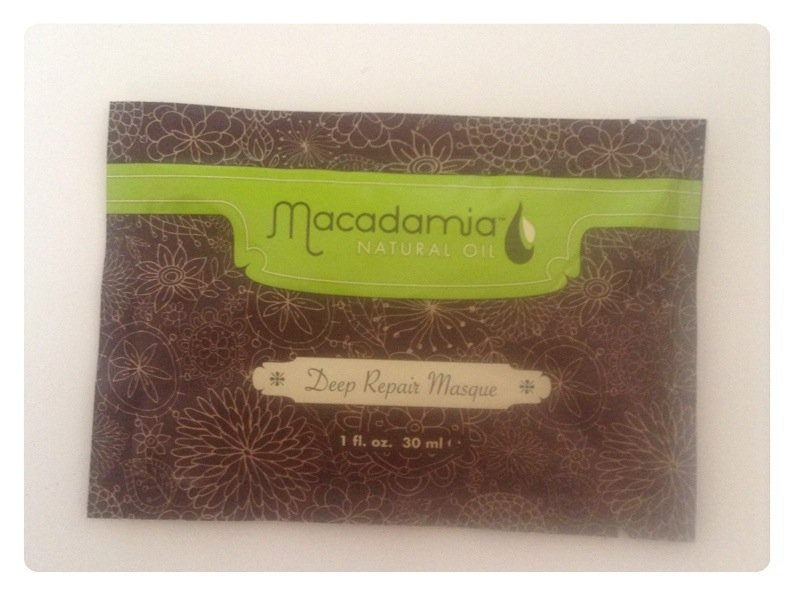 After two days of modelling on the GHD stand, having my hair repeatedly straightened and styled with their new Eclipse stylers (which might I add, work amazing at straightening curly hair!), it couldn't have been a better time to try out my new products and give my hair some much needed T.L.C.
So here is a step by step of my hair wash with the Macadamia Flawless:
The first time I used Flawless my hair was straight, so I couldn't wait to get some water on it and bring my curls back.

The directions on the back of the Flawless can tells you to 'emulsify 1 to 2 pumps between hands' before spreading through the hair. The product squeezes out like shaving foam and comes out feeling of a similar consistency, before rubbing into a soap like foam. It also says 'add a splash of water to assist the spreading if needed'. The first time I used it, I hadn't read this part properly and so applied it to already wet hair (in the excitement of trying out my new product). This is something I have continued to do when using this product, as I find it makes it easier to work the product through the hair whilst it is wet and appears to give the same results.
Once the product is spread through your hair, you then leave it on for five minutes. I then put my hair in a bun on top of my head whilst I continue showering. Just before I'm ready to rinse out the Flawless product, I comb through my hair, starting at the ends and working my way up (I always have to brush my hair whilst in the shower as it's most manageable when wet). Straight away you can feel how much the product has de-tangled the hair and helped to condition it. With any other two in one product my hair would usually be left knotty and tangled, making it unbearable to comb through. With Flawless it manages to break down the grease, washing the hair whilst conditioning and keeping it soft at the same time!
One of the things I had been told about the product when buying it from the Macadamia stand, which it doesn't say on the tin, is that helps cut drying time by around 40% to 50%. I hadn't thought much about it but then after my first wash with Flawless I was surprised to see how speedy the drying time actually was. After washing, I always imidiatly wrap my hair in a towel, which I would usually leave on for a while as my hair stays wet for a long time after washing. But after the first time using Flawless, not long after having the towel wrapped on my head, my hair was almost dry. This is another thing I love about this product. I try to stay away from hair dryers as much as possible and it can often take a long while to let my hair dry naturally. Now I use Flawless and my hair drying time is cut by half, which makes washing my hair feel like so much less of a chore.
After the wash I then move on to the the Macadamia oil treatment. The Macadamia oil treatment is meant for styling and finishing. The back of the bottle instructs to 'work a small amount into damp or dry hair' or it says that you can 'add a small amount to masque or leave in cream' for when you want extra nourishment.
I first used this product just after my first wash with Flawless. After washing, when my hair was still slightly damp, I ran some of the Macadamia oil treatment through my hair, (focusing mainly on the ends) and then left it out to dry completely. The result was amazing. Never have my curls been left so defined using so little product. The Macadamia oil is great and it adds much needed moisture to my hair without leaving it sticky or greasy and as a bonus, the smell is gorgeous!
The picture below shows my curls after using only Macadamia Flawless and Macadamia oil treatment.
I loved the result these two products combined, had my hair. Since then I have also tried out the sachet of the Macadamia deep repair masque. The instructions say to 'comb through clean wet hair and allow up to 7 minutes of penetration before rinsing'. I've only got round to using this product twice, but each time it left my hair feeling super conditioned and my curls stayed really defined after drying, even with no product on!
The product states that it is an 'intense treatment' and to 'use no more than twice a week'. I'm still yet to purchase a full size tub of this product but so far I've managed to get two treatments out of the one 30ml packet, with still enough left for one more. So after I've finished this sachet I will most probably also purchase the regular size tub.
How long do they last?
I've now been using both the Macadamia Flawless and the Macadamia oil treatment for just over 9 weeks. I wash my hair with the Flawless about two to three times a week, using around two pumps each time. There is still some left in the container, although the only downside is not being able to see how much product is left in the can. Judging by the weight and how the product is now pumping out, I'd say I had a few more washes left. So for someone who washes their hair less often than I do, this product would last a lot longer.
The Macadamia oil only just ran out just last week and I've already ordered my next one (due to arrive in the post any day now)! I've been using this product almost every other day, using between two and five pumps each time, depending on when I'm using it.
Value for money?
The Macadamia Flawless has a retail price of around £25/$33 but after searching on the Internet you can find it on Amazon and eBay for around £17. I was lucky enough to buy it at the Hair Show on offer for £10, however after discovering the effects of the product and how long it lasts I will be buying this product again, even at full price. I think Flawless is worth the price for the effects it has. Also you have to think, you're saving on the cost of buying both shampoo and conditioner, so if you already buy two pricey products, this could cut the cost by buying just one.
The Macadamia oil, I would say is great value for money. I regularly use serums and oils of different brands in my hair. Many often low priced but also for a small amount which I do use regularly, so I get through a lot. With the Macadamia oil it retails at around £23/€39, however I just recently purchased a brand new 125ml/4.2 oz bottle on eBay for £14. I think it's great value for money as you only need to use a small amount so it lasts ages, even when you use it a lot like I do.
Would I buy again?
I would definitely buy all of these products again! I would also recommend them to those with similar hair types as well as to those with straight hair too. The Macadamia oil treatment can be used to help define curls and add nurshiment as well as be used for when blow drying hair, for a super sleek finish.
Overview
Okay, so if you haven't realised from this blog post already, I love these Macadamia products! They have now worked their way into my hair care routine and are up their with some of my other favourite hair care brands and products. In the near future I'll definitely be trying out more of the products Macadamia has to offer and when I do, I'll be sure to do another blog post!
Samio x