My Halloween festivities began on Saturday and in true Samio style I had to add a bit of colour and sparkle to my first Halloween creation. Not one to do things by half, I went all out with a full face of paint, a wig and giant lace bow. Who said Halloween can't be fabulous!
Look below to see step by step, how I achieved this look.
What I used:
Models Own, blue duo eyeshadow.
(Any Brand) black liquid eyeliner.
Jeweled fake eyelashes.
For application:
One double ended foundation brush.
One eyeshadow applicator.
Powder/contouring brush
Examples of some of the products used (colours vary):
I started by applying the white face paint to my face using my face paint sponge. I covered my face, stopping just before my hair line, going to the edge of my jaw line and avoiding my ears, as to create a mask type shape.
Once the sponge application had been applied, I then left it to dry and then painted on a second layer to create better coverage. This time I used the thick end of my double ended makeup brush.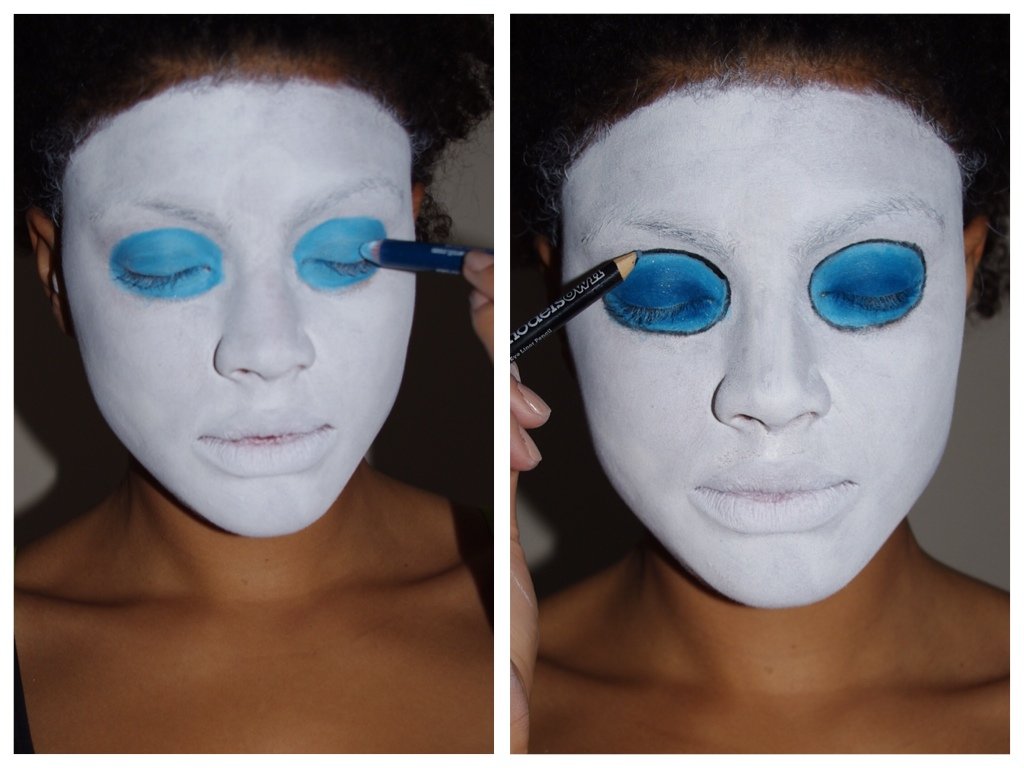 After painting my face, I used the glitter eye pencil to draw and colour in two large circles around my eyes. I then used my eyeshadow applicator to apply the bright blue eyeshadow, to the eyelids and just under the eye.
Next I carefully drew around the blue circles, using the black eyeliner pencil, before going over the line with a black liquid eyeliner.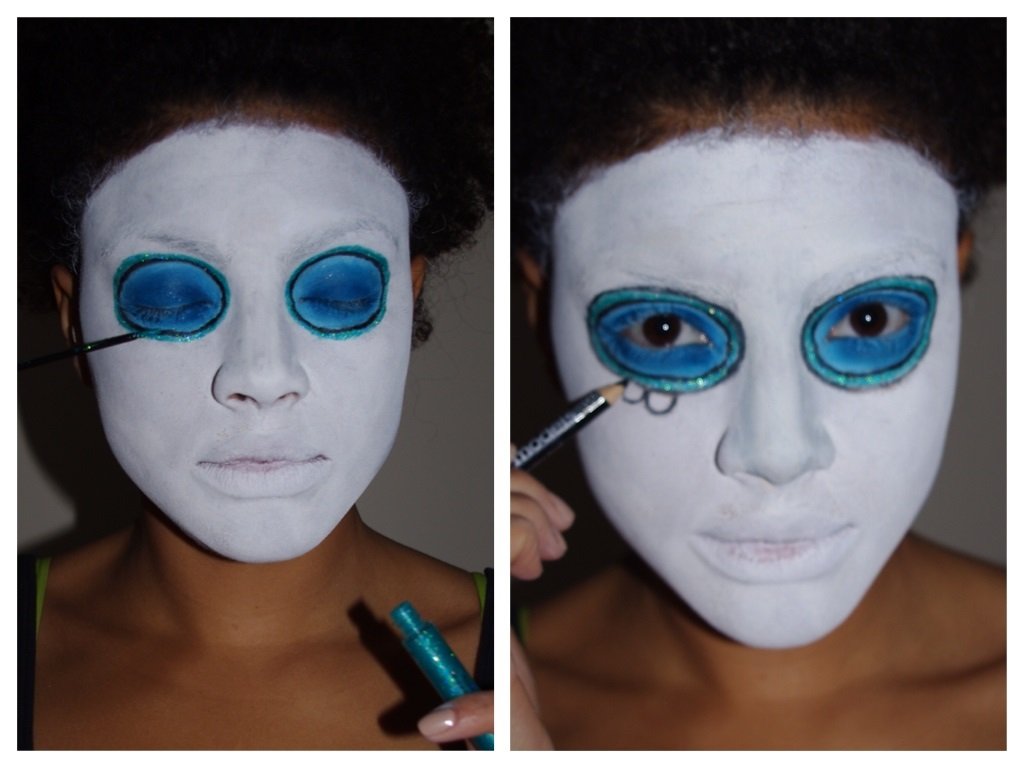 Usiging the Glam Crystals glitter eyeliner in Le Freak, I followed the outside edge of the black circle line, to create an outter glittery line.
As before, I repeted to draw another black line around the outside of the glitter line, again using pencil and then liquid eyeliner. I then began to carefully draw half circles around the outter line.
I contiuned the half circle pattern around both eyes and then filled them in using the Glam Crystals glitter eyeliner in Hustle.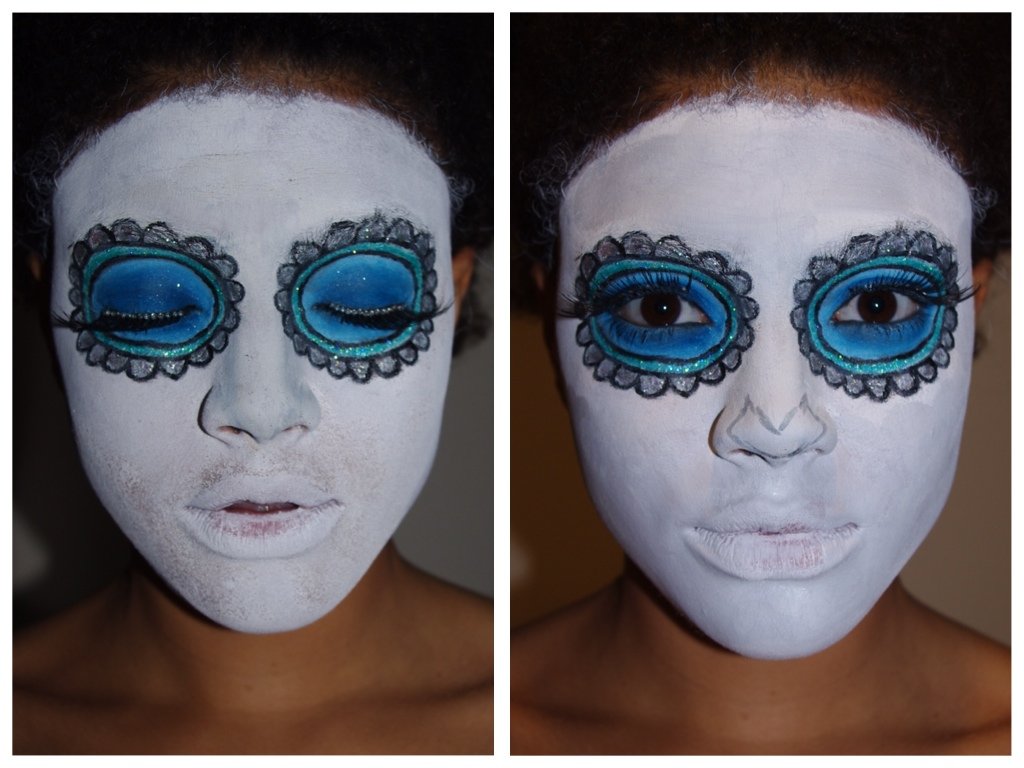 Next I applied black mascara to my top lashes and using eyelash glue, I applied my jeweled fake eyelashes.
Moving onto the nose, I used my pencil eyeliner to draw a light outline of the shape I wanted my skull nose to be.
I coloured in the skull nose shape, using the black face paint. This could also be done using an eyeliner pencil or liquid eyeliner.
I then went onto colouring the lips, using Seventeen lipstick in shade New black. I drew over the top lip line and slightly inside the botton lip line, to create a doll type lip shape. I then drew two lines out from either side of mouth.
Using the black eyeliner pencil, I roughly drew verticle lines through the horizontal lines either side of my mouth.
Then using the same technique as around the eyes, on my forhead I drew a love heart using the eyeline pencil, going over it with the liquid eyeliner. I then filled in the heart shape with the Glam Crystals glitter eyeliner in Le Freak.
For the finishing touches I used a makeup brush to heavily contour my cheeks, using Sleeks bronzing powder in dark. I then went over this area again, using the the blue Models Own eyeshadow, as used on the eyes.
Once my makeup was finished, I added a wig and giant lace hair bow to create the finishing look…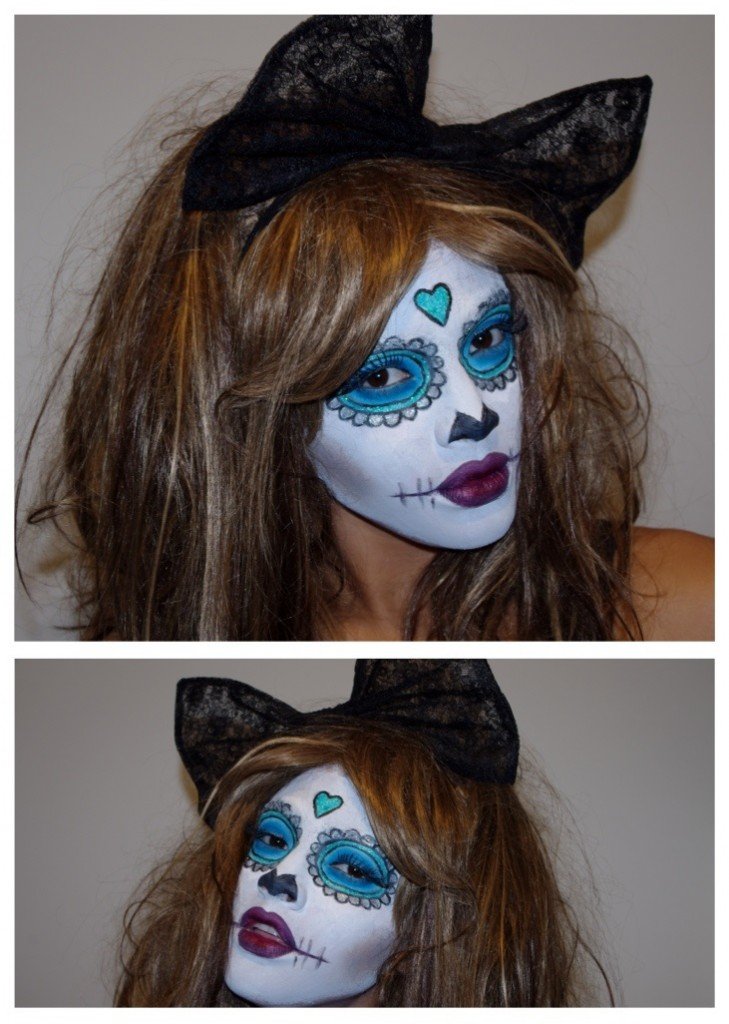 Happy Halloween!
Samio x