It's funny how the day I decide to get pictures in my new rain mac, is the day the sun decides to show its face. This did however make me realise that this is a pretty versatile jacket. I think we had the warmest day in a while (here in Manchester at least) the other day, and for the first time in ages, I didn't feel the need to wrap up in multiple layers. The thing with living in England is, you almost have to be ready for anything weather wise. Even on the sunniest days, I often carry an umbrella in my hand bag (just incase).
I think I may have found my solution with this light weight Mondara jacket. It's loose enough to wear over layers on chillier days and the fact that the jacket is water proof means I'm always prepared for rain when I'm wearing it. It makes for the perfect transitional piece as we (very slowly) move from winter into spring.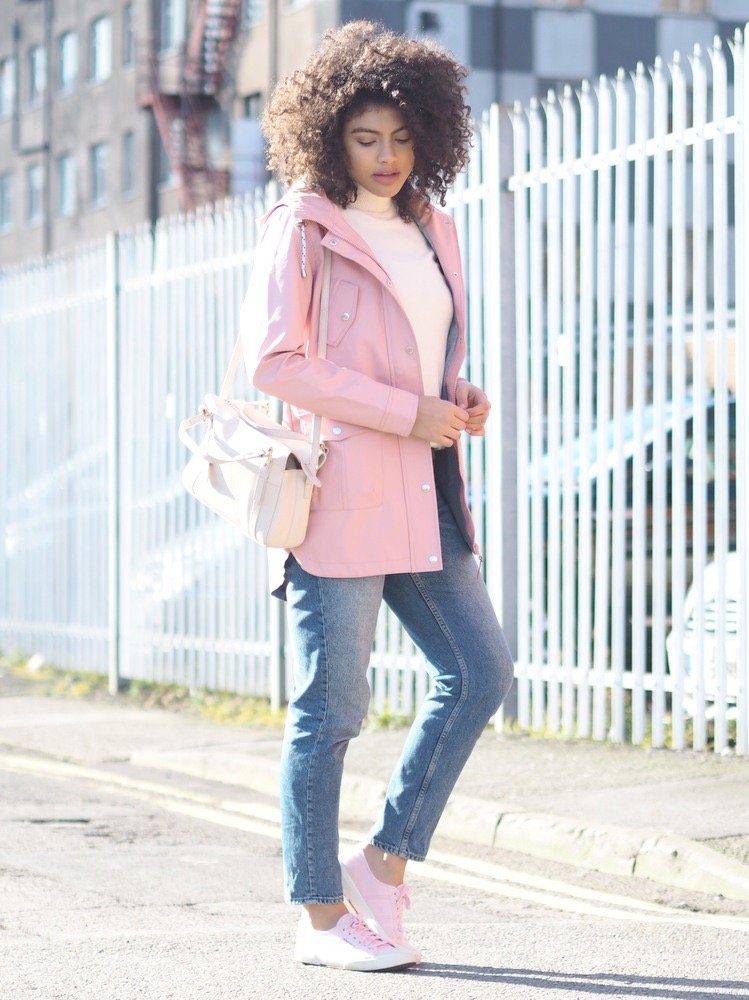 Another garment that I find perfect for 'in-between seasons', is the roll neck. I've been loving wearing this one in particular for that fact that it's one of those pieces that is easy to throw on and that fact that it's not too thick, means it's easy to layer up too.
What I Wore – Shop This Look:
Bellfield Mondara Jacket – here – Use my discount code "BLOG20" at the checkout!
Cream Roll Neck – here
Pink Superga – here
Radley Bag – similar here
Mom Jeans – similar here
It's fair to say that I'm somewhat enjoying playing with different styles at the moment especially when it comes to mix and matching different staple pieces in my wardrobe. I recently created a very short lookbook style video showing a few ways to wear the cream roll neck, teamed with the Mom jeans in a few different looks, which you can check out here:
Samio x
Some of the items may have been sent to me for review purposes, however this does not affect my opinions – check out my disclaimer for further information.