Recently I've been getting a lot of questions on how I do my braid outs. I previously did a similar post last year: Braid Out Vs Wash & Go but since so many people have been asking and also as I sometimes use different products, I thought I'd do an updated post with lots more images to show it step by step.
For this particular braid out I used Aussie Mega Instant Conditioner. I usually use Aussie Miracle Moist Conditioner but whilst shopping I picked up the Mega Instant by mistake and so I've been using this one. There isn't a huge difference, both work rather well on my hair. I just tend to find Miracle Moist is more wet and adds more moisture to my hair, where as Mega Instant, I find is thicker and slightly heavier on the hair so I tend to use it more sparingly.
Here is a before picture of my hair. Here my hair had been washed the previous day and then left product free. As you can see there is quite a lot of frizz and the curls are slightly fuzzy and less defined.

I first divide my hair into 5 rough sections. I only made the center part neat this particular time, as it is where I wanted my hair to part once I'd done the braid out. If you decide you want a side part, then make sure there is a neat divide on whichever side you would like to wear your part once you've taken out your plaits. I then apply a dollop of the Mega Instant Conditioner to my first section (usually working on a front section first) and began to comb through, slowly working through from the ends to the root of my hair.

I use enough product so that the hair is damp and easy to brush through. Once the product is fully brushed through the first section of hair, you can see how my curls have become defined and tamed by the product.

I then tightly plait the first section of hair. I start the plait loser at the top of my head, so not to put too much strain on my hair at the root. I then begin to plait tighter about half an inch into the plait until the end.
Tip: It's important to make sure the hair is not too wet when you plait it, as then it often makes it harder to dry once braided up and when the hair stays wet the style doesn't set. If you need to, wait a couple of minutes for the hair to dry a little before braiding up. If the hair is just slightly damp, then it should be fine.

I repeat this process of applying the product and then plaiting the combed through sections until I have five plaits on my head. As you can see my sections have been roughly parted, as you won't see these back sections once the braids have been taken out. I have only paid attention to making the center part straight as you can also see below.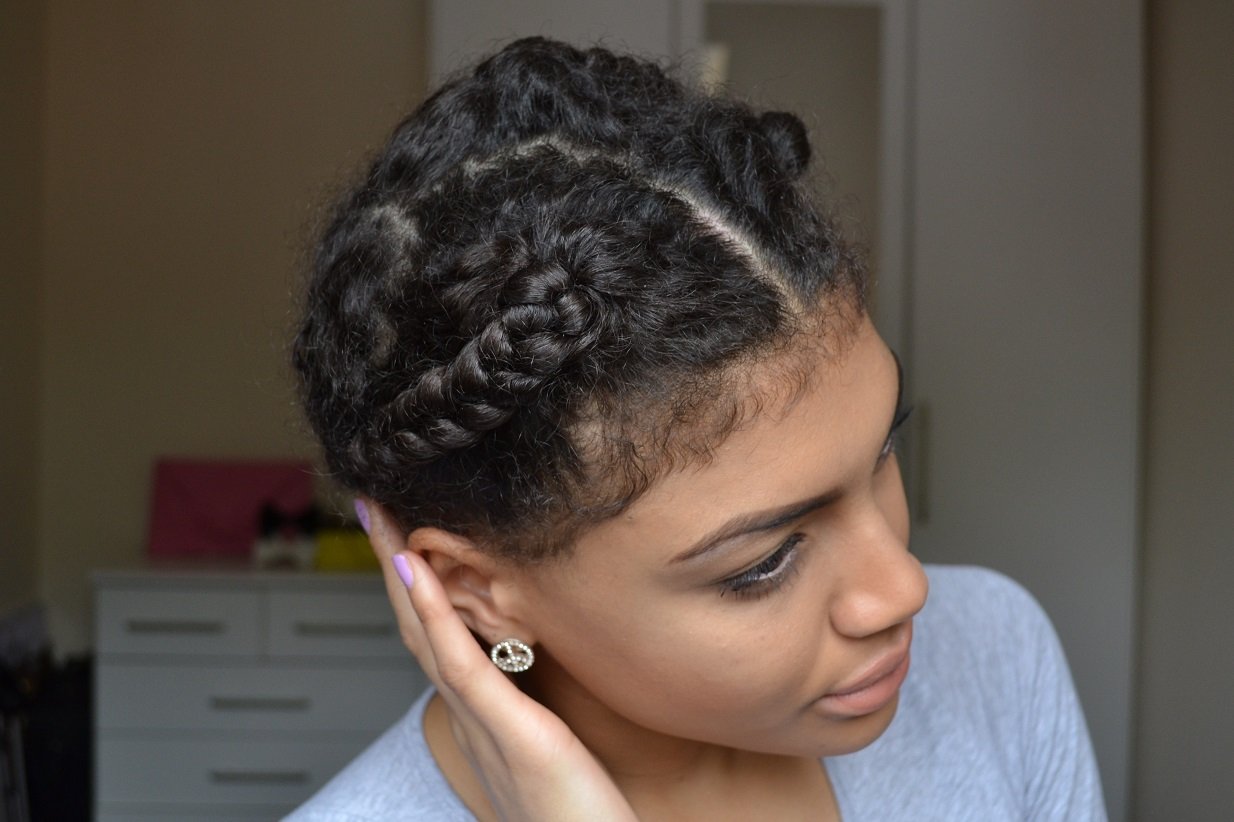 If you're sleeping on your braids, then it is advised to wear a silky head scarf to prevent fiction which can cause frizz. As my parts and braids aren't particularly neat, I also like to wear a head scarf if I am going out with my protective hair style before doing a braid out.

When I'm ready to take my braids out (usually the morning after) I first check that the plaits feel fully dry. If I take the hair out damp, the style usually just falls flat. So it's rather important that the hair is fully dry before taking out the plaits. I separate each plait carefully, as not to mess up the newly formed waves/curls.

Once all my braids are out, I then use my fingers as a comb to carefully separate through the roots of my hair. I focus mainly on the root and not as much on the ends so that it doesn't break up the curls and become too frizzy.

If I want extra volume I will then go through my hair (again carefully) with an Afro comb… I also then like to give my hair a good shake.

…And once the braid out is complete, I'm usually left with something like this.

Want more styles to do with your braid out? Check out my previous style post here.
Samio x