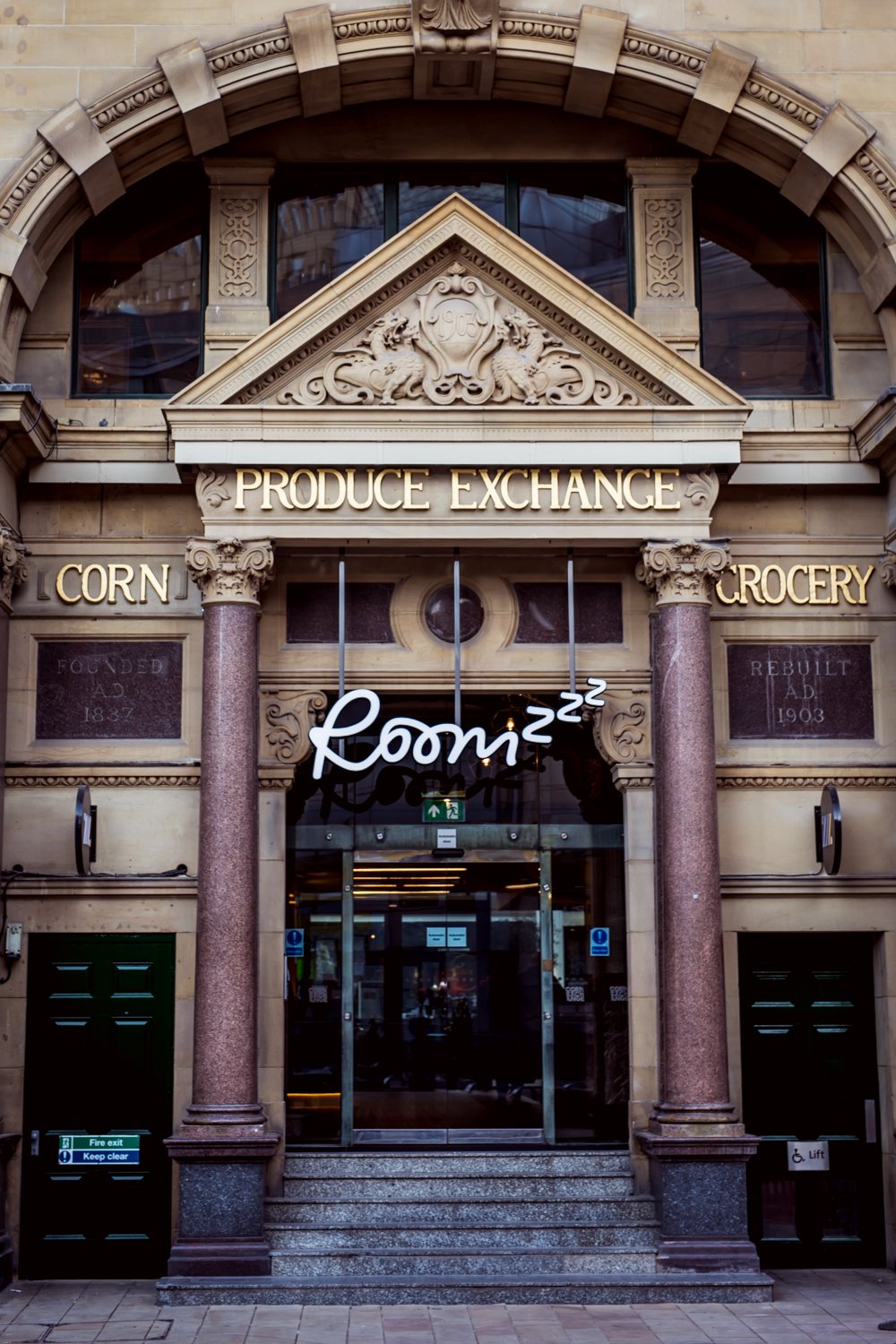 It had been years since I had a staycation in the city, so when Roomzzz offered us a night's stay at their newly opened hotel in Manchester, I of course jumped at the offer. Whilst I love my weekends spent at home, I must admit there's always something a little bit exciting about spending a night or two away from home, even if it is only a few miles down the road.
Damien and I headed to Roomzzz a few Saturday's ago, with our bags packed ready for a fun weekend in the city. Situated in the grade II listed Corn Exchange building, the Roomzzz hotel is in the perfect location, close to many of the best bits of Manchester. Being a born and bred Mancunian, I of course have my firm favourite spots in the city but on this occasion it was nice to try a few new places too.
As well as being home to Roomzzz, the Corn Exchange also houses a number of great bars and restaurants, some of which I've visited before (like Mowgli for example, which is one of my favourites and would recommend if you enjoy authentic style Indian street food). During this particular time we tried Salvi's in the Corn Exchange for the first time. This little Italian is a hidden gem and I'm surprised we hadn't visited earlier. We had the fun of experiencing a pasta making class whilst we were there and we also sampled their amazing smoked mozzarella cheese – I'd recommend trying one of their pizzas with it on too if you get chance, it's seriously good.
Whilst the Corn Exchange has plenty to offer, there's also lots around the area too. Just across from there you have Selfridges and Manchester's Arndale if you fancy a spot of shopping whilst you're in the city.
If you fancy dining out somewhere different during your stay, then you can always take a short walk along Deansgate towards Spinningfields. On the Saturday evening we went to Iberica in Spinningfields for Spanish tapas. Although I'd been to Iberica a few times in the past for drinks, this was the first time I'd eaten there and the food did not disappoint. Our waiter was great at recommending the best dishes to try and everything we had was delicious.
Overall it was a great staycation. I think my favourite thing about our stay at Roomzzz was the convenience of being so close to everything. Although I live in Manchester, it was nice to experience my city in a completely different way and also try out some new places in the process.
Samio x