I talked recently here on my blog about wanting to mix things up a little bit with my style. It's not that I want to change my style completely but I've just been feeling the need for a slight wardrobe refresh as of late. Throughout Autumn and Winter I felt like I more or less lived in jeans and so now the sun has started to show its face here in the UK, I've been keen to ditch the denim…for a little while at least.
I joked about putting myself on a denim ban recently and although that hasn't been completely feasible (as let's face it, there are some days when only denim will do), I have been trying my best to opt for jean free outfits when possible and I have added a few new (non denim) bottoms into my wardrobe, in order to help mix things up.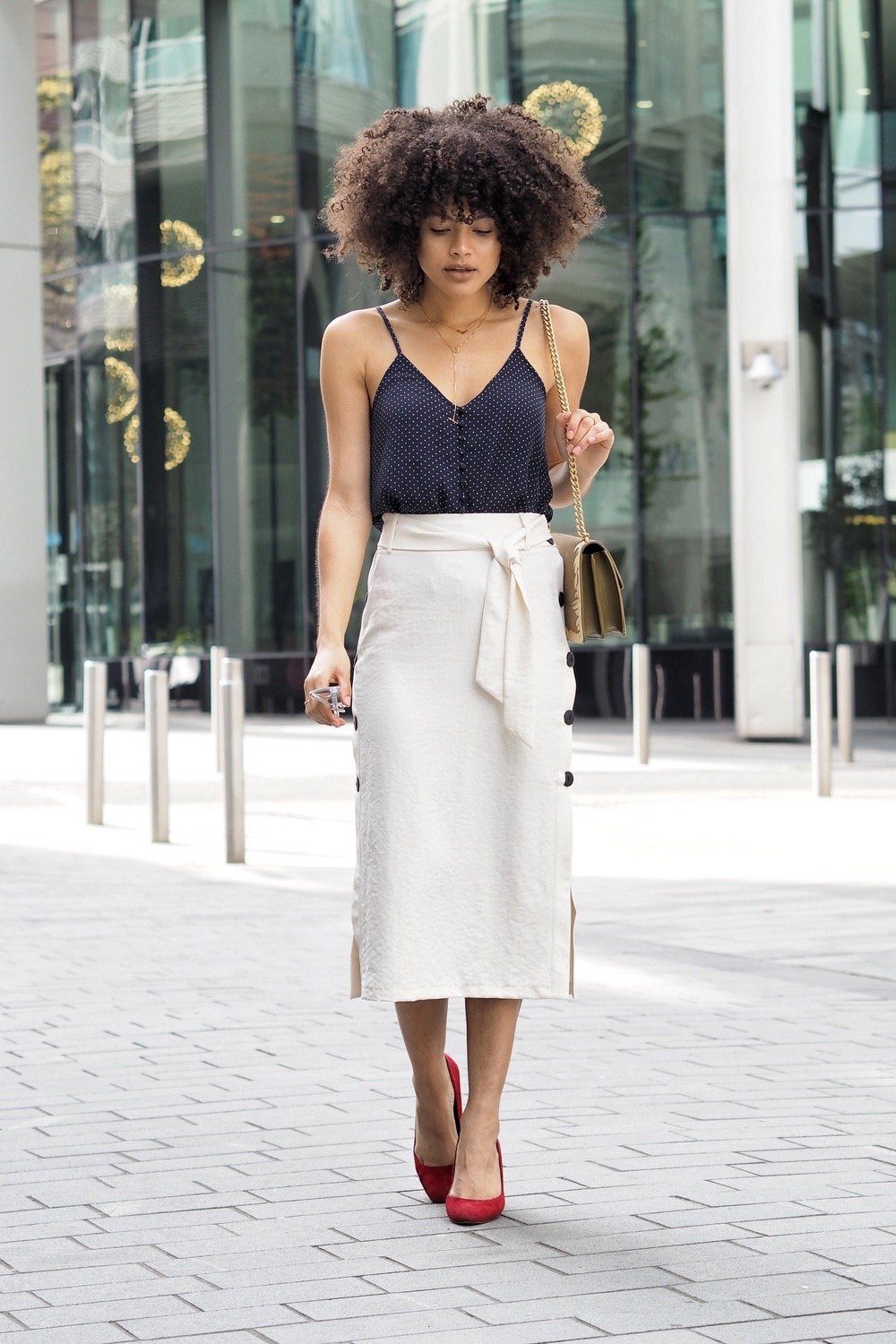 One of my recent (non jean) additions was this Topshop midi skirt that I spotted whilst in store recently and instantly fell in love with! I'd been on the hunt for a white/off white midi skirt and after buying and returning one from Asos that wasn't quite right, I was glad to find an even better one the second time round whilst in Topshop. I think it's the contrasting black buttons up the sides of the skirt that really sold this one to me, as I think they really help to elevate an otherwise simple piece.
The navy polka dot cami top is also a new addition, as I've been wanting to add a few more summery tops into my wardrobe. As I also mentioned in a previous post how I got a little bit sick of wearing roll necks over the Autumn/Winter period and so now I intend to opt for strappy tops with the excuse to get my arms out at any opportunity, because as you will well know if you're from the UK, when the sun is out here you've got to make the most of it!
So that's it, just a short but sweet one from me today. I seem to be back on my creativity train (whatever one of those is) so I will be back later in the week with another new post. Also I've been posting lots more outfit photos over on my Instagram lately, generally day to day and in real time, so if you are interested in outfits (and possibly less of my rambling) then be sure to come find me there: @samiorenelda. And one final plug with my Youtube channel, which I've been keeping updated with lots of style related videos lately, including a look through my entire wardrobe, so if you fancy a nosey at that you can check it out here. 😀
Have a fabulous rest of the week!
Samio x
Top – Topshop | Skirt – Topshop | Shoes – Aldo (similar here) | Bag – Pinko | Sunglasses – Taylor Morris (in black here) | Jewellery – Pernille Corydon