Another New Motto
Recently here on my blog I've spoken about mottos to live by in 2018. So far they have been proving to be rather good reminders to keep me on track in day to day life. Well today I have another motto to add to that list and it's one I'm surprised I haven't thought of sooner and it's this – Stop Scrolling, Start Doing.
We've all been there. Those periods of procrastination where anything seems more appealing than what we're actually meant to be doing in that moment. Our phones have become our best friends and our enemies. Whilst in some ways they have made doing many things much easier, they have also become the distraction that eats into our time and stops us getting a lot of other things done.
Last year my scrolling addiction hit an all time phone junkie high. I didn't even think I spent that much time on my phone but the evidence stated otherwise. (Seriously, go into your phone settings, check the battery section and see how much time you've spent on certain apps in the last 24 hours to 7 days…you may be surprised.)
In 2018 realised that I used Facebook a lot as a time filler. Whilst I honestly have no interest in watching videos of dogs doing back flips, or in seeing Janine's 3D baby scan pictures, I still found myself mindlessly scrolling through. So I deleted the Facebook app off of my phone and despite missing cues to wish Happy Birthday to 'friends' I haven't spoken to or seen in real life for over five years, I realise I really haven't actually missed much.
Now whilst removing one app from my phone seemed to do the trick, when it came to the likes of Instagram I decided to use sheer willpower alone. And surprisingly it worked…for a time. Actually I weaned myself off of Instagram scrolling surprisingly easy. Like I mentioned in a previous post, I went two whole weeks over the festive period without posting one Instagram image, which is a pretty big deal when it's actually part of what you do as your job.
Whilst now I'm back to my usual daily posts on Instagram, I still don't think that should make for an excuse to slip into old habits of spending too much time on there. However I feel myself grabbing for the phone in regular intervals once again. I know what it is, it's procrastination, plain and simple and whilst my phone is the catalyst, I am still very much culpable.
So I've decided it's time to nip this bad habit in the bud and so I think the best way to attempt to do that is to give myself a friendly little daily reminder, by adding another motto to my list. Let's see where we end up with these, by the end of the year I might have worked up quite the list.
Do you use your phone to procrastinate? Or are you good at staying focused and ignoring distractions? If you're the latter, give me your tips please!
Samio x
Boots – Office (similar here) | Jeans – Weekday Ami Jeans (different shade here) | Roll Neck (similar here) | Blazer – Topshop (similar here) | Coat – Jigsaw (sold out, similar here) | Bag – All Saints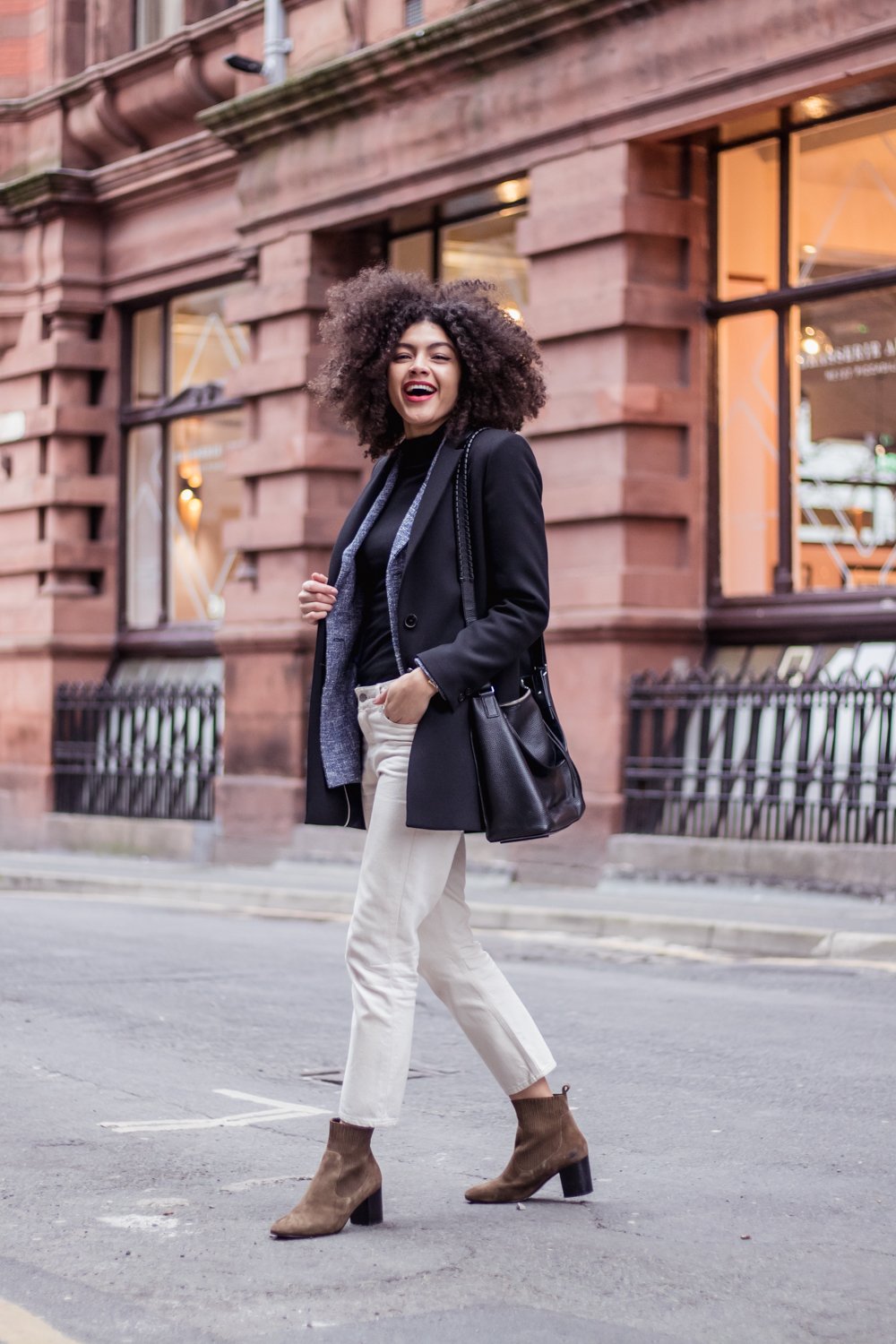 Shop The Look