As I've previously mentioned I'm soon to be opening my website, Pearls & Lipstick, where I'll be selling bags and accessories made by me. With each bag I make I plan on only making a limited number in each design, so people buying the bags can feel they have a unique product.
A few people have been asking when the site is due to be launched and so I'm putting it out there that I don't have a set date as of yet but I plan to have it launched sometime in March. Really it's all down to me and how much stock I get made between now and then! So I'll keep sewing away as I have been doing to hopefully bring you all some fabulous products soon.
In the mean time here's a sneak peak of some of the items that will be for sale.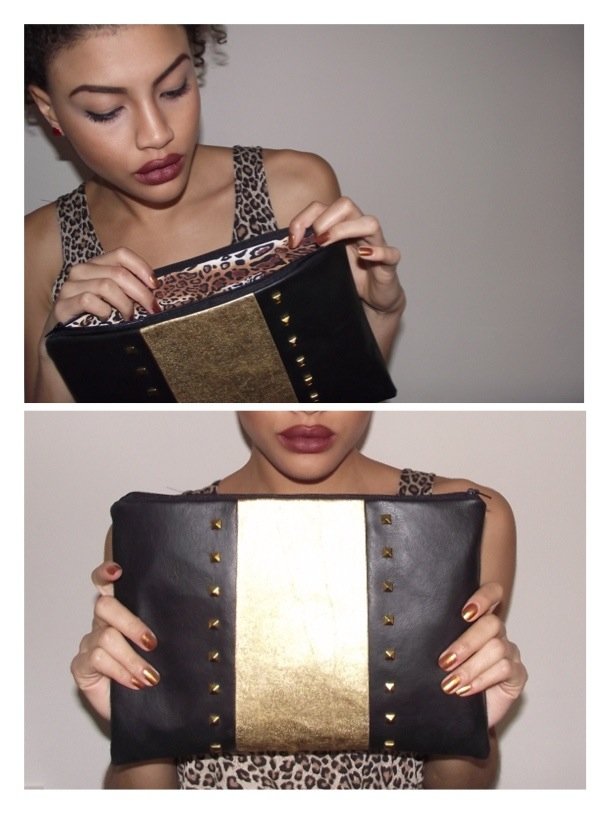 Each bag is fully lined and has an inside pocket – perfect for storing a lipstick of course.
Prior to the website launch I am making one of the black faux leather zipper clutches with studs (as shown above), available for sale. Price: £28 or €32.50 or $43.50 (US) plus P&P. E-mail contact@pearlsandlipstick.co.uk for further details.
Below are a few pictures of some of the accessories that will be available for sale. The flower rings and earrings and the faux leather bow rings will all be available in a variety of colours.

One of the latest designs I've been making for the website is this monochrome envelope clutch.
And the rest you'll have to wait and see…
Before then if you have any enquires please feel free to email at contact@pearlsandlipstick.co.uk
Check out the Pearls & Lipstick Instagram for more sneak peaks once the site is open – @bypearlsandlipstick and the Facebook page for regular updates 'Pearls and Lipstick'.
Samio x