Prepping For The Season
The party season is definitely one of my favourite times of the year. Aside from the weather getting considerably colder and the urge to hibernate being somewhat tempting at times, I can say that the one thing that does get me in the mood to head out during the colder season is the excuse to get dressed up and get into party mode.
If you're a regular to my blog you'll know I love finding good quality pieces that I can get plenty of wear out of and the same goes when I'm shopping for party wear too. Right now there is an extra big delivery of party wear pieces in store and online at TK Maxx, so when TK Maxx set the challenge for myself and a friend to head in store to find party wear outfits for under £100 each, I was excited to see what we could find.
My friend L'Oréal and I always seem to have super busy social calendars at this time of year, which is great for us because it just means more excuses to go out and have fun together but it also means that there's often a lot of 'what to wear' moments. Luckily TK Maxx has something for everyone and they also have an amazing range of designer party wear at up to 60% less than the RRP, so when we headed in store we were spoilt for choice.
We each picked our outfits from a variety of ranges in store. I love the Gold Label section for finding great value designer items but to be honest if you take the time to look around anywhere in store you're bound to find something you love. Whilst browsing through the trouser section I came across these fabulous velvet trousers. I seem to have developed a thing for flares and velvet at the moment, so velvet flares obviously make the perfect combination for me. I absolutely love the fit and as they are stretchy, they are really comfortable too. No doubt these will be my go to trousers of the season.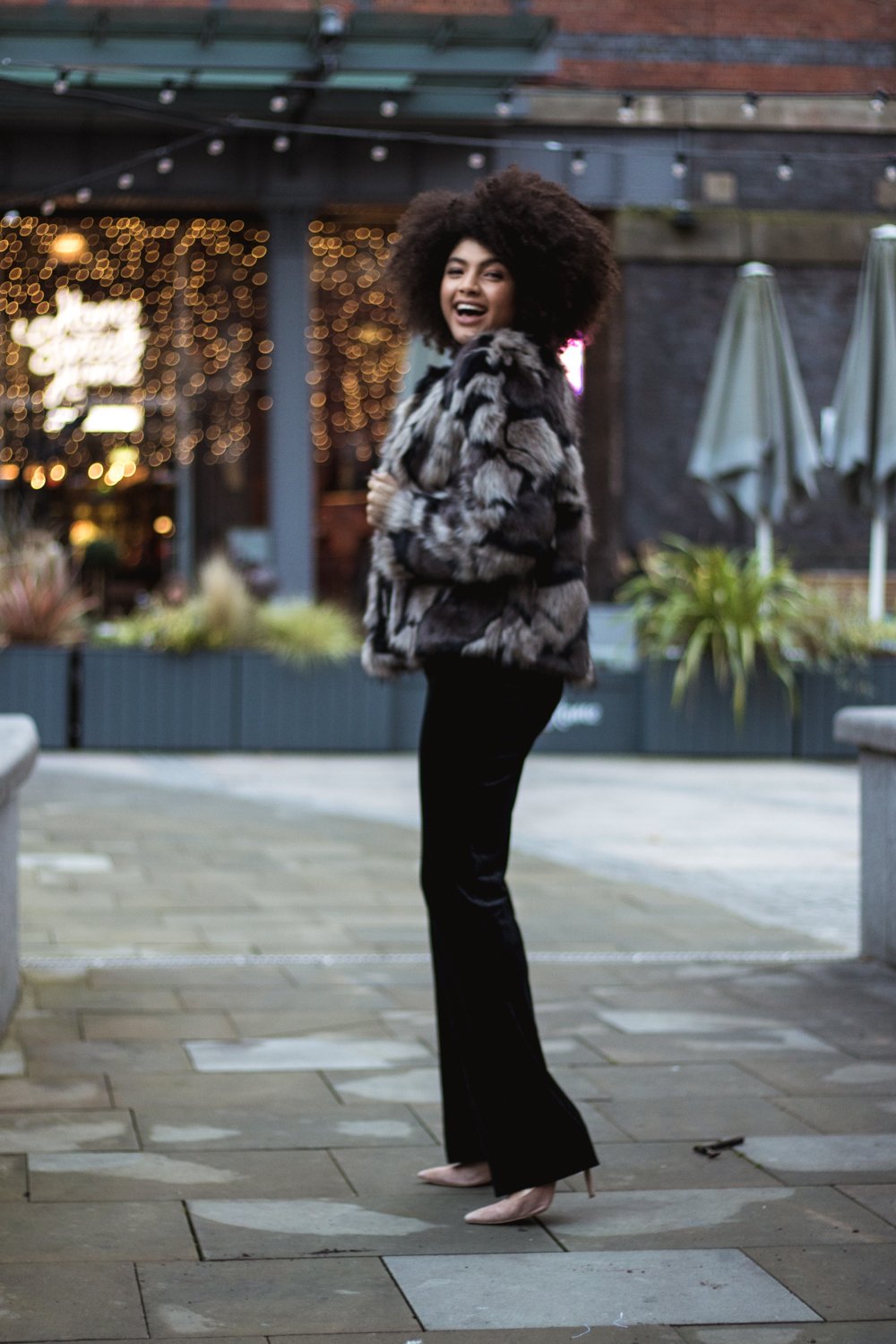 The faux fur coat instantly caught my attention whilst browsing through the Gold Label section as it's such a gorgeous yet practical piece for when heading on nights out. And I am in love with this beautiful silk collarless shirt that I got online from tkmaxx.com. It's such an effortless yet chic item and of course it's really versatile so I'll be able to wear it with a number of different looks too.
My favourite piece in L'Oréal's outfit is this gorgeous black black blazer with a navy collar (you know I love a good blazer). She also found some amazing thigh high boots whilst looking for shoes and I love how she's mixed tailoring with this white tassel skirt to create a smart yet sassy look.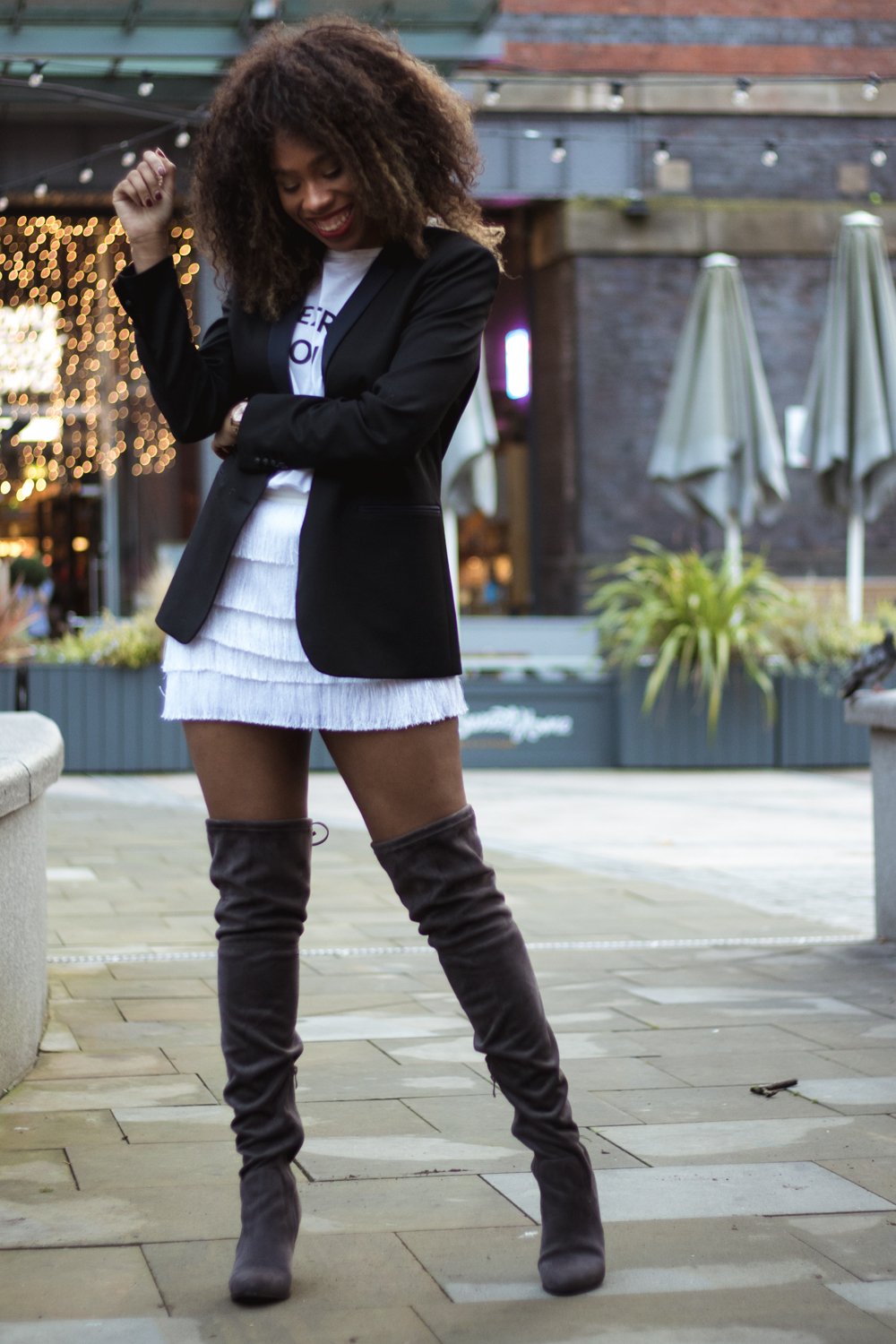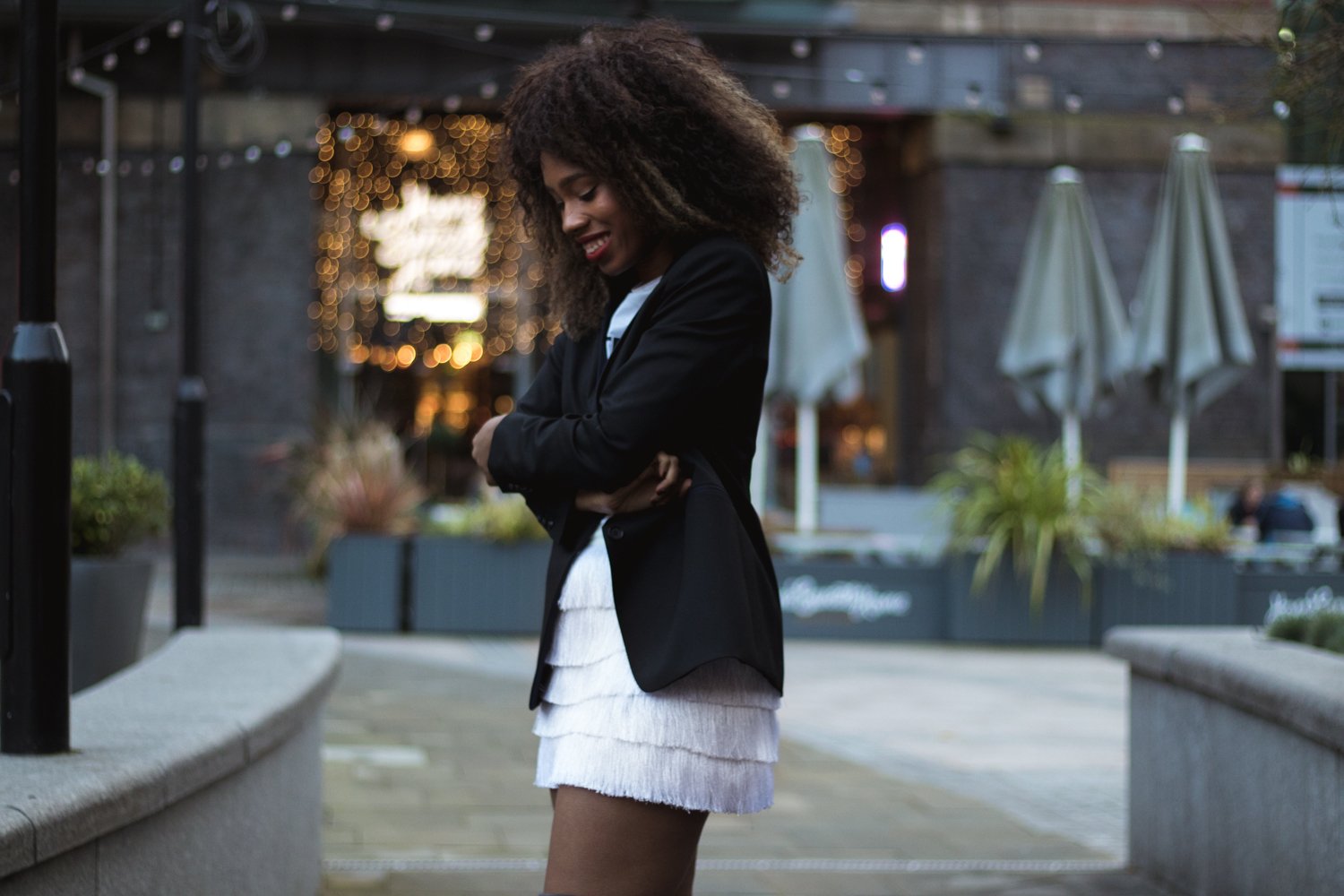 Between the two of us we found such a good mix of party wear both in store and online and I love how we both found some great quality pieces and for such great value too. You'll no doubt be seeing me rocking these pieces a lot over the party season, especially that fab furry coat! I'm looking forward to creating lots more night out outfit combos with these party pieces and you'll likely see more of those coming up over on my Instagram @samiorenelda. And if you don't already, you can also follow TK Maxx on Instagram @TKMaxx or become a TK Maxx fan on Facebook at www.facebook.com/tkmaxx.
Samio x
*This post was sponsored by TK Maxx