Last Saturday I headed to intu Trafford Centre to meet up with my friend, Chloe, for a little pamper morning…
Usually if I'm going to the Trafford Centre, it's to shop, or to eat (or most of the time, both), but I never previously thought of it as a place to go for beauty treatments until I was kindly invited along to try out some treatments with intu beauty.
The first stop was The Face Doctor. I'm no stranger to the Trafford Centre and would normally say I know my way around the place pretty well, however I was surprised that I had never spotted The Face Doctor before (probably because it's discreetly tucked away at an end corner by John Lewis). I used the new intu app to help navigate our way there, which is crazy because I never thought I'd need an app to help me get around the Trafford Centre, seeing as I've been there a gazillion times but it was actually super handy and it saved us so much time.
The lovely Katy did both of our 15 minute facials and one after the other we were taken into one of the rooms at the back of the store, where we were able to lay down and relax away from the bustle of the shopping centre, whilst we each had our facials.
During the facial, Katy used a number of products which exfoliated and then hydrated my skin. Everything she used smelt amazing and left my skin feeling so soft. Afterwards Chloe and I both left The Face Doctor looking glowing with our skin feeling refreshed.
The 15 minute facial costs just £15, which I personally think is great value and after seeing the results I'll definitely be going back again in the future. It would be the perfect way to relax after a busy shopping day.
I surprised myself yet again and had to check the intu app a second time, this time to help us navigate our way to the L'Occitane store.
I can't actually believe that this was my first time stepping in the L'Occitane store, considering the fact that I'm slightly skincare obsessed. Although I'd heard of L'Occitane, I didn't previously know anything about the brand, but Zandra and Jo from L'Occitane's Trafford Centre store soon changed that. They were so friendly and enthusiastic about the brand and were able to tell us all about L'Occitane whilst introducing us to some of their favourite products. Chloe and I were both impressed with L'Occitane's products and I'm sure that this isn't a store I'll be walking past without popping in, in future.
Chloe and I each had a hand massage which exfoliated and nourished our hands. It's crazy how dry your hands can get during the winter period and although I always carry a hand cream round in my bag, the hand massage was just the extra TLC that my hands needed. I think I need a hand massage at L'Occitane every week!
With our skin and hands feeling feeling fabulous, we headed to the Bobbi Brown makeup counter in John Lewis to get our makeup done by makeup artist Pooja. Although I wasn't completely new to Bobbi Brown, I wasn't as familiar with their products as I am with some other brands and so it was great to have Pooja intoruce us to Bobbi Brown's new products and tell us in depth what the brand was all about.
I went in the makeup chair first and although I'm used to getting my makeup done on a regular basis whilst modelling, it felt strange being asked what look I wanted (as on jobs it's usually the client or makeup artist who decides). I knew I wanted a look that I could carry through to the night (as we were heading out for Chloe's birthday that evening) and Pooja's eye makeup was just perfect for that, so I asked her to recreate something similar on me.
Pooja did an amazing winged liner on me and I am obsessed with the sparkle eyeshadow in shade Cement that she used on my lower lids. I opted for a slightly subtler eye makeup look but chose a bold lip. I also thought it would be the perfect time to experiment with a different blusher than I usually go for and so she used the Pot Rouge in Chocolate Cherry, which is a gorgeous deep red colour.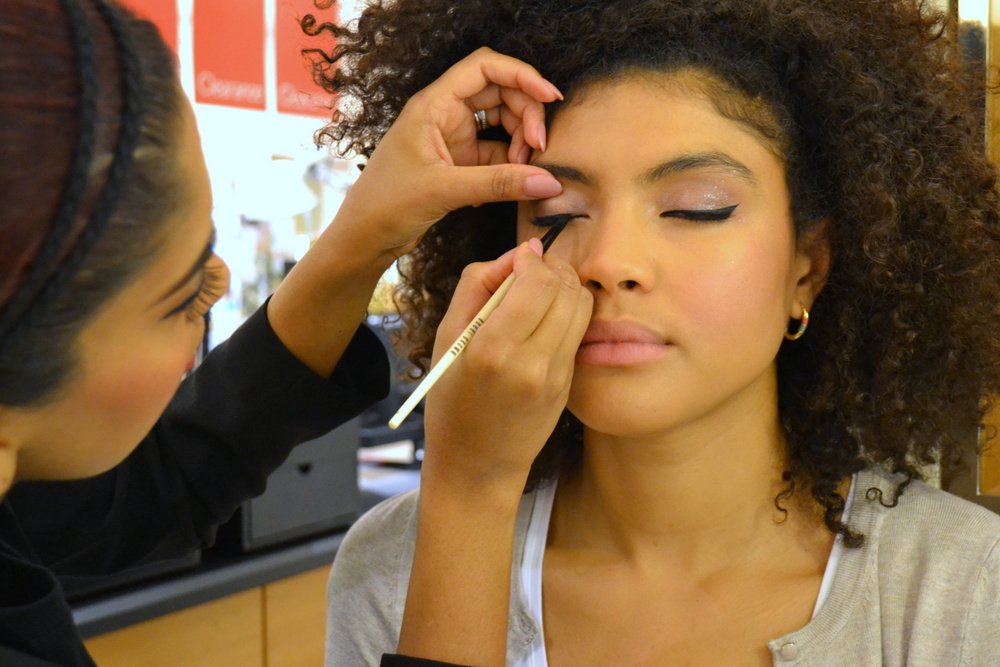 Full list of products that Pooja used to create my look:
To Prep The Skin: Treatment lotion (here), Intensive Skin Serum (here), Hydrating Eye Cream (here), SPF 15 Lip Balm (here).
Corrector & Concealer: Corrector in light peach (here), Concealer in warm natural (here).
Foundation: Foundation stick in warm natural 4.5 (here).
Powder & Bronzer: Powder in soft honey (here), Bronzer in golden light (here).
Blush: Pot Rouge in chocolat cherry (here), pink glow (here).
Lip: lip Colour in crushed plum (here), Lip Pencil in rum raisin (here).
Brows: Brow kit powder (here).
Eyes: Long-Wear Eye Base in medium (here), All Over Shadow in bone (here), Lower Lid Shadow in Cement (here).
Eye Liner: Gel in black (here).
Mascara: Eye Opening Mascara (here).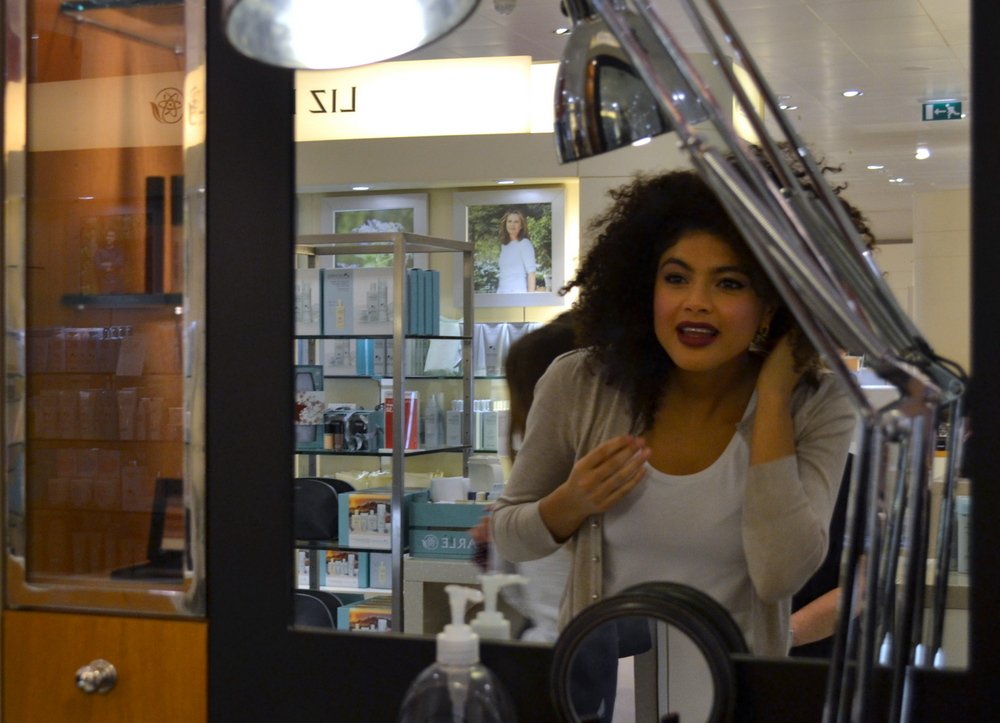 Next it was Chloe's turn for makeup and Pooja did the most gorgeous shimmering brown smokey eye on her. It was the perfect choice because it really complimented the colour of Chloe's green eyes and made them look dazzling.
We both loved how Pooja did our makeup and I now want to fill my makeup collection with lots of gorgeous Bobbi Brown products. Although I refrained from going crazy this time, I couldn't resist buying at least one product. I bought the the foundation which Pooja had used on me whilst creating my look, which was the Foundation Stick in shade warm natural 4.5. I absolutely love this foundation on my skin because it looks so natural and since using it at home, I've found it really quick and easy to apply and blend.
Each mini beauty treatment (and makeup) we had was amazing and what I love about them most is that they are the time of thing that you can easily fit into an hour if you wanted to or just do one or two to refresh after a busy shopping day – or in our case, prep for a night out.
Our day at intu Trafford Centre didn't quite end there, as we finished off with a tasty three course lunch at Bill's Restaurant (which can read about here).
I decided to document the day on film, which you can check out in my mini vlog here:

Samio x