Nothing New
I've been feeling rather uninspired by my wardrobe over the past week or so. I think it comes down to the swift change in seasons and me not being quite ready for this colder Autumnal weather. I often find myself getting into this little rut around this time of year, which in part I feel comes down to my outfit focus shifting mainly towards practicality (and more so than usual). I find myself wearing the same outer layers and opting for that one trusty roll neck (seriously I have one roll neck that is trusty as heck) that I know will keep me warm.
I hate being cold, so layering is a must but I will admit that when pulling out my autumn/winter staples from previous seasons I do easily fall into the habit of wearing the same go to combinations (queue the trusty roll neck).
The other day I pulled out some of my favourite pieces, both from this summer and last winter and decided to mix and match a few items to see how different combinations could work. I don't always find something new to be the solution for how I'm feeling about my outfits but instead I often just need to try something different with what I already have.
The first look I threw on – and I literally mean, I didn't give it much thought at all – was this combination. Initially I'd thrown the blazer over the shoulders and thought it looked cool and effortless but when walking around today I put it on properly because lets face it, this is real life and nobody actually walks around with a jacket on their shoulders (do they?). Styling alterations aside, I felt pretty happy throwing this outfit on again to head out today. There's nothing new in this outfit combination but there is definitely a different vibe to my usual combinations. I'm not a huge trend follower but I must admit I've surprised myself with how much I've been into the 70s vibes lately. These & Other Stories cropped flared jeans were a go to for a good part of the summer and it looks like that will continue into autumn and winter.
I feel I've found a combination that I love which is sort of minimal 70's. I'm not sure if that's a thing but that's what I'm going with, so I guess it is now.
Speaking of changing things up, I've been doing so with some of my content too. As I mentioned I tried on a few different outfits the other day and after doing so I decided to style them up in a short lookbook video. Again I wanted the vibe to be different than my usual lookbooks and as I was at home alone at the time, I decided to do a self filmed lookbook which I then had a lot of fun getting creative with whilst editing. The video is at the bottom of the post if you'd like to check it out.
And last but not least, the shots. Onyi and I had a coffee shop working day today, which was great because I'm always left feeling super inspired when we hang out. She suggested that I take a more candid approach to today's outfit pictures and I really loved the idea. Rather than standing in one spot and taking multiple images all at once, we causally just took a few shots here and there throughout the day and the results are something I really love. So I guess this post is a bit of a photo diary of my day as well as an outfit post and a waffling essay about clothes.
That's my queue to wrap things up here. Thanks for stopping by. Ciao for now!
Samio x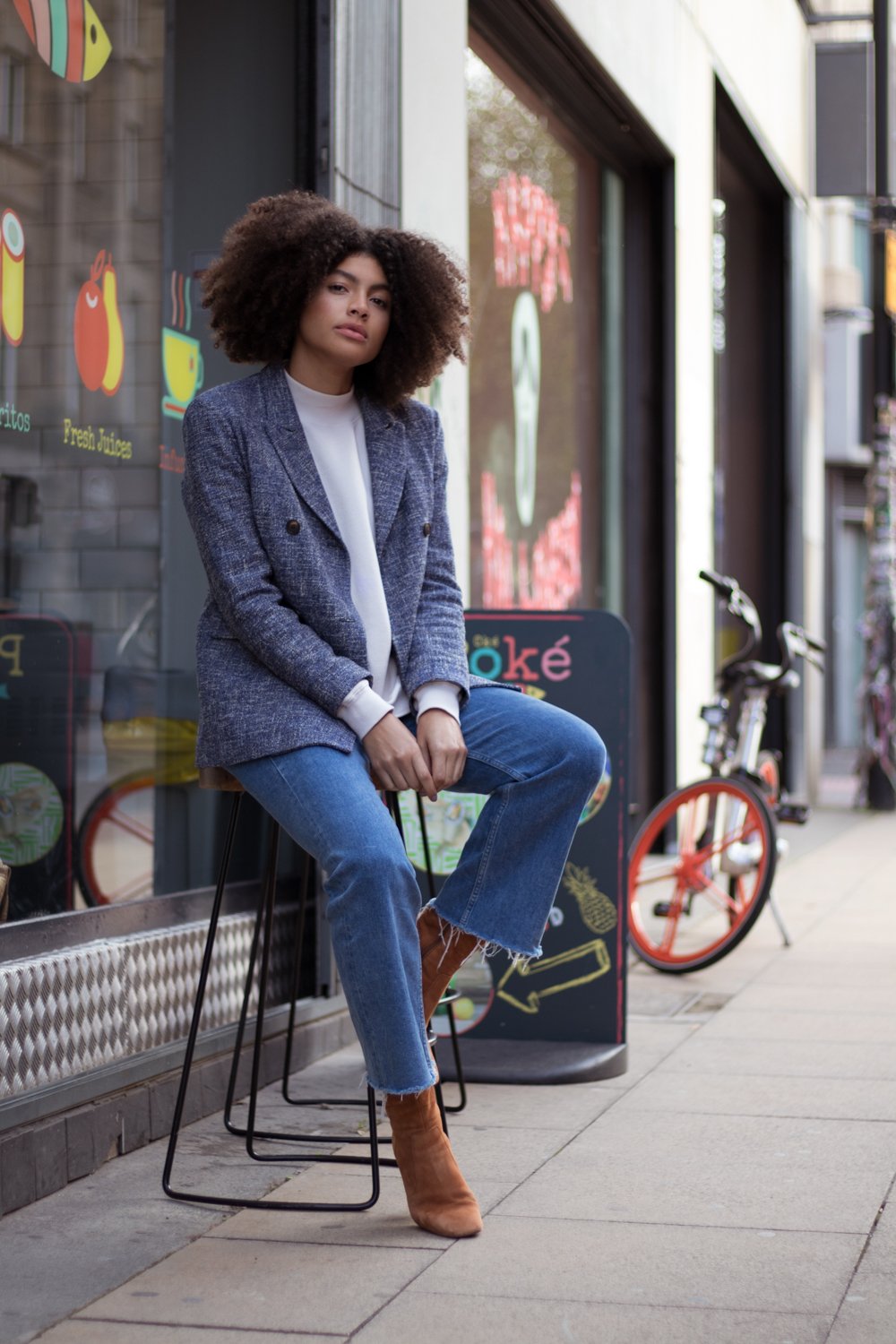 Boots – Office (similar here) | Jeans – & Other Stories | Jumper – Samsøe & Samsøe (similar here) | Blazer – Topshop (similar here) | Backpack – River Island (similar here)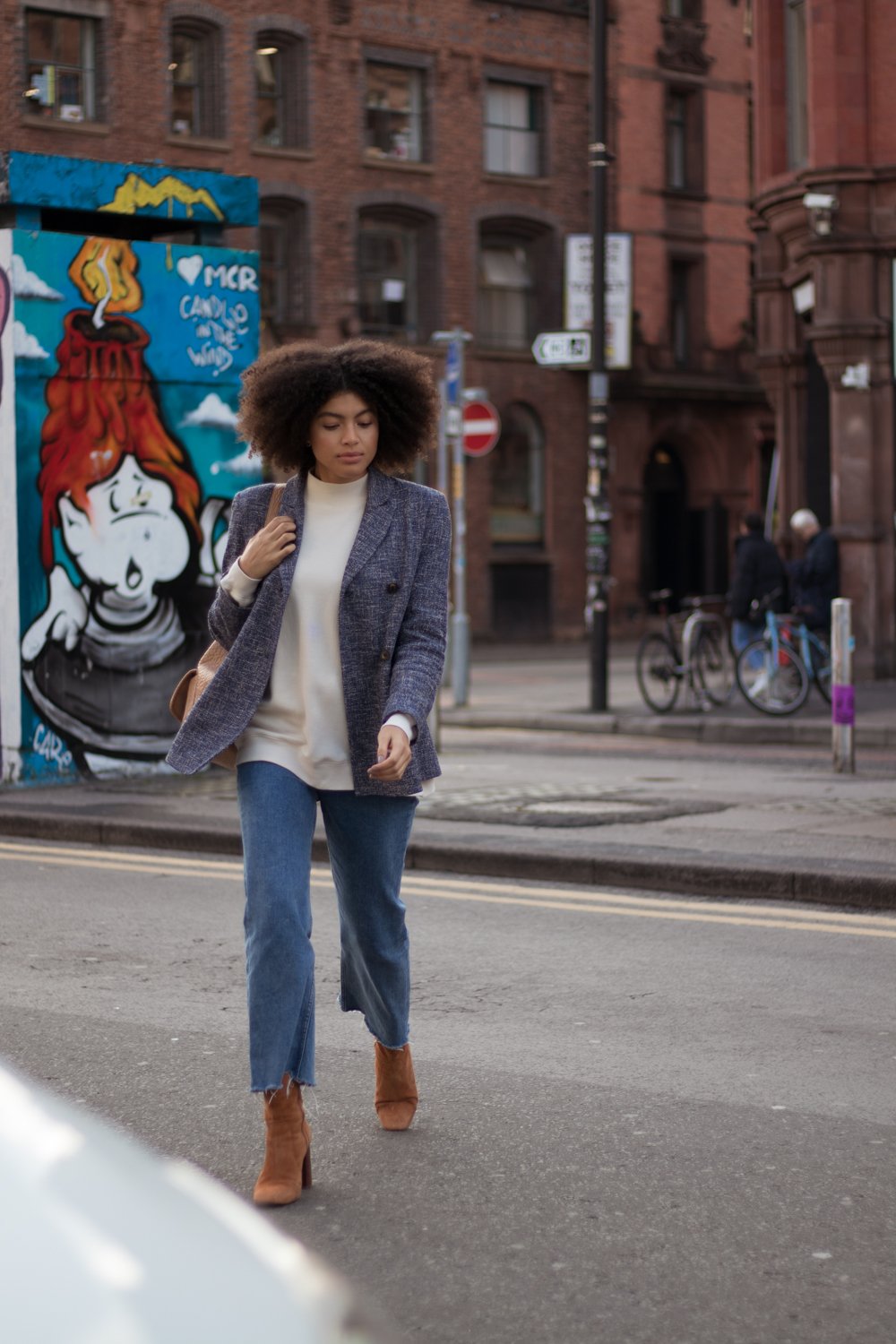 Shop The Look