I've mentioned before that I am a huge procrastinator and it whilst it's something I've had to learn to deal with over time, I'm also aware that it's a trait I may never fully get rid of and so instead of letting it take over my productivity completely, it's something I've learnt to manage over the years. I'd definitely say it helps to focus on one thing at a time and these are some things that help me when it comes to staying focused and getting stuff done…
Keep Your Area Tidy
If the thing you're trying to get done is clean, then you're basically already doing the task by doing this…but anyway, I'm definitely in agreement with the saying that 'a tidy space equals a tidy mind'. Clutter can easily pile up, be it at your desk or in your home and often this can be a big distraction. I know if my area isn't clean/tidy my focus will be drawn to the task of tidying up and it will get in the way of me solely focusing on something else.
Put Your Phone On Airplane Mode
I don't know about you but for me one of my biggest distractions when it comes to getting things done, is my phone. I'll find myself checking my emails, replying to friends messages and having a quick scroll through Instagram…I'll basically find myself doing anything which doesn't involve the task in hand. Even when you're not actually on your phone, it's easy for it can still be trying to grab your attention. I learnt a long time ago to turn app notifications off but I'll still find myself at the beck and call to emails, phone calls and text messages.
The best thing to do when you're trying to stay focused is to simply turn your phone onto airplane mode. If it so happens that the task at hand is replying to emails (oh how they can quickly pile up), then do it on your laptop or desktop if possible, close all tabs and have just that page open so you can focus on the task.
Set Yourself A Timer
This tip flows on from the previously one as I feel the two go hand in hand. Whilst checking out from the online world for a time can be great at eliminating a lot of distractions, it can also be somewhat daunting for us internet reliant folk. So give yourself a light at the end of the tunnel and set a timer. There's no point torturing yourself, if you feel your attention span to stay 100% focused will only last 20 minutes, then set your timer for 20 minutes. After that time you can give yourself a five minute break. Maybe you really do need to check those emails. Do it, then get back to work. You might work like this in 20 minute time blocks with five minute breaks in-between and before you know it you've actually had a solid hours worth of focus.
Keep Hydrated
Whatever you're doing, be it cleaning the house, sitting down to write, or replying to that overwhelming backlog of emails, make sure you keep that brain focused by hydrating it. I always drink plenty of water throughout the day and the times that I don't get enough of it, I find myself losing focus on tasks very quickly.
Aside from the boring water talk (sorry for sounding like your Mum), it can also be nice just to have a cup of tea to hand (if you drink tea). For me it's a bit of a ritual. I make a cup of tea and I sit down to work. It can also be a great way to stretch your legs during those 'beaks' you give yourself and it can work as a nice little treat. I'm currently eyeing up an empty cup and I know that once I've finished this I'll be making myself a nice hot cup of tea. Like they say, it's the little things.
So there you have it. Those are just a few things that I like to do to stay focused and get stuff done. Do you have any tips for getting stuff done?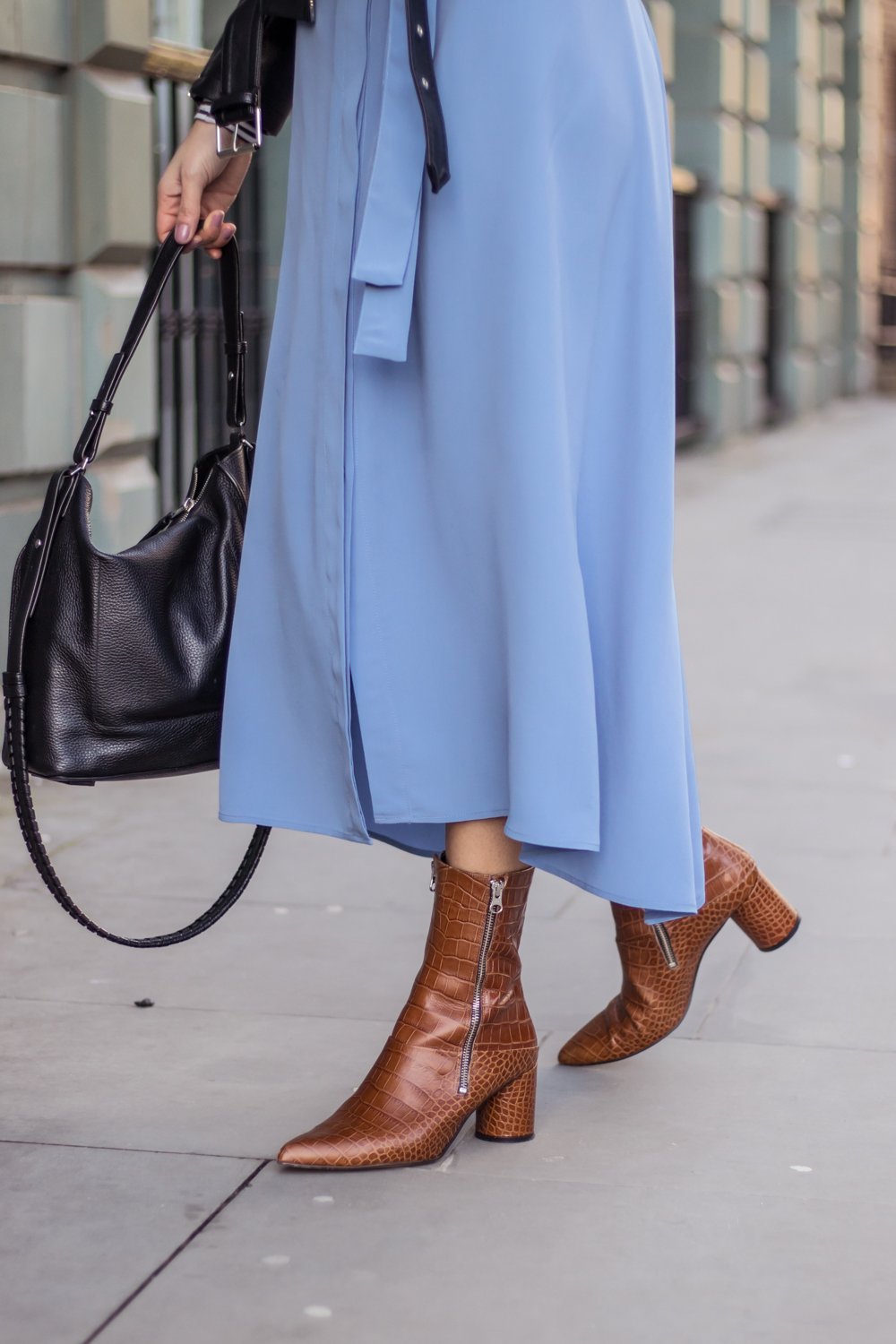 Boots – Finery | Shirt Dress – Finery (similar here) | Stripe Top – Weekday (similar here) | Jacket – Topshop | Bag – All Saints
Shop The Look