Something New
A week away from denim and I have to say that I actually missed wearing my new jeans (as sad as that sounds). If you didn't already know I was on holiday in Porto, for just short of a week where I allowed myself to switch off from emails and all work related stuff – hence the lack of posting. Needless to say it was sheer bliss and a photo heavy Porto post will soon follow but for my first post back in over a week, I wanted to talk about my new jeans.
Now I've talked about how I cut down on wearing denim as a little bit of a self-styling challenge not too long ago and after a break away from wearing jeans almost everyday, my love for denim was refreshed and I felt keen to try out some new styles. Since the purchase of my last pair of jeans back in May, my obsession with jeans seems to be back in full force. Not only am I loving wearing denim again at every opportunity, I've also got brave enough to try out some different styles and fits too.
Here is where I introduce my latest denim addition, purchased not too long before I went away, which are these cropped flared jeans. Never did I think I'd be adding flared jeans into my wardrobe but on a recent trip into & Other Stories, whilst waiting for my friend to try on jeans, just on a whim, I decided to try on a pair too.
Now I mentioned in my previous denim post how I hate jean shopping and usually I have to try on about a thousand pairs before I can find a perfect fit and one that suits my body shape. So once again I was surprised to find a fit that I actually love and in a completely different style too. So although I'm not usually one for impulse purchases, I made my second impulse jean purchase in the space of 4 months and I have to say I'm very pleased with that decision.
I wore these jeans near enough everyday since buying them, prior to heading on holiday and this was one of those occasions. Now I'm back I can't wait to get wearing them again. I just love the versatility of jeans and that is one of the main reasons I missed wearing them so much.
These flared jeans are surprisingly flattering and I've been loving styling them up in lots of different ways. On this occasions I was meeting Onyi in town to spend the afternoon working in a coffeeshop. These are some of the comfiest jeans I've ever owned and they worked perfectly thrown on with my new vans, a simple tee and my biker jacket for a super casual day look.
These jeans are also true to size and I'm glad to say that they do odd number sizes, as usually I have to jump between a 26 or 28 in jeans, but on this occasion I was able to get my exact fit, which is a 27 and the fit is perfect. The denim is thick but with a good stretch and I'm super impressed with the shape and quality. I'll definitely be checking out & Other Stories for my next pair of denim jeans, that's for sure.
Samio x
Trainers – Vans | Jeans – & Other Stories | T-Shirt – Asos | Biker Jacket – Topshop | Sunglasses – Vintage Dior (similar here) | Watch – Kartel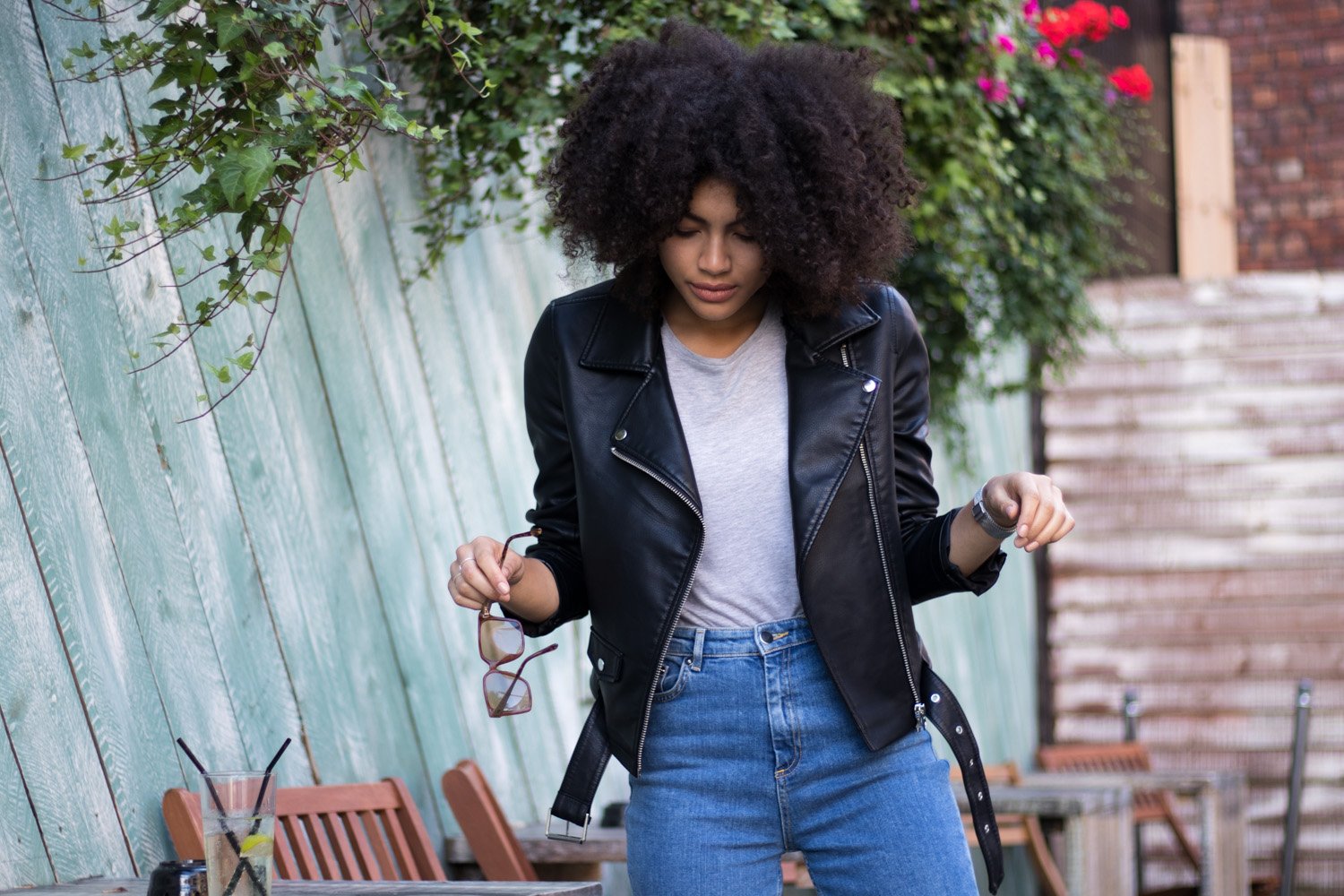 Shop The Look