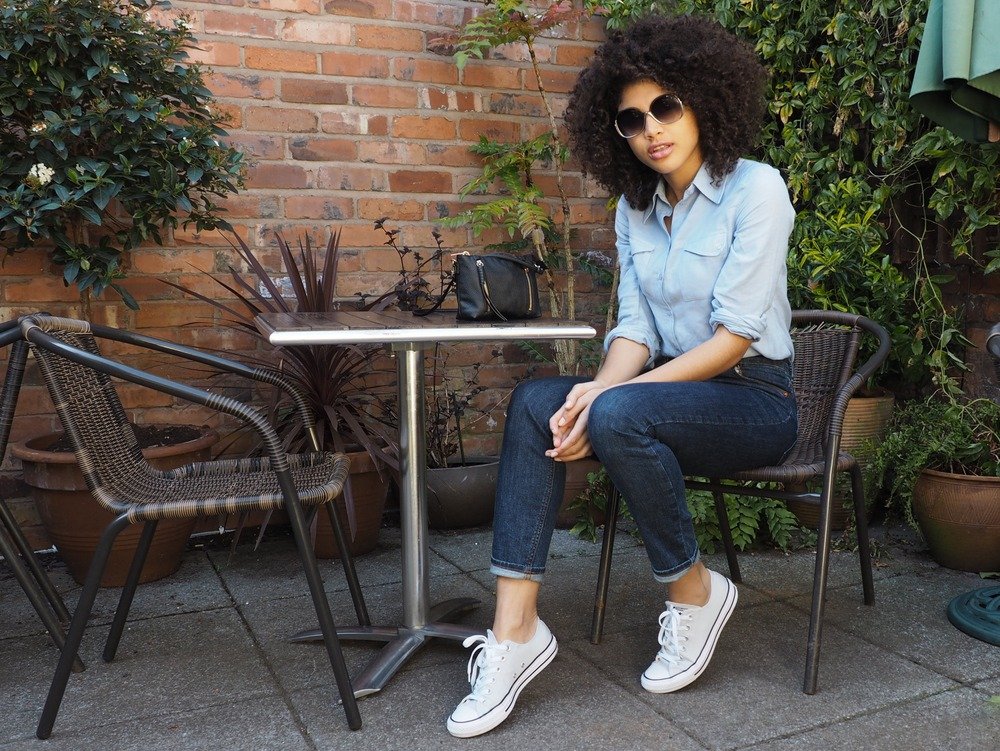 Shirt – Asos | Jeans – Asos | Bag – Old (similar here) | Shades – Vintage Christian Dior | Trainers – Converse
Yesterday I had a the afternoon free and so I met up with my friend, Chloe. I'd initially gone to look in a boutique that sold a brand of bags I had been eyeing up for quite some time and was hoping to purchase. But after umming and arring for a long while and even going back to the boutique a second time, after we'd gone for lunch, I left empty handed. Chloe on the other hand ended up purchasing one of their gorgeous little purses…It wasn't that I too hadn't been won over by the selection of bags and purses on offer, in fact it was quite the opposite, as I hadn't expect to be so spoilt for choice. This made decision making all the harder and it made me rethink about the initial bag I'd gone there to hopefully buy.
Nevertheless, we had fun browsing round the little boutique and now it's given me time to sleep on it and I'm actually glad I didn't make an impulse decision and by one of the other bags that I'd spotted. Although the bag in question was rather dreamy, after fully thinking it through I had to admit to myself that the colour maybe wasn't quite right in terms of what will match with the majority of my current wardrobe, as I am going for a very mix & match vibe at the moment with the pieces I own…It's funny, a while ago I would have said browsing is no fun without purchasing anything and I probably would have regretted not buying the bag. Now however I'm starting to see the benefits of thinking through my purchases and acquiring pieces that I can easily style and actually love to wear on a regular basis.
Speaking of pieces that I love to wear and are easy to style, yesterday I wore my new-ish Converse. They are the first pair of converse I've ever owned, can you believe it? I don't know where I've been all these years. They are practical for day to day and I love how they go with just about anything. I'm also currently loving these Asos slim fit mom jeans. I have been getting so much wear out of them and they are easily becoming my favourite 'go to' jeans.
Samio x