Today I've been feeling a bit lethargic, I think this past week has finally caught up on me and my lack of sleep has taken its toll. I haven't blogged much as of late, partly because I haven't had much chance and partly due to laziness when I have had the spare time. I have been taking pictures throughout my week and the week before, all with the good intention of blogging but I just haven't gotten round to it until now.
So on Monday and Tuesday I was shooting. Monday's shoot was in a cosy studio, sheltered from the blizzard like weather outside but Tuesday's shoot was outdoors and it was freezing!
The shoot was for an up and coming designer who makes leather bum bags, ATQM. As the theme was summer/festivals the clothing was mainly short shorts and crop tops, so we had to brave the cold whilst trying to look warm. I was working with a couple of other girls from my agency and also my friend, Laura was on the shoot too.
– Left, Laura getting her makeup done ready to shoot and right, me braving the cold whilst shooting.
– One of the final edits from the shoot. I guess braving the cold was worth it as we all look pretty summery here, hanging out in a retro camper van. (Left to right, models, Kit Williams, Candy McCulloch, Laura Brown and Me)
Wednesday I spent the day creating new bags for the website and then on Thursday my Mother and I went to an art gallery to see the Raqib Shaw exhibition.
– The bottom image is Shaw's interpretation of the painting above, both paintings are displayed on opposite walls from one another in the gallery.
– I love all of Shaw's work as it's all bizarre and glittery.
– My outfit of the day. Polka dot dress – vintage, Shoes – Urban Outfitters, Clutch bag – Pearls & Lipstick.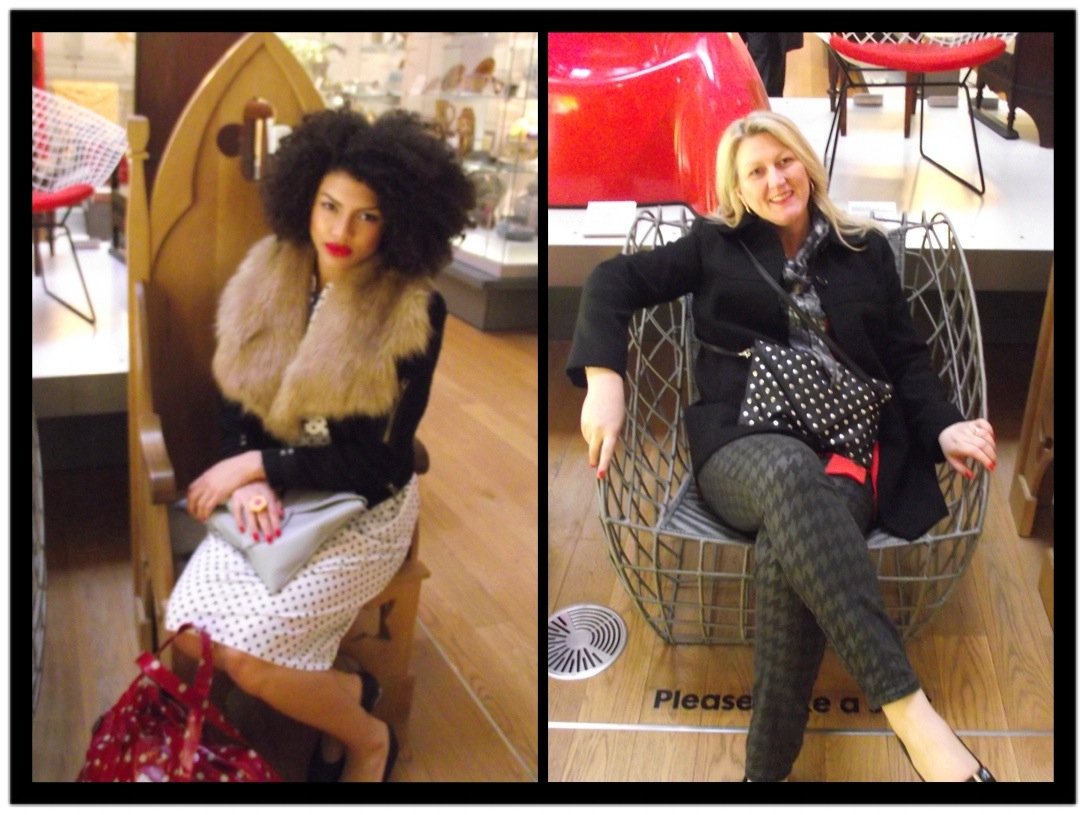 – The Mother and I having a sit down.
After having been round the exhibition I took my Mother for afternoon tea and cake at Richmond Tea Rooms. She'd never been before and she loved it. Unfortunately they had no carrot cake so I went for the coffee and walnut cake with ice cream instead and my Mother opted for the hot chocolate fudge cake with cream. We shared a pot of earl grey tea and then later on we shared a bottle of red wine. We lost track of time as we were in there for three hours chatting away and enjoying the afternoon.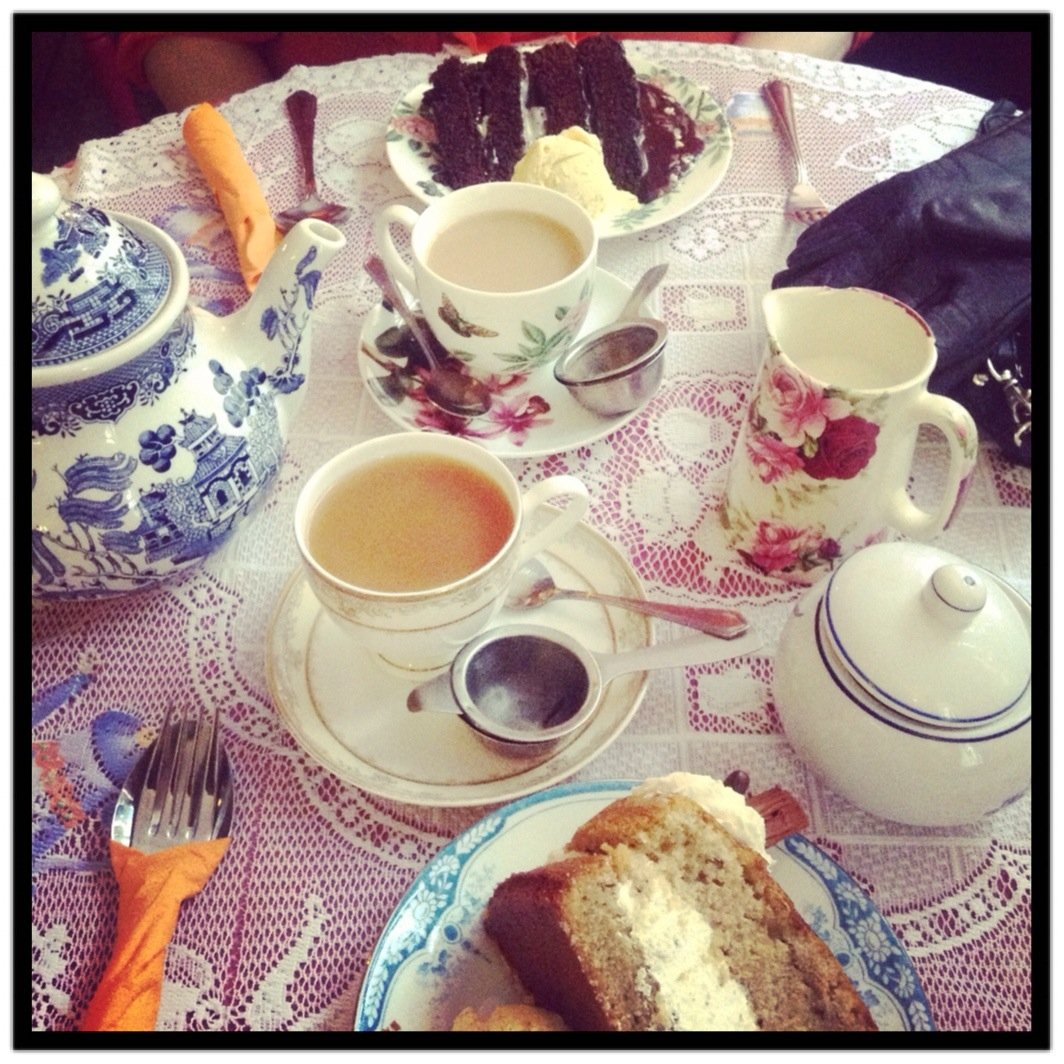 After Richmond Tea Rooms I said goodbye to my Mother and then went to Laura's to get ready for our night out. We ordered Dominos pizza for dinner, which I was very excited about as it's the first time I've had it this year. It's amazing how I'd gone so long without it as I used to eat Dominos a lot!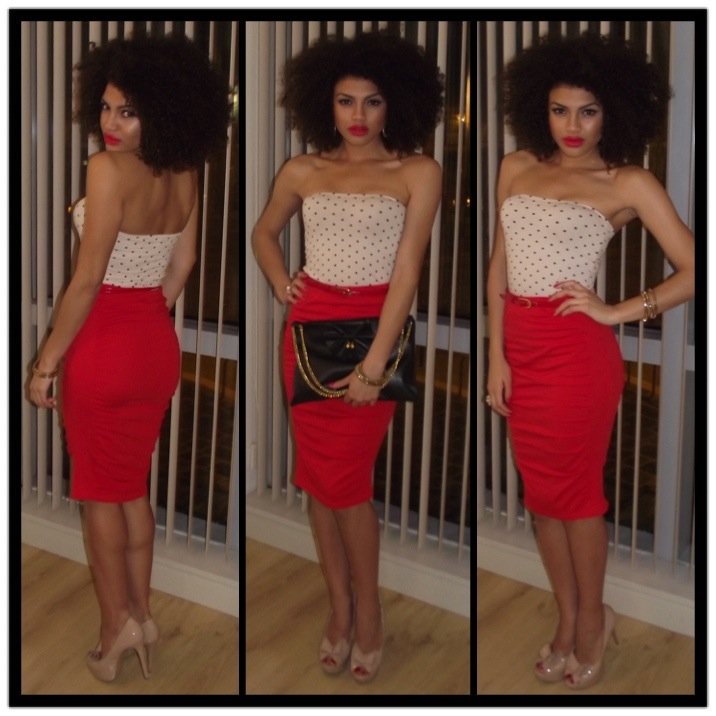 – My outfit for the night. Bandeau top – H&M, Wiggle skirt – Asos, Heels – Office, Clutch bag – Pearls & Lipstick.
On Friday I was up early to head to a shoot. One of the looks was this two tone blue and pink lip. I loved it and felt bad for having to rub it off when we'd finished as the makeup artist had spent so much time doing it but at least we got the shots.
On Saturday Damien and I were up early as we decided to have a nice day together. We went to a museum before heading back into the centre to have a look around the shops. On the way we back into town we walked through the Irish Markets and stopped to grab and Irish coffee each. We both picked up a few items round the shops and I managed to get a pair of skinny jeans in H&M in the sale for £4, they looked great on and for that price I obviously had to buy them!
My outfit of the day. Dress – Zara, Underskirt – H&M, Jacket – Primark, shoes – Zara, clutch bag – Pearls & Lipstick.
We went for a late lunch and had a chilli burger and onion rings with fries each and a couple of drinks. I also had a zombie cocktail which had golden rum, white rum and orange rum in it and it was delicious.
That evening we were supposed to be going to a friend's party but after being caught in the rain on the way home and feeling exhausted after our day out we decided to leave it. Plus it started snowing when we got in, so we opted for a night in and an early night.
Samio x