Today was all about eating. It hadn't been the original plan for the day but as it seems to be one of my favourite things to do, I guess I couldn't complain.
I met up with my friend Marsha who I haven't seen since before Christmas. We decided to go for lunch and headed towards China town.
We ended up in a small Chinese restaurant and had their three course lunch deal for £5 each (can't go wrong with that). The meal was alright for the money paid, although the 3rd course was just a coffee. I did feel a bit cheated but you can't get take out for cheaper than that, so it was good enough for what it was.
After lunch we decided to go for tea and cake (a ritual between Marsha and I).
As another friend of mine had recommended I try Richmond Tea Rooms, we decided to go there.
Marsha and I both loved the place right away. Inside it is fabulously decorated to fit an Alice in Wonderland type theme and the cakes are also just as divine! I went for a scrumptious slab of carrot cake with ice cream and Marsha opted for the delicious fudge chocolate cake, served hot with cream. Together we shared a large pot of English breakfast tea for two.
There was a mix up between our order of ice cream and cream, that's why on the picture it's on the wrong plates but I didn't mind because I ended up with both cream and ice cream – I never say no to extras.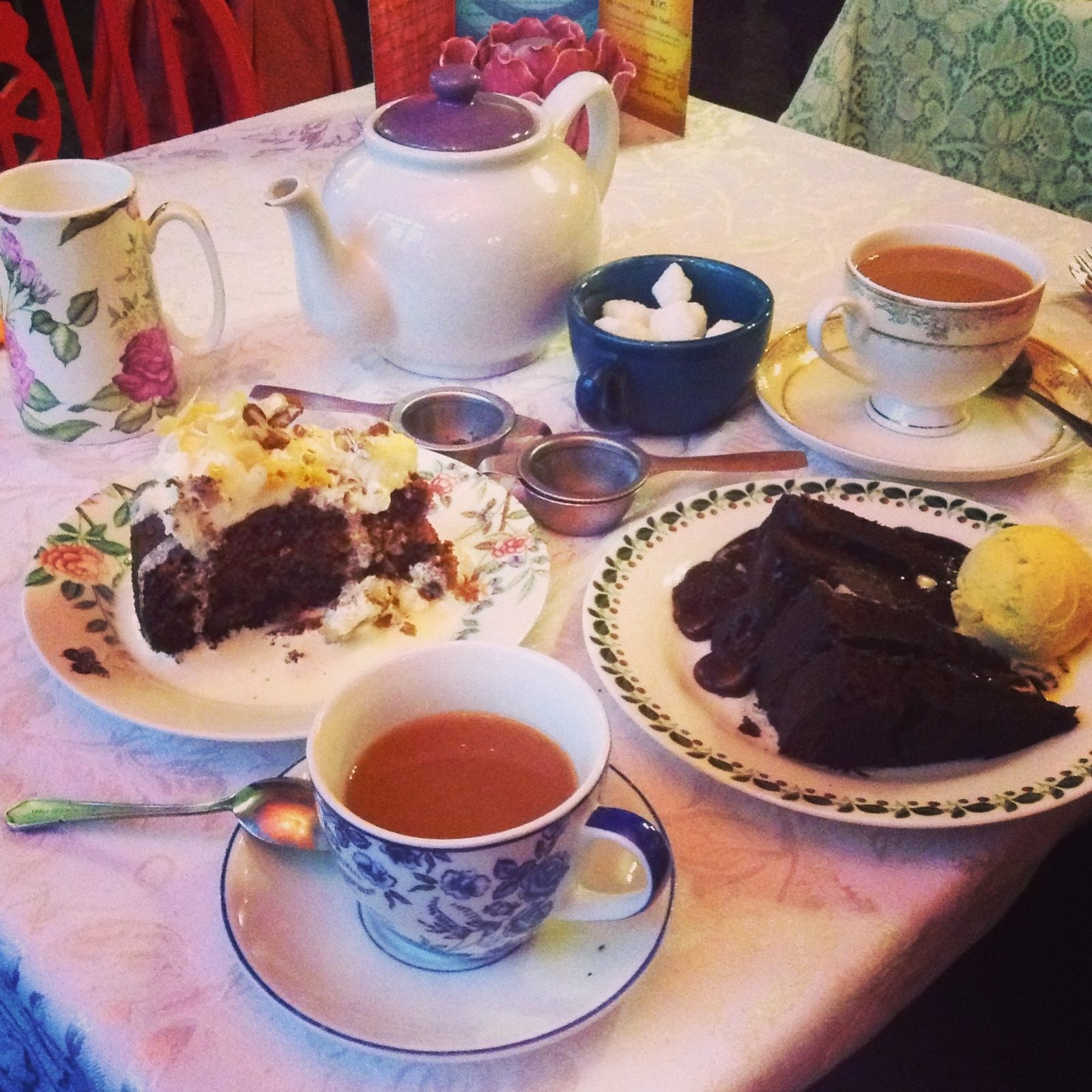 I should have really took more pictures of the interior and all the amazing cakes on offer but I'm sure I'll be back there soon enough to take and share more.

Although I look moody here, I was actually having a lovely time. It was nice to enjoy a good catch up with a friend, whilst enjoying the quirky ambience as they played music from a by gone era.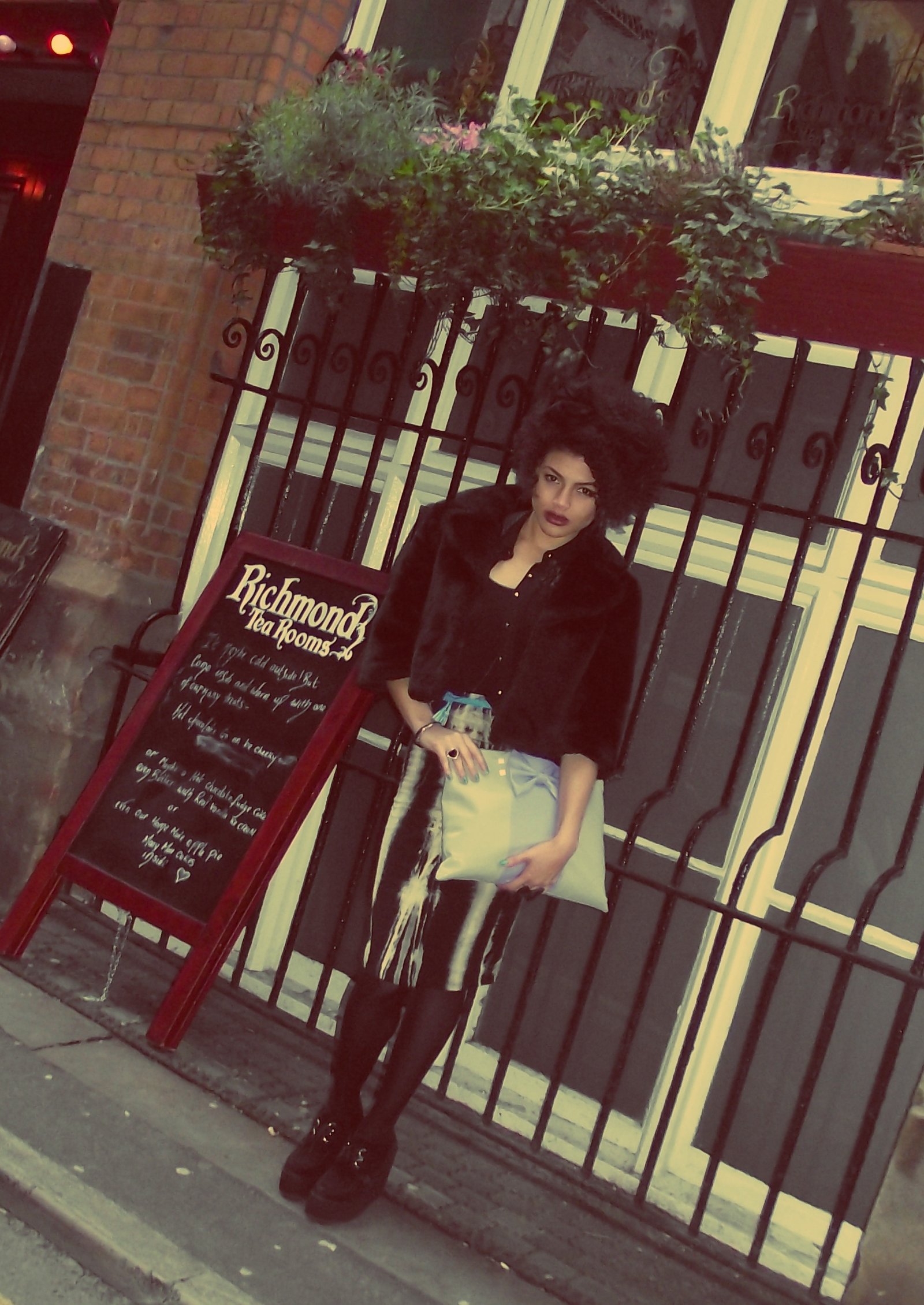 Feeling happy and with a very full stomach I was off to a meeting later in the afternoon. I thought I was done with eating for at least a few hours but when I got there we were severed pizza and not just any pizza, Domino's pizza – My favourite take out ever! Obviously I ate again and after that I truly was full.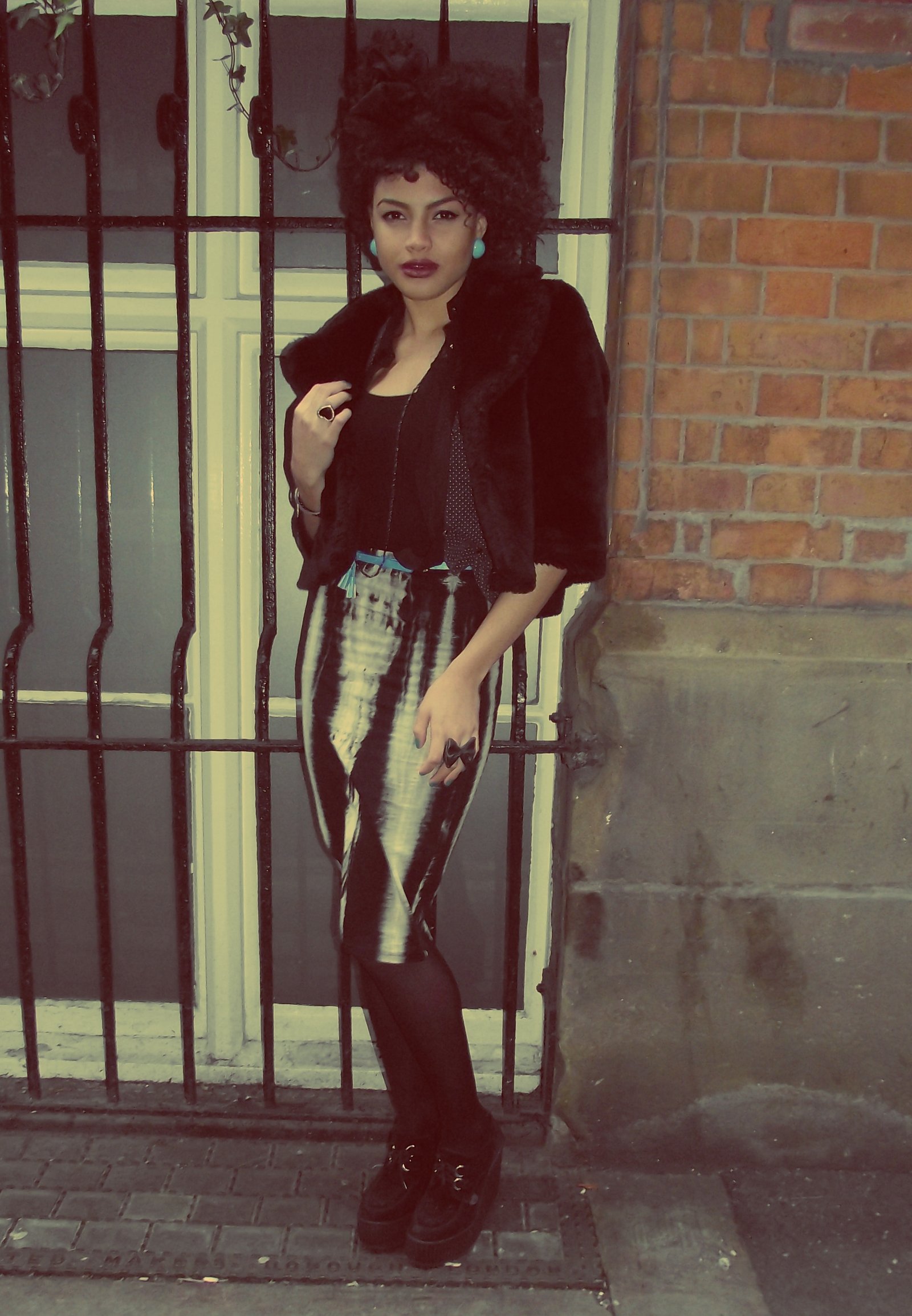 Today I wore a tie dye stretch pencil skirt by Glamorous, a black tank top, a black primary sheer blouse, a cropped black faux fur jacket and Underground wedges. I teamed the outfit with a blue belt, blue large Topshop stud earrings, a black vintage scarf (worn as a hair bow) and matching O.P.I nail colour.
For Richmond Tea Rooms:
Richmond Street, The Village,
Manchester.
M1 3HZ
Samio x