This weekend I went to Barcelona. One of my best friends, Lydia, who I have known most of my life, recently moved over there. It was her birthday on Friday and so I thought what better excuse to take a trip there for the weekend.
Although I've visited Spain many times it was my first time in Barcelona and I couldn't wait to get out there and see the sights and enjoy some great food and wine with a dear friend.
For the trip I had to pack strategically, as I was only taking hand luggage (I know how brave am I). Something, which many will know, is a hard task for me as I'm the girl who takes a suitcase to stop somewhere for one night. Luckily enough though, I managed to fit everything I needed in my small black case and to below the hand luggage max weight of 10 kgs… Most of the stuff I had in there was black, as the colour seems to have invaded my wardrobe as of late, something which I am in the process of changing! Having mostly black clothing in my case helped though, because I knew with little room, at least everything I was taking should work together as outfits. It gave me the opportunity to mix and match if need be. I managed to limit myself to three pairs of footwear (An arduous task for myself); I packed a pair of plane black wedge shoes for the evenings, my funky zebra print vans for the day and I wore my Underground wedges to travel in.
Although I was only there for two nights we managed to fit a lot in and Lydia was every so kind enough to make an itinerary of the weekends events. She sent it to me before I went so I was able to pack appropriately.
On the Friday I was up at 4am and in a taxi to the airport by 5am. I wanted to be comfy and warm for my journey so I travelled over in my black Underground wedges, black leggings, baggy long sleeved skull top, a black hoodie (previously my boyfriend's, now mine!) and my leather bomber jacket. The day before I had also made a new black clutch bag for my travels, from my brand Pearls & Lipstick (Website is opening soon). I put an extra pocket in this design, which perfectly fits my passport. I also wanted something that I could use throughout my trip, as I needed to travel light. The size and design of the bag meant I was able to use it throughout the weekend and with it being black it also went with everything. I made it to fit my mini Ipad, coin purse, travel documents, passport and also a book and any other small bits if need be. This is the first bag I've made in this particular design, and as I'm happy with the result I shall be making more to sell ready for when the site is open.
I landed in Barcelona just before midday and after meeting an excited Lydia at the airport, we went straight back to hers to drop off my case, do a quick outfit change and then go off out to explore.
We were heading to Gaudí's famous Sagrada Família, where I knew we'd be doing a lot of walking up stairs to the top of the steeples, so again my next outfit was a comfortable one. I changed into my zebra print vans, American Apparel high waited easy jeans, a white vest top, and again my black hoodie and leather bomber jacket. I didn't take a bag, as I didn't have a phone, my friend was able to keep my coin purse in her bag and I had my lipstick in my pocket. What more does a girl need.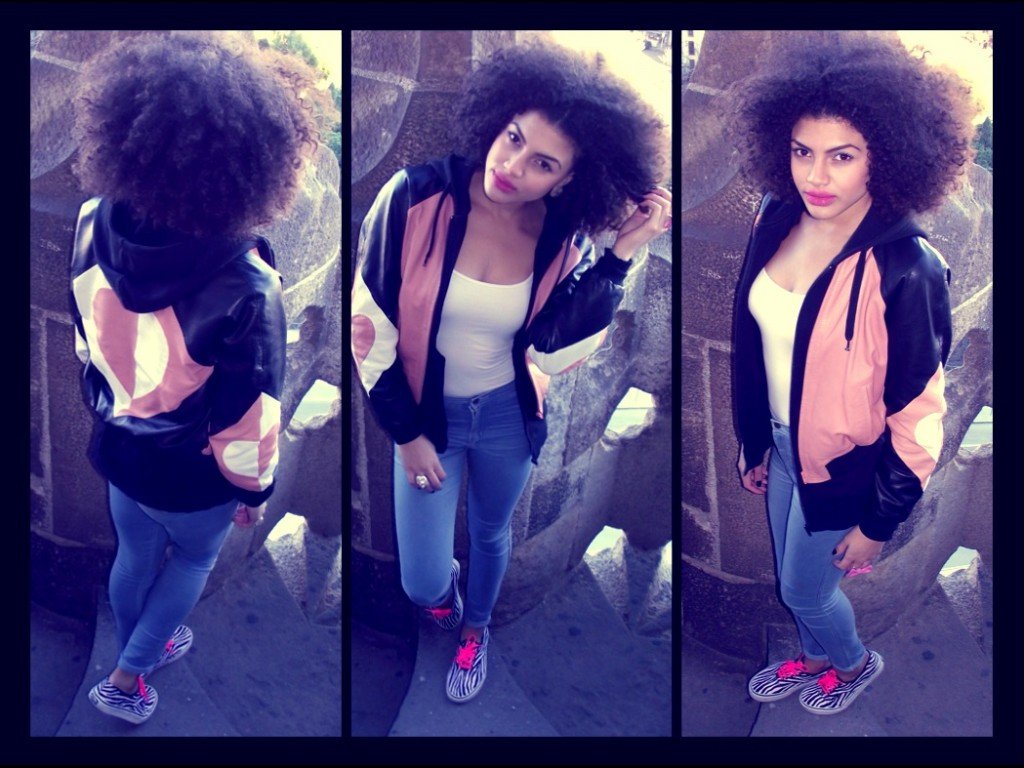 We went for lunch at small local restaurant before exploring round Sagrada Família. We had fun taking pictures, looking at the stunning architecture of Gaudi's famous building and taking in the great views of the city from high up in the steeples.
We enjoyed a long catch up and drinks at my friends place in the evening… One too many drinks in fact, as we had planned to go for tapas but didn't make it out until 1:30am and we ended up in a kebab house instead… But may I just say it was the most amazing kebab. I opted for the beef and Lydia the chicken, which we both smothered in hot source. We saved ourselves a few Euros that night at least.
Breakfast on Saturday morning was spent at a fabulous little waffle house just on the corner from my friend's place. We ordered two waffles to share; one with strawberries, cream and syrup and another with chocolate, cream and nut sprinkles along with two Irish coffees. Needless to say it tasted as delicious as it looks…
After breakfast we walked up to Montjüic to the view overlooking Barcelona. We got a little snap happy with my camera at this point taking pictures of everything and anything. The weather was mild and there was a nice cool breeze, so we enjoyed the time spent outside while the sun shining. (Apparently it was snowing back in England)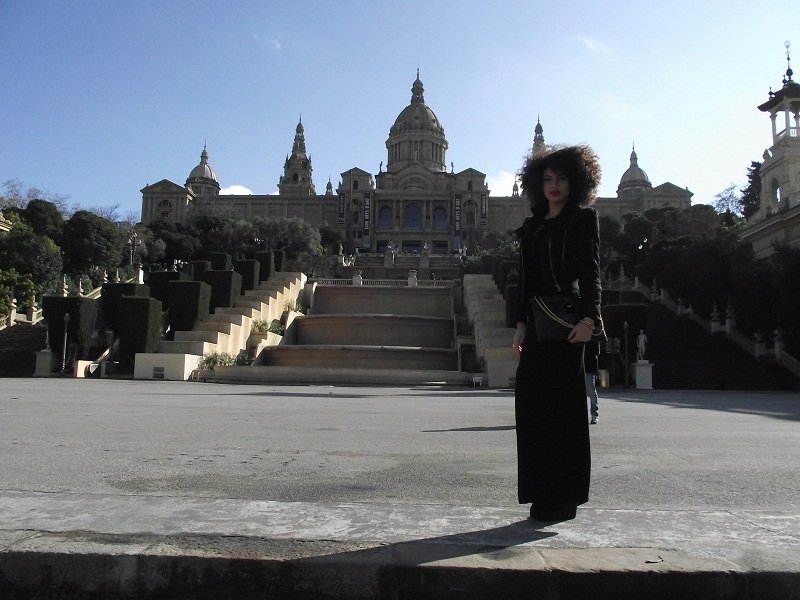 I wore my underground wedges; a black maxi length split skirt from Asos, black tights, a vest top underneath a black string jumper and black jacket along with my Pearls and Lipstick handbag.
The leather look bow ring I'm wearing in the photos is also made by me for Pearls & Lipstick and they will be for sale in a number of colours once the site is open.
That afternoon we went to the famous Champagneria, a small bustling bar serving cava and tapas, located down a side street close to metro stop Barceloneta. When we arrived we knew we had made it to the right place as people were spilling out onto the street with champagne glasses in hand. There are no tables or seats inside and we had to squeeze our way into the back of the busy bar to find ourselves a spot where we could order our food and drink.
Between us we ordered a bottle of pink cava, which cost 4 Euros and a Frankfurt each for 2 Euros each. Once we'd found ourselves a spot with a shelf to put our glasses on and pour our cava, we were able to relax a little and take in the atmosphere of this interesting little place. It can be quite overwhelming at first, but once you work your way in and have had a few sips of Cava, you begin to appreciate its quirkiness and enjoy the place.
Soon enough it was time to head back to Lydia's and get ready for the evening.
Saturday night's outfit consisted of black wedges, a black turtle neck Asos crop top, and a black maxi skirt with side splits which I had bought in Barcelona in Zara on Friday.
We started off the night with drinks at Lydia's place and then we went out for steak at a small local Spanish restaurant. Lydia had told me they did the best steak ever and I hadn't believed her until I tasted it. The place was small and quaint, there was nothing fancy about it, it just served straight up amazing steak. I was told to order it to my liking (rare/medium rare) with the creamy potatoes and no sauce. Never did I believe how good it was going to taste. Still the pictures probably don't do it justice, but I've had a lot of steak in my time and believe me when I say, this was the best steak I have ever tasted and the creamy potatoes were really good too!
I would recommend to anyone who loves steak and visiting Barcelona to go and eat at this place. I'll find out the name off my friend and update it in this post!.. Plus the wine is 6 Euros per bottle… Need I say more!
After drinks in a few bars, we got talking to some people outside a youth hostel who were staying there and next thing you know we were off on the youth hostel's group trip to Barcelona's super club Razzmatazz. It's basically five clubs in one, although I must admit, it all became a bit of a blur when we were there and you can easily get lost once inside but we had lots of fun…
The English, the Australians, the Welsh, the American in Razzmatazz…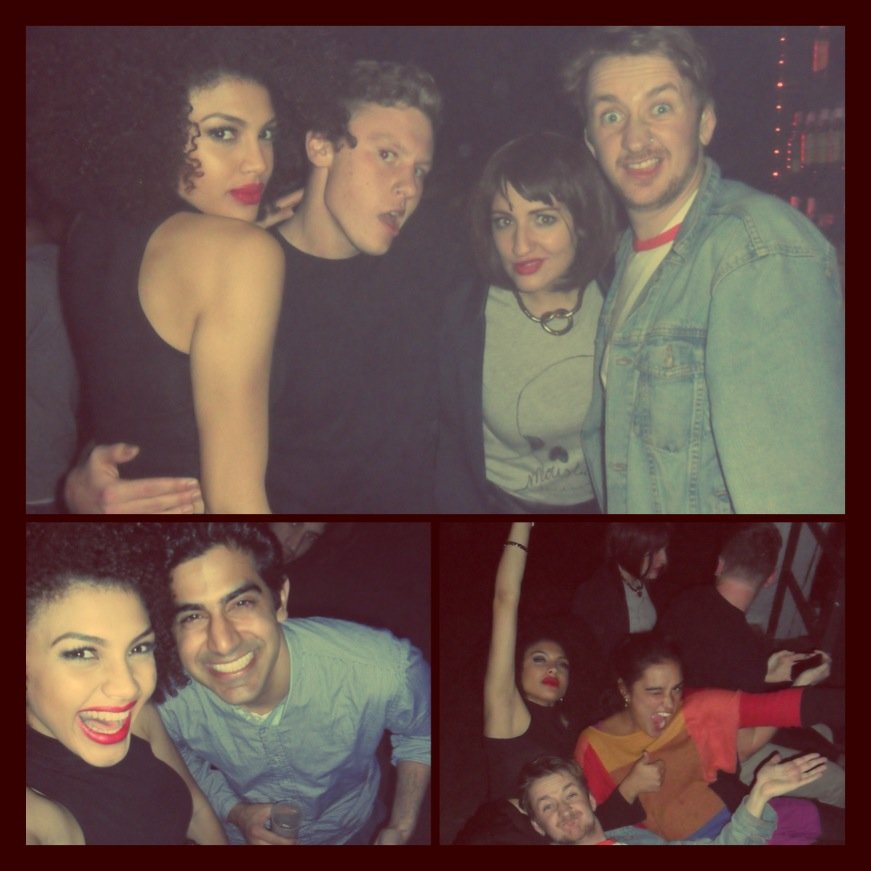 Sunday it was time to fly home. I had an evening flight and we slept most of the day trying to wean off our thunderous headaches and get through our hangovers. But it was an eventful weekend in which I had lots of fun and it was a great time that I won't be forgetting any time soon. I'm already booked to go back in a month to visit Lydia again for my other best friend's birthday… I cannot wait!
Samio x