Hello there! I'm excited to be coming at you with a new outfit post…finally! It seems that Spring has finally sprung (almost/sort of) here in Manchester and I've finally had the opportunity to wear some of my new glad rags.
I find shopping/dressing for Spring and Summer in the UK a bit of a tricky one, as while the shops tend to be filled with short shorts and cute little dresses, the weather here doesn't always quite reflect that.
As much as I'd love to fill my wardrobe with a selection of gorgeous sun dresses and be done with it, it's unfortunately not often the most practical option and unless you're jetting away for the majority of the summer, it's likely you'll need a few 'sensible' summer pieces, to see you through those not so summery summer days. I have recently added two practical summer pieces to my wardrobe…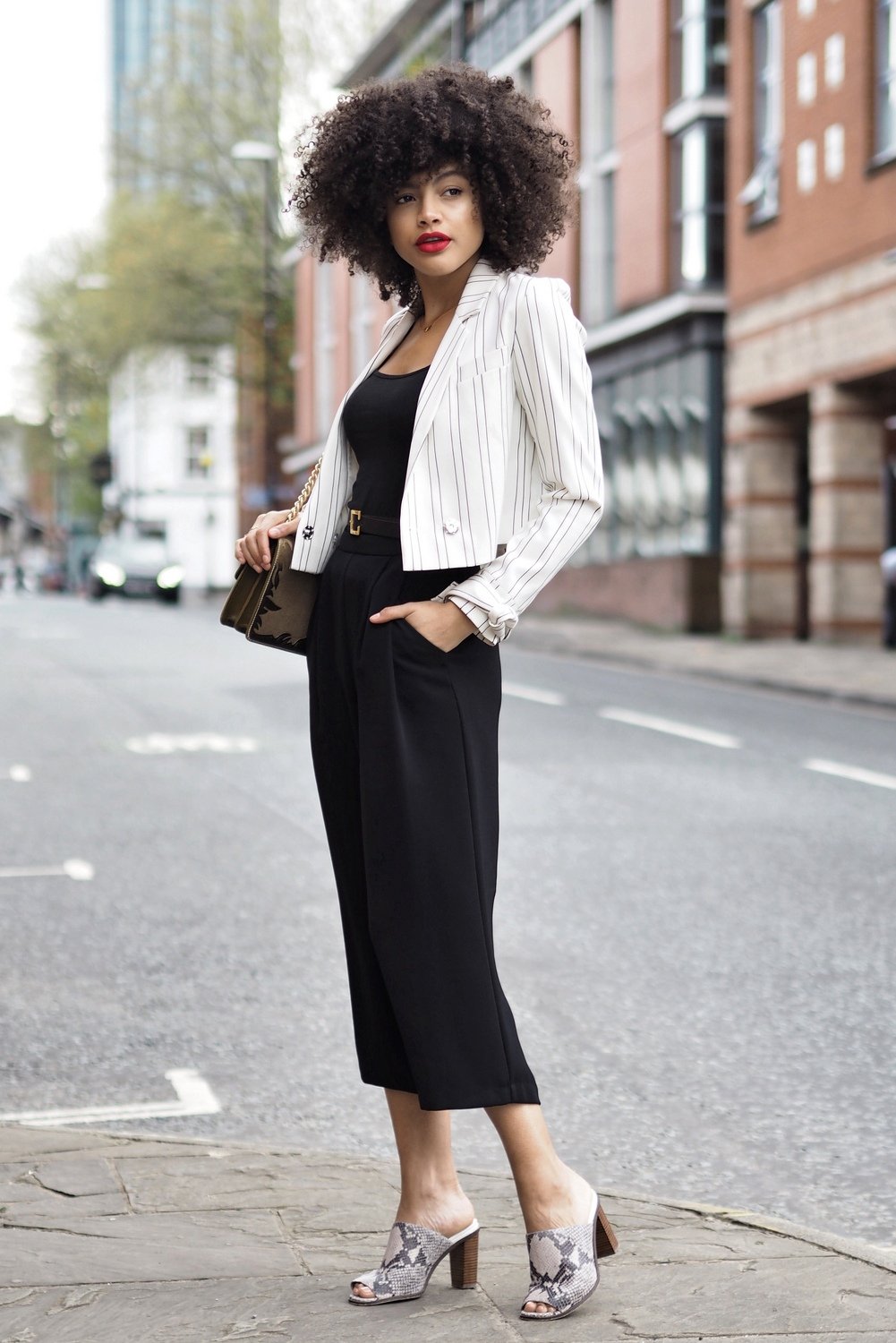 The Perfect Pants
If you watch my Youtube videos, you will have seen that in a few of my recent style videos I have been on the hunt for the perfect pair of culottes. It seems like a pretty simple piece to find right? But not when you are a miss fussy pants like me, who won't settle until you find exactly what you have in mind. Luckily my search recently concluded in Topshop and after trying on a couple of pairs, I found just what I was after with these black wide leg trousers.
Now I know these trousers are rather simple but it's basic pieces like these that I love to have in my wardrobe because I know I'm going to get so much wear out of them. The fit and quality is all there with these culottes and I like how they are in a fabric that doesn't easily crease because I hate getting creases after sitting down for five minutes. These trousers also make the perfect transitional piece as I try to move away from jeans. Not completely but just a little bit. I did actually think about putting myself on a denim ban for a little while but let's face it, with my current wardrobe that just isn't realistic.
…and a British Summer jacket
Enough about the perfect pants. I have another new found love to introduce with this cropped stripe jacket. I don't tend to buy things that I'm not intentionally looking for, however when I saw this I had to make an exception.
I'm a big fan of high waisted pieces: High waisted jeans, skirts, culottes, you name it, it's quite rare that I go for anything with a low rise waist and because of this, something I've felt I've been missing in my wardrobe for a while has been a cropped jacket.
The problem with cropped jackets however, is that finding the right crop and fit can be tricky, especially if you have a fuller bust. I like something that covers the waist line of my trousers (as this jacket does), so that it's cropped enough to still show the shape of the trousers but not too short that it doesn't properly cover my top half. The right fit is everything and I was so happy with the quality and fit of this cropped jacket I ordered on Asos. I went for a size 10 and the fit is just perfect.
This jacket is certainly a great piece for a British summer and I also I love that it's quite a classic looking piece, meaning that I'll be able to wear it over future summers too.
Shoes – Clarks (similar here) | Wide Leg Trousers – Topshop | Belt – Asos | Vest – (similar here) | Jacket – Asos | Bag – Pinko | Jewellery – Pernille Corydon
So those are a couple of my new in pieces. I'm pretty happy with these alternative basics for the on/off summertime we have here in the UK and I'll be getting plenty of wear out of them I'm sure. I'll be sharing another new outfit later this week so be sure to check back if you'd like to see that, but in the mean time have a fabulous week!
Samio x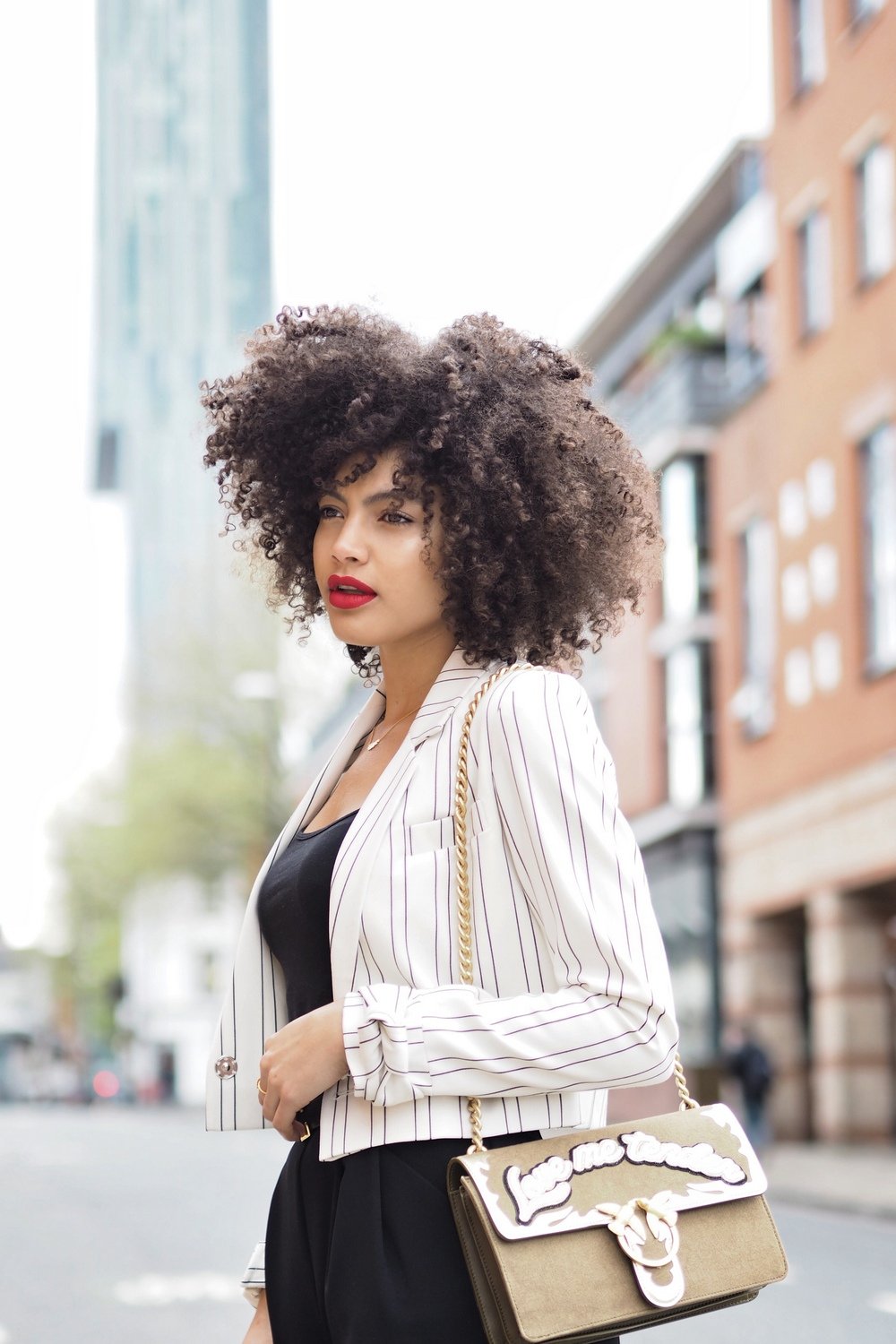 Shop The Look
*Some of the items may have been sent to me for review purposes, however this does not affect my opinions – check out my disclaimer for further information.