Keeping Fit At Home
This past month I've really been enjoying working out and getting back into the routine of keeping fit from home. There's no better way to keep myself motivated than a push in the right direction and so when CollectPlus asked me to share the ways in which I stay motivated to work out, I thought now was perfect timing.
I don't know about you, but for me, the second month into the year always seems to be the hardest when it comes to keeping myself motivated with my fitness. I then have to remind myself that I'll feel much better if I just keep at it. So here are some of the ways that I help myself to do just that…
1. Change Things Up & Try Something New
Workout videos on Youtube have been my thing this past month. I have a few favourites which I like to alternate and whilst they are fun, you can actually feel them working (check out my playlist of favourites here). I do know however that if I do too much of the same thing, I will soon grow bored and so to changed things up a little I decided to order some home workout equipment.
I did of course have the equipment delivered via CollectPlus, which is an absolute game changer by the way, especially if you're like me and sometimes out till late. It's good because you can have your parcels delivered to your local shop, or in my case, to the petrol station. It's open until very late, meaning I can pick up my parcels much more conveniently. It was of course perfect in this case because you know the post man wasn't about to fit a stepper machine and flexbell through the letter box.
I always loved using weights to do ab workouts in the gym and so I thought the flexbell would be perfect for reintroducing some of my old workouts at home, to change things up a little. With the stepper machine I thought this would be perfect for when I'm feeling super lazy because I can actually use it whilst watching TV, so there are actually no excuses!
2. Create A Workout Playlist
When I think back to when I used to go to the gym, I remember the thing that would motivate me most whilst working out was music. I actually remember the odd occasion when I'd forget my earphones and I'd be so annoyed, as I knew that I would quickly lose focus and those were always the occasions when I'd cut my workout routine short.
I've been wanting to get back into running outdoors for a while and I've slowly been building up to it this past month with long, brisk walks. I've now decided to finally create a playlist full of some of my old workout favourites that will be perfect to keep me motivated whilst I'm running.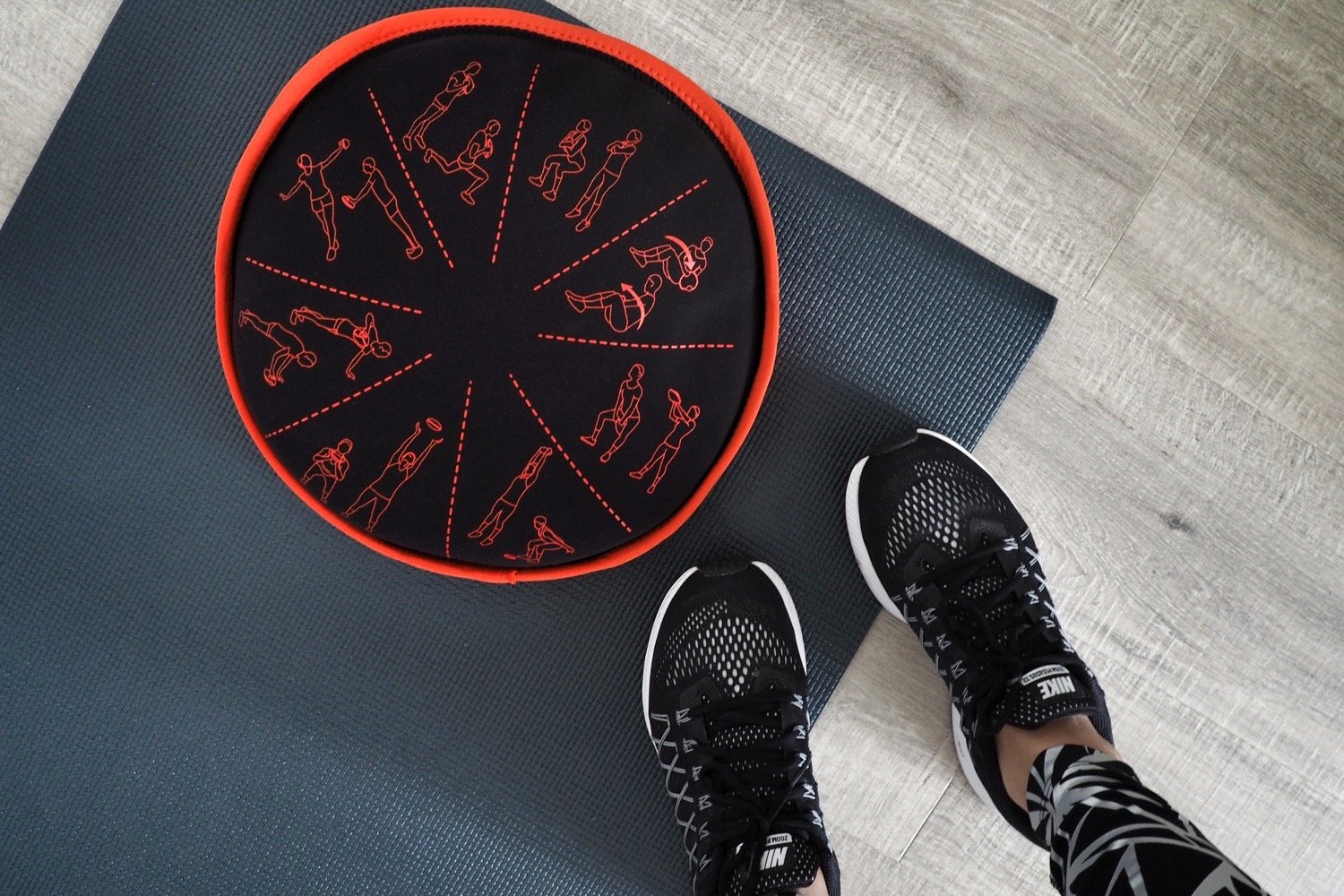 3. Set Yourself A Challenge
I find setting myself challenges a great way to motivate myself, as I always feel determined to complete them. I've found it works best when you break things down. So for me personally, giving myself a different challenge month by month is the best way to do it. That way it breaks things up and I can actually see the finish line to each challenge too.
I also think it helps to be realistic, so give yourself a challenge which you actually believe to be achievable. For example I might say that during February that I want to workout at least three times per week and one of those workouts has to include a 5k run (just an example but actually not a bad idea). It's basically just another way of setting goals, but by calling it a challenge and giving myself a time frame to complete it in makes me much more determined to do it…So what are we waiting for, let's set ourselves some challenges!
Equipment Used
Yoga-Mad Warrior Mat – John Lewis | 8kg Flexbell – Very | Stepper With Resistance Cords – Very
Workout Outfit
Shock Absorber Sports Bra – (in different colour) Asos | Elle Sport Tights – Get The Label | Elle Sport Vest – Get The Label | Nike Hoodie – Asos | Nike Trainers – John Lewis
Those are three of the ways I like to stay motivated when I really can't be bothered to work out. Just writing this blog post has given me another boost of motivation to be honest, so maybe that's another one in itself; Writing a list of ways to motivate yourself, so that you actually start to feel motivated again. I also have to remind myself that I always feel great after working out, so why quit now! I've said it once and I'll say it again, however little you do, it's always better to do something rather than nothing if you're hoping to keep active and keep at it.
I hope this blog post could help to give you a little boost of motivation. Just remember not to put too much pressure on yourself, have fun with it and find what works best for you! I'd love to hear some of the ways you help yourself to stay motivated when you really can't be bothered. Comment below and let me know!
Samio x
Shop The Post